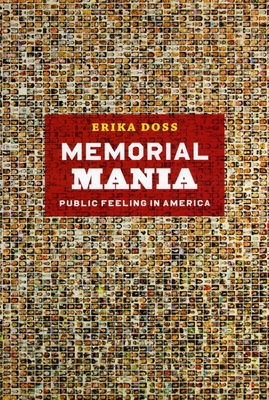 Memorial Mania (Hardcover)
Public Feeling in America
University of Chicago Press, 9780226159386, 480pp.
Publication Date: July 30, 2010
Other Editions of This Title:
Paperback (5/14/2012)
* Individual store prices may vary.
Description
In the past few decades, thousands of new memorials to executed witches, victims of terrorism, and dead astronauts, along with those that pay tribute to civil rights, organ donors, and the end of Communism have dotted the American landscape. Equally ubiquitous, though until now less the subject of serious inquiry, are temporary memorials: spontaneous offerings of flowers and candles that materialize at sites of tragic and traumatic death. In Memorial Mania, Erika Doss argues that these memorials underscore our obsession with issues of memory and history, and the urgent desire to express—and claim—those issues in visibly public contexts.
Doss shows how this desire to memorialize the past disposes itself to individual anniversaries and personal grievances, to stories of tragedy and trauma, and to the social and political agendas of diverse numbers of Americans. By offering a framework for understanding these sites, Doss engages the larger issues behind our culture of commemoration. Driven by heated struggles over identity and the politics of representation, Memorial Mania is a testament to the fevered pitch of public feelings in America today.
About the Author
Erika Doss is professor of American studies at the University of Notre Dame and the author of Benton, Pollock, and the Politics of Modernism: From Regionalism to Abstract Expressionism, also published by the University of Chicago Press, among other titles.
Praise For Memorial Mania: Public Feeling in America…
"Memorial Mania is an important and much-needed book, one that complements the existing literature on memorials with richness and originality, and also forges new territory. Doss's excellent and highly polemical critique of its resurgence furthers one of American studies' most noteworthy traditions."
— Michelle Bogart, Stony Brook University
"Memorials carry enormous emotional and symbolic freight, providing clues as to how people feel about their society. This is the subject of Erika Doss's scholarly and readable book, Memorial Mania. . . . I believe Memorial Mania will appeal to a wide audience—both inside and outside academia—given the quality of the writing and the presentation of the material. The book is packed with information and insight as it documents the growing phenomenon of memorialization in America; and 160 illustrations can only enhance the reader's understanding and appreciation of the subject. . . . It is a sign of the quality of Doss' work that I am left wanting more." —Anthropology Works
— Anthropology Works
"With its contemporary focus and astonishingly wide range of examples, Erika Doss's Memorial Mania…considers not simply how commemorative practices reflect the feelings of Americans, but also how commemoration has become a crucial medium through which public feeling is structured, expressed, and archived. . . . What makes Doss's book so valuable is that it reveals the range, complexity, and depth of emotion produced by memorial acts."
— American Quarterly
"Prodigiously researched, generously illustrated. . . . Readers will come away having learned a good deal about contemporary commemoration and possessing a new awareness of the value and interest of the study of public affect."
— Journal of American History
or
Not Currently Available for Direct Purchase