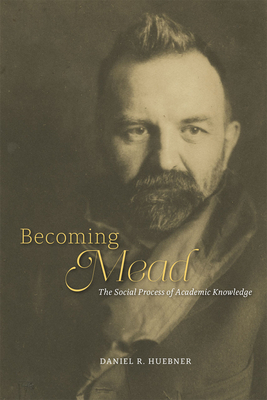 Becoming Mead
The Social Process of Academic Knowledge
Hardcover

* Individual store prices may vary.
Other Editions of This Title:
Paperback (10/9/2014)
Description
George Herbert Mead is a foundational figure in sociology, best known for his book Mind, Self, and Society, which was put together after his death from course notes taken by stenographers and students and from unpublished manuscripts. Mead, however, never taught a course primarily housed in a sociology department, and he wrote about a wide variety of topics far outside of the concerns for which he is predominantly remembered—including experimental and comparative psychology, the history of science, and relativity theory.  In short, he is known in a discipline in which he did not teach for a book he did not write.

In Becoming Mead, Daniel R. Huebner traces the ways in which knowledge has been produced by and about the famed American philosopher. Instead of treating Mead's problematic reputation as a separate topic of study from his intellectual biography, Huebner considers both biography and reputation as social processes of knowledge production. He uses Mead as a case study and provides fresh new answers to critical questions in the social sciences, such as how authors come to be considered canonical in particular disciplines, how academics understand and use others' works in their research, and how claims to authority and knowledge are made in scholarship. Becoming Mead provides a novel take on the history of sociology, placing it in critical dialogue with cultural sociology and the sociology of knowledge and intellectuals.

Praise For Becoming Mead: The Social Process of Academic Knowledge…
"This book not only upends the traditional interpretations of one of America's great philosophers, but also sketches a new form of analysis, in which a scholar's personal experience of his intellectual life evolves in continuous dialogue with the reception of his work by others. Huebner gives a uniquely vivid picture of the gap between an individual's own experience and his socially perceived self—a gap extensively discussed by Mead and here brilliantly illustrated and theorized. A truly wonderful book."

— Andrew Abbott

"Nobody in the last twenty years has advanced research on George Herbert Mead as much as Daniel Huebner does in this book. On the basis of extensive archival research he adds considerably to our understanding of Mead's intellectual development and of his activities as a public intellectual. By means of an original approach to the study of knowledge making in academic scholarship, Huebner moreover solves many mysteries in the confusing history of Mead reception. This book opens up new perspectives on one of the most profound and original thinkers of the twentieth century."
— Hans Joas

"This well-written book is based upon a superb job of historical research. Huebner has unearthed a large number of previously unexplored sources related to G. H. Mead's career and social psychological writings, and he discusses these in a balanced and highly insightful manner."
— Gary A. Cook, author of George Herbert Mead: The Making of a Social Pragmatist

"Becoming Mead is an outstanding accomplishment written by a very promising young sociologist—the book deserves to be read by everyone interested in the trajectories of pragmatism, social interactionism, Chicago School, history of ideas/sociology/American social thought and several other branches of humanistic scholarship."
— Christian Fleck, author of A Transatlantic History of the Social Sciences

"Becoming Mead is extremely interesting and empirically and historically rich. There are insights here that will have relevance for scholars interested in debates on canons, collaborative circles, and sociology of philosophy. I like the book a lot and learned much."
— Neil McLaughlin
University of Chicago Press, 9780226171371, 368pp.
Publication Date: October 10, 2014
About the Author
Daniel R. Huebner is assistant professor of sociology at the University of North Carolina at Greensboro.
or
Not Currently Available for Direct Purchase