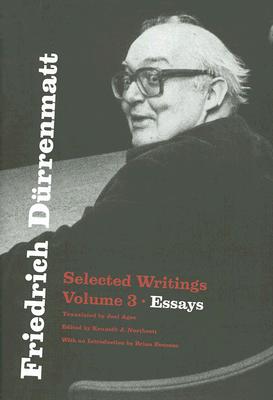 Friedrich Dürrenmatt (Hardcover)
Selected Writings, Volume 3, Essays
University of Chicago Press, 9780226174327, 184pp.
Publication Date: October 15, 2006
* Individual store prices may vary.
Description
The Swiss writer Friedrich Dürrenmatt (1921–90) was one of the most important literary figures of the second half of the twentieth century. During the years of the cold war, arguably only Beckett, Camus, Sartre, and Brecht rivaled him as a presence in European letters. Yet outside Europe, this prolific author is primarily known for only one work, The Visit. With these long-awaited translations of his plays, fictions, and essays, Dürrenmatt becomes available again in all his brilliance to the English-speaking world. 

Dürrenmatt's essays, gathered in this third volume of Selected Writings, are among his most impressive achievements. Their range alone is astonishing: he wrote with authority and charm about art, literature, philosophy, politics, and the theater. The selections here include Dürrenmatt's best-known essays, such as "Theater Problems" and "Monster Essay on Justice and Law," as well as the notes he took on a 1970 journey in America (in which he finds the United States "increasingly susceptible to every kind of fascism"). This third volume of Selected Writings also includes essays that shade into fiction, such as "The Winter War in Tibet," a fantasy of a third world war waged in a vast subterranean labyrinth—a Plato's Cave allegory rewritten for our own troubled times. 

Dürrenmatt has long been considered a great writer—but one unfairly neglected in the modern world of letters. With these elegantly conceived and expertly translated volumes, a new generation of readers will rediscover his greatest works.


About the Author
Friedrich Dürrenmatt was born in 1921 in the village of Konolfingen, near Berne, Switzerland. He wrote prolifically during the 1950s, '60s, and '70s, taking particular interest in human rights and the preservation of Israel. He is the author of numerous books published by the University of Chicago Press, including The Pledge.

Joel Agee
has translated numerous German authors into English, including Heinrich von Kleist, Rainer Maria Rilke, and Elias Canetti. In 2005 he received the Modern Language Association's Lois Roth Award for his translation of Hans Erich Nossack's
The End: Hamburg 1943
.
Kenneth J. Northcott is professor emeritus of German at the University of Chicago. He has translated a number of books for the University of Chicago Press.
Brian Evenson is the author of numerous works of fiction, including Altmann's Tongue, Dark Property, Father of Lies, and The Wavering Knife. He is also director of the Literary Arts Program at Brown University.