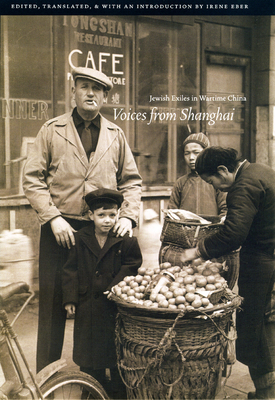 Voices from Shanghai
Jewish Exiles in Wartime China
Hardcover

* Individual store prices may vary.
Description

When Hitler came to power and the German army began to sweep through Europe, almost 20,000 Jewish refugees fled to Shanghai. A remarkable collection of the letters, diary entries, poems, and short stories composed by these refugees in the years after they landed in China, Voices from Shanghai fills a gap in our historical understanding of what happened to so many Jews who were forced to board the first ship bound for anywhere.
            Once they arrived, the refugees learned to navigate the various languages, belief systems, and ethnic traditions they encountered in an already booming international city, and faced challenges within their own community based on disparities in socioeconomic status, levels of religious observance, urban or rural origin, and philosophical differences. Recovered from archives, private collections, and now-defunct newspapers, these fascinating accounts make their English-languge debut in this volume. A rich new take on Holocaust literature, Voices from Shanghai reveals how refugees attempted to pursue a life of creativity despite the hardships of exile.  
Praise For Voices from Shanghai: Jewish Exiles in Wartime China…
"Irene Eber's Voices from Shanghai is a unique document in the annals of Holocaust literature. The literary testimonies by Expressionist writers of the enchanting and also tortured mingling of Chinese and European culture that characterized Shanghai during the Second World War opens up for us a forgotten chapter of the Holocaust. I am confident that this book will be favorably received by scholars of China and the Holocaust as well as the wider reading public."
— Paul Mendes-Flohr, University of Chicago Divinity School
"Bringing her extraordinary depth of learning on both sides of this fascinating story, Chinese and Jewish, Irene Eber has located and translated mostly from Yiddish (and Polish) some hitherto unknown writings by Jews living in refuge in Shanghai in the years leading up and during World War Two. Given the provenance of the material presented, we are all lucky to have this wonderful volume in English and with Professor Eber's insightful explanatory introductions as well."—Joshua Fogel, Canada Research Chair, York University    
— Joshua Fogel
"Irene Eber has constructed a fascinating insight into a little-known community of Jewish refugees who fled like blown leaves before the storm of Nazism, landing in Shanghai, where they clung to life, culture, and religion. Without this valuable record, a revealing piece of history might have gone unrecorded."
— David K. Shipler, Pulitzer Prize-winning author of Arab and Jew: Wounded Spirits in a Promised Land
"A literary and historical gem!  Sinologist Irene Eber gives a marvelously fresh and enlightening overview of Jewish history in Shanghai, highlighting the complexity of Holocaust refugees interacting not only with Chinese culture and the Japanese occupation, but also with other Jews from strikingly varied cultural backgrounds. As a native speaker of Yiddish, Eber has poured her heart into these sensitive translations, which document the personal and cultural diversity of the writers and their remarkable ingenuity, creativity and resilience."
— Barbara Johnson, Ithaca College
"Eber's book consists of fascinating documents--poems, feuilletons, short fiction, extracts from letters and diaries. . . . [A] haunting and valuable book."
— Seven Oaks Magazine
"[Eber] has painted a colorful picture of how uprooted and displaced families exemplified courage, strength, and determination to survive and even thrive under the most difficult circumstances. . . . All writers and readers of history can learn a valuable lesson from Eber."
— Jewish Book World
"Thank goodness for Irene Eber and the University of Chicago Press. . . . [Voices from Shanghai] is a slim, lovingly produced collection of letters, poems, stories and diary entries written by a number of refugees after they'd settled in China. . . . Countless emotions are conveyed in these pages: both humor and anger over the situation; joy about being alive, but frustration about being unable to rise above certain circumstances; and fear, even depression and, at times, crippling inertia."
— Robert Leitner
"Eber's book consists of fascinating documents--poems, fueilletons, short fiction, extracts from letters and diaries. . . . Only one of the selections had ever been translated into English until Eber took on the task, producing this haunting and valuable book."
— Diplomat and International Canada
University of Chicago Press, 9780226181660, 144pp.
Publication Date: October 1, 2008
About the Author
Irene Eber is the Louis Frieberg Professor of East Asian Studies Emeritus at Hebrew University of Jerusalem. She is the author of many books, including a memoir entitled The Choice: Poland, 1939–1945.    
or
Not Currently Available for Direct Purchase