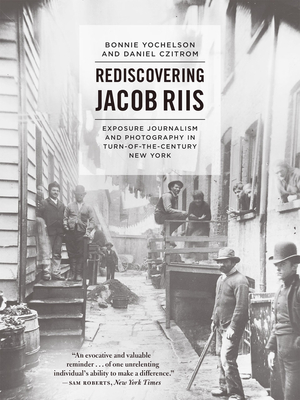 Rediscovering Jacob Riis
Exposure Journalism and Photography in Turn-of-the-Century New York
Paperback

* Individual store prices may vary.
Other Editions of This Title:
Hardcover (2/1/2008)
Description
Before publishing his pioneering book How the Other Half Lives—a photojournalistic investigation into the poverty of New York's tenement houses, home to three quarters of the city's population—Jacob Riis (1849-1914) spent his first years in the United States as an immigrant and itinerant laborer, barely surviving on his carpentry skills until he landed a job as a muckraking reporter. These early experiences provided Riis with an understanding of what it was like to be poor in the immigrant communities that populated New York's slums, and it was this empathy that would shine through in his iconic photos.

With Rediscovering Jacob Riis, art historian Bonnie Yochelson and historian Daniel Czitrom place Jacob Riis's images in historical context even as they expose a clear sightline to the present. In the first half of their book, Czitrom explores Riis's reporting and activism within the gritty specifics of Gilded Age New York: its new immigrants, its political machines, its fiercely competitive journalism, its evangelical reformers, and its labor movement. In delving into Riis's intellectual education and the lasting impact of How the Other Half Lives, Czitrom shows that though Riis argued for charity, not sociopolitical justice, the empathy that drove his work continues to inspire urban reformers today.
In the second half of the book, Yochelson describes for the first time Riis's photographic practice: his initial reliance on amateur photographers to take the photographs he needed, his own use of the camera, and then his collecting of photographs by professionals, who by 1900 were documenting social reform efforts for government agencies and charities. She argues that while Riis is rightly considered a revolutionary in the history of photography, he was not a photographic artist. Instead, Riis was a writer and lecturer who first harnessed the power of photography to affect social change.

As staggering inequality continues to be an urgent political topic, this book, illustrated with nearly seventy of Riis's photographs, will serve as a stunning reminder of what has changed, and what has not.
Praise For Rediscovering Jacob Riis: Exposure Journalism and Photography in Turn-of-the-Century New York…
"An evocative and valuable reminder both of one unrelenting individual's ability to make a difference and of the relevance of his revelations to the painfully familiar problems we face today."
— Sam Roberts
"A rigorous, scholarly reexamination of Riis's life and work. . . . Riis's lightning-flash images of social catastrophe still have the power to shock, even after 120 years."
— Matthew Power
"Yochelson and Czitrom have done a service in returning Riis's images to public attention. We gaze into the eyes of these 19th-century immigrant Americans and we feel for the hardships of the past and refocus on the struggles of today. Urban poverty remains a national blight. We await another Jacob Riis who, with camera and pen, can make the darkness visible and shock us anew."
— Louis P. Masur
"More than ninety years after his death, Jacob Riis maintains a captivating hold on the American imagination. Remembered as a pioneering photographer, he was the first to photograph the conditions of New York City slums. Riis captured in haunting pictures the plight of the urban poor at the height of European immigration to the city, providing images of tenement living and squalor. In Rediscovering Jacob Riis, Yochelson and Czitrom address the complex legacy of the social reformer. Combining their expertise, Yochelson, an art historian, and Czitrom, a history professor, explore the significance of Riis's photography to create a work of highly original scholarship."
— Photo Review
University of Chicago Press, 9780226182865, 296pp.
Publication Date: August 18, 2014
About the Author
Bonnie Yochelson was curator of prints and photographs at the Museum of the City of New York and teaches in the MFA Photography, Video, and Related Media Department at the School of Visual Arts in Manhattan. She is the author, most recently, of Alfred Stieglitz New York.
Daniel Czitrom is professor of history at Mount Holyoke College, the author of Media and the American Mind: From Morse to McLuhan, and coauthor of Out of Many: A History of the American People.
or
Not Currently Available for Direct Purchase