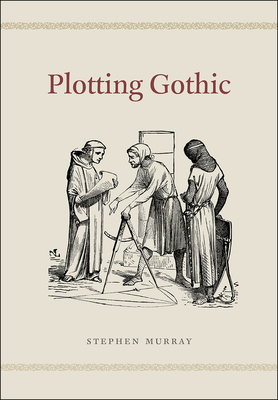 Plotting Gothic (Hardcover)
University of Chicago Press, 9780226191805, 336pp.
Publication Date: March 6, 2015
* Individual store prices may vary.
Description
A historian of medieval art and architecture with a rich appreciation of literary studies, Stephen Murray brings all those fields to bear on a new approach to understanding the great Gothic churches of the twelfth and thirteenth centuries.

Plotting Gothic positions the rhetoric of the Gothic as a series of three interlocking plots: a spatial plot tied to the material construction of the churches, a social plot stemming from the collaborative efforts that made Gothic output possible, and a rhetorical plot involving narratives that treat the churches as objects of desire. Drawing on the testimony of three witnesses involved in church building—Abbot Suger of Saint-Denis, Gervase of Canterbury, and the image maker Villard de Honnecourt—and a range of secondary sources, Murray traces common patterns in the way medieval buildings were represented in words and images. Our witnesses provide vital information about the way the great churches of Gothic were built and the complexity of their meanings. Taking a fresh approach to Gothic architecture, Plotting Gothic offers an invigorating new way to understand some of the most lasting achievements of the medieval era.

About the Author
Stephen Murray is the Lisa and Bernard Selz Professor of Medieval Art History at Columbia University and the author of many books.
Praise For Plotting Gothic…
"The real joy of the book [is] seeing how the witnesses, builders and rulers transform thought into stone and mortar. . . . A doorway to understanding how the power of Gothic came to be and why it resounds and amazes even to our time."

— Manhattan Book Review
"Murray expertly intertwines his interlocutors' narrative with a wealth of scholarly information, and while his overall narrative is linear, as each chapter builds on the previous, he tells many interconnected stories that demonstrate his own love affair with the subject, providing a window into the motives and feelings of the people who lived Gothic."

— ARLIS/NA Reviews
"A compact overview of the phenomenon of Gothic architecture. . . . Although some of Murray's conclusions may be controversial, the discussion they generate can only be beneficial to the continued study of the great Gothic structures of the Middle Ages. Recommended."

— Choice
"This book is full of invigorating observations on three of the most iconic witnesses of Gothic."

 
— Journal of the British Archaeological Association
"Plotting Gothic is not a new book about an old subject; it's a new kind of architectural history.  Murray reads cathedrals as objects of desire by those who planned and built them . . . and makes us see them with avid eyes."
— Stephen G. Nichols, author of Romanesque Signs: Early Medieval Narrative and Iconography
"With insight and verve, Murray pries open the major rhetorical constructions of Gothic—writings that nurtured Gothic's emergence and bore witness to its contemporary reception—and in the process reconciles, indeed synthesizes, them in a totally novel way. Murray's reputation among art historians and medievalists will galvanize a wide audience for this book; his innovative approach to historiography and discourse analysis will attract even more readers. There is really nothing comparable in the recent literature on Gothic architecture and art."
— Mitchell B. Merback, author of Pilgrimage and Pogrom: Violence, Memory, and Visual Culture at the Host-Miracle Shrines of Germany and Austria
"This book, more than any other I know, evokes the participatory excitement in experiencing a medieval masterpiece. Murray's premise is that (despite marks of the 'push and shove of real life' upon them) the great medieval cathedrals possess legible plots, motives, and designs on their experiencing subjects. Balancing stories told about them and stories they tell, he freshens the discussion of medieval architecture in an entirely welcome way. This is a risk-taking study, truly rather than just gesturally interdisciplinary, and the risks pay off."
— Paul Strohm, author of Theory and the Premodern Text
or
Not Currently Available for Direct Purchase