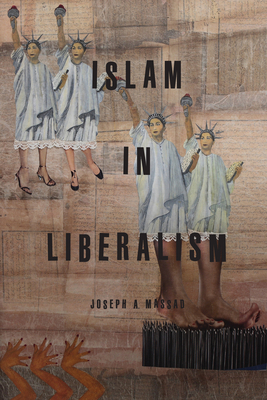 Islam in Liberalism (Hardcover)
University of Chicago Press, 9780226206226, 384pp.
Publication Date: January 6, 2015
Other Editions of This Title:
Paperback (3/2/2016)
* Individual store prices may vary.
Description
In the popular imagination, Islam is often associated with words like oppression, totalitarianism, intolerance, cruelty, misogyny, and homophobia, while its presumed antonyms are Christianity, the West, liberalism, individualism, freedom, citizenship, and democracy. In the most alarmist views, the West's most cherished values—freedom, equality, and tolerance—are said to be endangered by Islam worldwide.  

Joseph Massad's Islam in Liberalism explores what Islam has become in today's world, with full attention to the multiplication of its meanings and interpretations. He seeks to understand how anxieties about tyranny, intolerance, misogyny, and homophobia, seen in the politics of the Middle East, are projected onto Islam itself. Massad shows that through this projection Europe emerges as democratic and tolerant, feminist, and pro-LGBT rights—or, in short, Islam-free. Massad documents the Christian and liberal idea that we should missionize democracy, women's rights, sexual rights, tolerance, equality, and even therapies to cure Muslims of their un-European, un-Christian, and illiberal ways. Along the way he sheds light on a variety of controversial topics, including the meanings of democracy—and the ideological assumption that Islam is not compatible with it while Christianity is—women in Islam, sexuality and sexual freedom, and the idea of Abrahamic religions valorizing an interfaith agenda. Islam in Liberalism is an unflinching critique of Western assumptions and of the liberalism that Europe and Euro-America blindly present as a type of salvation to an assumingly unenlightened Islam.
About the Author
Joseph A. Massad is professor of modern Arab politics and intellectual history in the Department of Middle Eastern, South Asian, and African Studies at Columbia University. He has written many books, including Desiring Arabs, also published by the University of Chicago Press. 
Praise For Islam in Liberalism…
"Islam in Liberalism is required reading for anyone invested in Muslim Studies. This book reminds us that in order to move beyond scholarship revolving around a simplistic binarism between West and non-West, we must never forget how this opposition has shaped and continues to actively influence scholarship today. Furthermore, studying 'Islam' requires unpacking this term, which has become a reified, catch-all signifier in much Western scholarship. More than that, though, it may suggest that some of what is called Muslim Studies is less about something called 'Islam' than it is about liberalism. Thus, anyone who seeks to study Islam within a Western context must also undertake, as a necessary correlate to Muslim Studies, something that might be called Liberalism Studies."
— Los Angeles Review of Books
"This erudite, at times frustrating, but always challenging, work of scholarship should be essential reading for all scholars of Islam and Middle East politics."
— Cambridge Review of International Affairs
"Islam in Liberalism is thus a crucial, timely, and inspiring study for critics of liberalism and for scholarship about Islam in political and social theory more generally. It is simultaneously a massive synthesis of numerous literatures and discourses about Islam, and an original, provocative reading of what unites constructions of Islam with definitions of liberalism."
— Theory & Event
"Here's a book that Donald Trump should read. At the heart of Massad's Islam in Liberalism is a narrative about terms, translation and global imperialism. This empire is largely cultural but can turn territorial, and it belongs to the 'liberal' West. Massad argues, with relentless pace, that the West's drive to hegemony is supported by a series of images in political, media and scholarly discourse that position 'liberalism' and 'Islam' as antithetical to each other. . . . Massad's relentless interrogation of Western stereotypes of Islam, Muslims and the 'Muslim world' is much needed at a time when the Republican front-runner can win votes by subjecting Muslims to yet more demonization."
— Theos
"Islam in Liberalism is a timely nuanced book, written in the same spirit and comprehensiveness of Massad's previous work. Here, he continues his scrutiny of the relationship between knowledge and power and succeeds in becoming one of the most articulate scholars of critical studies. The book is a blast on much of the taken-for-granted solid boundaries that previous generation of scholars have erected to eroticize Islam and Muslims and make both the antithesis of Western liberalism. . . . This is a dense book full of powerful evidence, arguments, claims and interpretations. It maps the genealogy of a complex intellectual history entrenched in imperialism, colonialism, domination and resistance. There is a dark side to this history that is so clear in Massad's book. The story of Islam in Liberalism is a narrative not only about liberal fears and anxieties but also about racism, phobia, and negation of the agency of those who are labelled Muslims. . . . Islam in Liberalism is a landmark in the field of post-colonial studies."
— Madawi Al-Rasheed, Politics, Religion and Ideology
"Massad's Islam in Liberalism provides a far more nuanced and complex reappraisal of this tumultuous history in a brilliant and impressive synthesis of recent post-colonial, psychoanalytic, feminist, and political theoretical literatures."
— Marc Aziz Michael, Politics, Religion and Ideology
"Islam in Liberalism is a welcome and timely intervention into one of the most pressing questions of our times: why does Islam occupy such a central inimical place within Western politics and ideology? Massad answers this question with a straightforward thesis: 'Islam' as such does not exist. What has come to be called 'Islam' as a supposedly homogenous cultural entity in reality has been fabricated by Western liberalism as its symbolic Other."
— Sara R. Farris, Syndicate Theology
"This is a powerfully—often passionately--written text. . . . The only book that I can think of in comparison is Edward Said's Covering Islam—but Massad's book is far richer both in terms of the literature covered (much of which was of course not yet available when Said wrote his book) and the range of questions engaged."
— Talal Asad
"In recent years we have come to take seriously the idea that certain othering concepts such as 'the Orient' and 'Islam' have played a vital role in giving reality to 'the West.' The extraordinary value of Massad's new book is that he has shown, through a sustained analysis of a wide variety of historical and contemporary discourses, that 'Islam' has been more than a periphery-defining concept utilized merely to lend truth and solidity to the Christian West. Far more importantly, 'Islam' has been at work as a powerful agonistic imaginary indispensable for the self-definition of the West's own polity as essentiallyfree. This is a deeply considered work that is more than timely."
— Tomoko Masuzawa
"A bold and insightful study of the historical and contemporary uses and misuses of rhetorics of democracy, women's rights and sexualities in their deployments in relation to Islam—a rich important contribution to a growing body of such critical literature."
— Leila Ahmed
"Massad is an important intellectual voice. He commands attention internationally. He offers distinctive, compelling, and often brilliant critiques of positions that many regard as sacrosanct: most notably the human rights regime, NGOS, and international development organizations, and does not spare the therapeutic enterprises of psychoanalysis and transcultural tolerance." 

— Anne Norton
"This indispensable compendium of rich, critical insights and readings is as learned as it is now necessary. Massad has recreated the scholarly and political context in which understanding of the relationships between Liberalism and Islam will be conducted."
— Paul Gilroy
"This is a dense and densely argued book, in the best way, full of lively histories of the political, intellectual and cultural twists and turns that have enabled Western liberalism to so clearly dominate the discourse on Islam, and to claim it as the evil opposite while in fact feeding off that projection in order to strengthen itself. Islam in Liberalism provides a sophisticated set of analyses and critiques for those wrestling with the liberalism that overlays international matters, especially on Israel and Palestine."
— Electronic Intifada
"Massad provides an objective and convincing analysis of the West's exploitation and distortion of Islam for the purpose of promoting liberalism, basing himself and his points of view on old and new [historical] examples, events, and evidence framed in a coherent and fluid presentation."
— Al-Hayat
"Islam in Liberalism raises important questions about the power and influence of Western NGOs and the humanitarian missions of Western governments. Massad is on unimpeachable ground in arguing that these institutions are not simply altruistic vehicles for do-goodism, and that those who claim that the West has a mission and a burden to save women, gays, or the oppressed in the Muslim world are necessarily rehashing old Orientalist tropes. In unearthing the unconscious motives and unspoken cultural assumptions underlying human rights and international organizations, Islam in Liberalism should be required reading for NGO workers the world over."
— Haaretz
"It's hard to imagine a more necessary and timely book. Massad's work is likely to become the sine qua non of studies on how Islam and liberalism interface in politics and culture."
— Flavorwire
"In Islam and Liberalism, Massad again draws on an impressive array of sources and with his particular wit and strong voice, he interpellates key authors and debates in order to question political and theoretical approaches that are taken for granted, with the aim of revealing the places where progressive critique falls short. He does so in a way that is always enlightening, and for my own purposes, most useful. . . . In his study, his aim is not just to prove the thesis that Islam, in its varying uses, is projected as the other of Western liberalism, providing it with its constitutive outside at the level of macro-politics. What we have here is an account of the specific myriad textural, political, and tactical practices by which different approaches and understandings of Islam have helped to give shape, meaning, and purpose to what liberalism could be—now and then."
— Leticia Sabsay, Syndicate Theology
"Islam in Liberalism comprises a sequence of very rich and erudite forays into pivotal discursive domains in which Western liberalism has defined itself in defining its Islamic Other (democracy, 'the woman question,' sexuality, psychoanalysis, 'semitism'). Much of the book consists of close readings which are both illuminating (none more perhaps than his dissection of the UNDP's Arab Human Development Report 2005) and unsparing—especially when it involves refuting his critics, which he does with a kind of philological relentlessness in expansive footnotes that I imagine will deter many a potential future critic."
— Alberto Toscano, Syndicate Theology
"This is a compelling work of scholarship by a committed public intellectual that is both insightful and timely, one that speaks to the general public and to academics. Massad does not deny that well intentioned struggles can be pursued under the banner of liberalism and its attendant human rights norms. He insists, however, that such struggles (for example, by activists for nongovernmental organizations) are doomed if they are not cognizant of the role of liberalism as an ideology of colonial and imperial history."
— Journal of Palestine Studies
"Massad's book is persuasive, arguing that while constructed as the significant 'Other' of European and American identities, Islam—or more accurately, its representation—is not external to these politico-cultural configurations but firmly embedded within them as a constitutive element: Islam, he shows, has become fundamental to the West's cultural and political self-image, figuring in turn in its moralizing projections towards, and geopolitical interventions within, Muslim societies. . . . Building on the foundations laid down by Said, Massad's book provides important new insights into how the cultural logic of empire continues to function as a motive force within contemporary geopolitics."
— Richard Gale, Dialogues in Human Geography
"Islam in Liberalism is a timely and important book to read, particularly as it urges us to continue to reflect in new ways not only on the prevalent imperial order, intellectual and militaristic, of spreading and securing 'democracy and freedom' but also on how Islam persistently is referenced and used in Western countries and in liberal discourse to deflect attention from and responsibility for schisms and repression of ideals said to be held close and intimately linked to democracy in the West."
— Anna Mansson McGinty, Dialogues in Human Geography
"Islam in Liberalism is about the constitution of liberalism through the categorization, manipulation and demonization of Islam through time. Islam is formed not just in relation to, but inside liberalism, as its constitutive other; thus, the European projection of a homogenized and undifferentiated 'Islam', which shifts through time and the geopolitical and geoeconomic exigencies of different eras, is central to the birth, emergence and ongoing sustainability of the European liberal project. Showing how and why Islam and Muslims became and remain this 'primary other' to Western Europe's identity and sense of self is Massad's main project."
— Katharyne Mitchell, Dialogues in Human Geography
"Islam and Liberalism is an agenda-setting book. It is polemical and combative in places, but even these elements can be read as provocations. Though not the first to argue that liberalism is exclusionary, Massad breaks new ground in the way he develops this claim, particularly in relation to sex. Doing so, he speaks both to sexual life and also to the broader issues and politics it raises, which broach some of the most important issues of our day: debates about who belongs or does not belong in Europe, and how Europe and the West should conduct its relationships with North Africa. At the same time, he gives us something to think about: something challenging, unsettling and fundamental."
— Richard Phillips, Dialogues in Human Geography
"Thoroughly embedded within postcolonial studies and drawing heavily on Saïd's legacy, Massad's eloquent, engaged and at times passionate style of argumentation, urges, or even exhorts the reader to understand how mainstream assumptions and conceptualizations about Islam and liberalism obscure our understanding of the world and thwart our political imagination."
— Sami Zemni, Dialogues in Human Geography
"Massad's contribution . . . is to posit Islam not as something in contention with liberalism—as a claim to a particularist set of values—but rather as formative of the liberal project itself. In this way Massad destabilizes a singularly European history of liberalism. An imagined Islam has always been present within this European project and any attempt to grapple with that project today must attend to the construction and elision of Islam at liberalism's core."
— Kathleen Foody
"Taking up Foucault's notion of the tactical polyvalence of discourses, Massad demonstrates that Western liberal 'democracy', portrayed as foreign to 'Islam', necessarily serves an imperial project. His aim is not merely to reveal the US government's hypocrisy in the name of realpolitik, as when, for instance, it established and supported anti-democratic Islamic regimes during the Cold War, but is rather to foreground what the West must disavow as it constructs itself as embodying a so-called 'secular' liberalism that is always hiding its Protestant roots. . . . Defining liberalism as a problem that cannot and should not be remedied by liberalism may be Massad's most timely and controversial intervention."
— Politics, Religion & Ideology
or
Not Currently Available for Direct Purchase