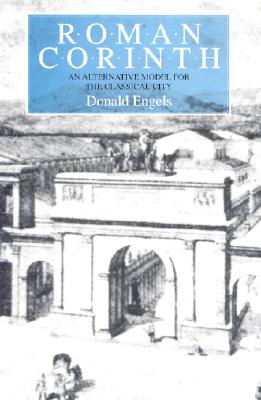 Roman Corinth (Hardcover)
An Alternative Model for the Classical City
University of Chicago Press, 9780226208701, 248pp.
Publication Date: May 29, 1990
* Individual store prices may vary.
Description
In the second century A.D., Corinth was the largest city in Roman Greece. A center of learning, culture, and commerce, it served as the capital of the senatorial province of Achaea and was the focus of apostle Paul's missionary activity. Donald Engels's important revisionist study of this ancient urban area is at once a detailed history of the Roman colony and a provocative socioeconomic analysis. With Corinth as an exemplar, Engels challenges the widely held view that large classical cities were consumer cities, innocent of the market forces that shape modern economies. Instead, he presents an alternative model—the "service city."

Examining a wealth of archaelogical and literary evidence in light of central place theory, and using sound statistical techniques, Engels reconstructs the human geography of the Corinthia, including an estimate of the population. He shows that—given the amount of cultivatable land—rents and taxes levied onthe countryside could not have supported a highly populated city like Corinth. Neither could its inhabitants have supported themselves directly by farming.

Rather, the city constituted a thriving market for domestic, regional, and overseas raw materials, agricultural products, and manufactured goods, at the same time satisfying the needs of those who plied the various land and sea routes that converged there. Corinth provided key governmental and judicial services to the province of Achaea, and its religious festivals, temples, and monuments attracted numerous visitors from all corners of the Roman world. In accounting for the large portion of residents who participated in these various areas outside of the traditional consumer model, Engels reveals the depth and sophistication of the economics of ancient cities.

Roman Corinth is a much-needed critique of the currently dominant approach of ancient urbanism. It will be of crucial interest to scholars and students in classics, ancient history, and urban studies.

About the Author
Donald Engels is associate professor of history at the University of Arkansas at Fayetteville. He is the author of "Alexander the Great and the Logistics of the Macedonian Army."
or
Not Currently Available for Direct Purchase