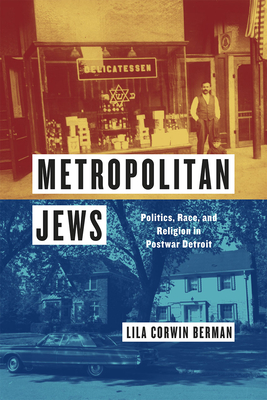 Metropolitan Jews (Hardcover)
Politics, Race, and Religion in Postwar Detroit (Historical Studies of Urban America)
University of Chicago Press, 9780226247830, 320pp.
Publication Date: May 6, 2015
* Individual store prices may vary.
Description
In this provocative and accessible urban history, Lila Corwin Berman considers the role that Detroit's Jews played in the city's well-known narrative of migration and decline. Taking its cue from social critics and historians who have long looked toward Detroit to understand twentieth-century urban transformations, Metropolitan Jews tells the story of Jews leaving the city while retaining a deep connection to it. Berman argues convincingly that though most Jews moved to the suburbs, urban abandonment, disinvestment, and an embrace of conservatism did not invariably accompany their moves. Instead, the Jewish postwar migration was marked by an enduring commitment to a newly fashioned urbanism with a vision of self, community, and society that persisted well beyond city limits.

Complex and subtle, Metropolitan Jews pushes urban scholarship beyond the tenacious black/white, urban/suburban dichotomy. It demands a more nuanced understanding of the process and politics of suburbanization and will reframe how we think about the American urban experiment and modern Jewish history.
About the Author
Lila Corwin Berman is associate professor of history at Temple University, where she holds the Murray Friedman Chair and directs the Feinstein Center for American Jewish History. She is the author of Speaking of Jews: Rabbis, Intellectuals, and the Creation of an American Public Identity.
Praise For Metropolitan Jews: Politics, Race, and Religion in Postwar Detroit (Historical Studies of Urban America)…
"A brilliant intervention in intersecting areas of history, Metropolitan Jews is a significant and exciting contribution to scholarship on cities, suburbs, American Jews, postwar religion, and liberal politics. Berman argues persuasively that Detroit provides a window into larger trends happening in cities across the United States. This is a subtle book and one that will be read widely by scholars of cities and suburbs, of postwar religion and politics. It opens a fresh and exciting perspective on suburbanization, Jewish urban politics, and the postwar transformation of Judaism. Berman tells this complex story filled with pathos beautifully."
— Deborah Dash Moore, author of Urban Origins of American Judaism
"Berman's research is original, provocative, and sound. Her deft analysis of Jewish Detroit's evolving liberalism — and its limits — helps us, among other things, to understand the important influence of Jewish thought and experience on postwar urban politics. This is a strong study worthy of a broad audience."
— Mark Wild, California State University-Los Angeles
"As Berman explains, 'Jewish life in cities has been fraught with contradictions, often born from Jews' encounters with power.' Berman uncovers the full range of these contradictions in this elegant, learned and refreshingly unsentimental study. Metropolitan Jews is more than an invaluable contribution to urban history, suburban history, Jewish history, ethnic history, and twentieth-century U.S. history.  Berman's angle on these topics produces a new synthesis that will enrich the understanding of scholars, students, and general readers alike."
— Beryl Satter, Rutgers University-Newark
"This powerful book builds a crucial bridge between the fields of American Jewish history and urban/suburban history while challenging the scholarly equation of white flight to postwar suburbia with the ascendance of conservatism. Berman's concept of 'metropolitan urbanism' captures the connections and contradictions of Jewish identity and politics during the transformation of modern Detroit, in particular by showing how Jewish suburbanization in response to the racial transition of city neighborhoods simultaneously produced a new form of liberal engagement with urban social justice."
— Matthew Lassiter, University of Michigan
"Metropolitan Jews is a wonderful example of a 'minority history' that illustrates how the group in question, in this case Jews, was more than merely an interesting sidebar to the 'mainstream' American historical narrative. . . . The book presents an interesting and convincing change-over-time historical argument. Berman demonstrates how Jews' engagement with Detroit began with a neighborhood-based urbanism, transformed into a citywide urbanism, and eventually became a metropolitan urbanism. Jews' interpretation of who was responsible for Detroit's well-being also shifted from government to private sources, including business and faith institutions. . . . This thoroughly researched, well-written, and stimulating book will influence scholars in a variety of US fields, including liberalism, urban/suburban/metropolitan history, whiteness studies, and, of course, Jewish history."
— American Historical Review
"Her thoroughgoing research contributes to our understanding of the relationship and contribution of individual Jews and Jewish communal institutions to the city of Detroit over the past fifty years. . . .Will likely influence the way scholars perceive American Jewry and American urban history for some time to come."
— The American Jewish Archives Journals
or
Not Currently Available for Direct Purchase