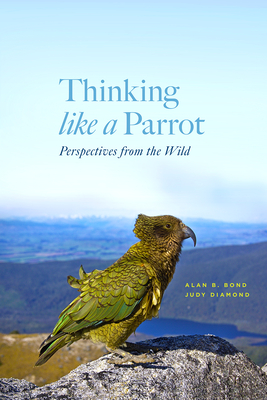 Thinking Like a Parrot (Hardcover)
Perspectives from the Wild
University of Chicago Press, 9780226248783, 296pp.
Publication Date: July 2, 2019
* Individual store prices may vary.
Description
People form enduring emotional bonds with other animal species, such as dogs, cats, and horses. For the most part, these are domesticated animals, with one notable exception: many people form close and supportive relationships with parrots, even though these amusing and curious birds remain thoroughly wild creatures. What enables this unique group of animals to form social bonds with people, and what does this mean for their survival?

In Thinking like a Parrot, Alan B. Bond and Judy Diamond look beyond much of the standard work on captive parrots to the mischievous, inquisitive, and astonishingly vocal parrots of the wild. Focusing on the psychology and ecology of wild parrots, Bond and Diamond document their distinctive social behavior, sophisticated cognition, and extraordinary vocal abilities. Also included are short vignettes—field notes on the natural history and behavior of both rare and widely distributed species, from the neotropical crimson-fronted parakeet to New Zealand's flightless, ground-dwelling kākāpō. This composite approach makes clear that the behavior of captive parrots is grounded in the birds' wild ecology and evolution, revealing that parrots' ability to bond with people is an evolutionary accident, a by-product of the intense sociality and flexible behavior that characterize their lives.

Despite their adaptability and intelligence, however, nearly all large parrot species are rare, threatened, or endangered. To successfully manage and restore these wild populations, Bond and Diamond argue, we must develop a fuller understanding of their biology and the complex set of ecological and behavioral traits that has led to their vulnerability. Spanning the global distribution of parrot species, Thinking like a Parrot is rich with surprising insights into parrot intelligence, flexibility, and—even in the face of threats—resilience.
About the Author
Alan B. Bond
is professor emeritus of biological sciences at the University of Nebraska and
Judy Diamond
is professor and curator at the University of Nebraska State Museum. Together they have studied the social behavior, cognition, and vocalizations of wild parrots for more than three decades. They are coauthors of
Kea, Bird of Paradox: The Evolution and Behavior of a New Zealand Parrot
and
Concealing Coloration in Animals
. For more on their research, please visit the website of the Center for Avian Cognition,
http://www.aviancog.org/
.
Praise For Thinking Like a Parrot: Perspectives from the Wild…
"The minds of wild parrots brim with intelligence, and their lives with clever, flexible, and exuberant behavior. This fascinating book takes us into their universe to discover not just how these birds live, but how they think, 'talk,' and feel. You'll be amazed by the surprises—the slang of kakas, the playful gangs of galahs, the ingenious adaptability of rose-ringed parakeets."
— Jennifer Ackerman, author of "The Genius of Birds"
"Parrots have unusually large brains, surprisingly flexible learning and intelligence, amazing mimetic abilities, and rich, complicated social interactions. What evolutionary pressures have shaped these traits? In this entertaining and well-written book, Bond and Diamond offer a vivid portrait of the lives of parrots, keas, and macaws. It is a scientifically up-to-date tour de force, easily accessible to scientists and non-scientists alike, that elegantly summarizes the birds' history, biology, and spread throughout the world—not to mention their complex relations with humans, who have for centuries selectively bred them for their wits and personalities."
— Robert M. Seyfarth, University of Pennsylvania, coauthor of "The Social Origins of Language" and "Baboon Metaphysics: The Evolution of a Social Mind"
"Although parrots have shared our hearts and hearths for hundreds of years, our understanding of their natural behavior has remained shrouded in mystery—until now. As parrots are notoriously difficult to study in the wild, the soap opera of their existence has remained unclear. In Thinking like a Parrot, Bond and Diamond have looked behind the curtain to reveal that parrots possess minds and behavior as complex and intriguing as any creatures in the animal kingdom. This is an exceptional guide for anyone who wants to discover more about how this stunning group of birds think about the world. As we continue to destroy the diverse habitats that wild parrots call home, it's become apparent that we need to learn all we can about them before it's too late. Parrots are so much more than the chatty, funny trickster companions that we know and love. This is the perfect guide to learning their secrets."
— Nathan J. Emery, Queen Mary University of London,author of "Bird Brain: An Exploration of Avian Intelligence"
"There is indeed something special about parrots. Bond and Diamond have captured beautifully the essence of both the extreme complexity and sophistication of the wild birds and our complex relationship with them. Thinking like a Parrot nails the most difficult aspect by managing to explain, without getting bogged down, the high levels of cognition and intelligence of parrots, especially in context of their complex social lives. Totally original and engagingly written."
— Robert Heinsohn, Australian National University, coeditor of "Boom and Bust: Bird Stories for a Dry Country"