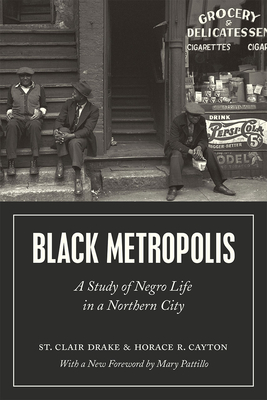 Black Metropolis (Paperback)
A Study of Negro Life in a Northern City
University of Chicago Press, 9780226253213, 912pp.
Publication Date: November 10, 2015
Other Editions of This Title:
Paperback (8/1/1993)
* Individual store prices may vary.
Description
Ground-breaking when first published in 1945, Black Metropolis remains a landmark study of race and urban life. Few studies since have been able to match its scope and magnitude, offering one of the most comprehensive looks at black life in America. Based on research conducted by Works Progress Administration field workers, it is a sweeping historical and sociological account of the people of Chicago's South Side from the 1840s through the 1930s. Its findings offer a comprehensive analysis of black migration, settlement, community structure, and black-white race relations in the first half of the twentieth century. It offers a dizzying and dynamic world filled with captivating people and startling revelations.

A new foreword from sociologist Mary Pattillo places the study in modern context, updating the story with the current state of black communities in Chicago and the larger United States and exploring what this means for the future. As the country continues to struggle with race and our treatment of black lives, Black Metropolis continues to be a powerful contribution to the conversation.
About the Author
John Gibbs St. Clair Drake (1911–90) was a sociologist and anthropologist who founded African American Studies programs at Roosevelt University and Stanford University. His books included Social Work in West Africa, Race Relations in a Time of Rapid Social Change, and Black Religion and the Redemption of Africa.
Horace R. Cayton (1903–70) was an American sociologist known for his studies of working class black Americans, particularly in mid-twentieth-century Chicago. His books included Black Workers and the New Unions and Long Old Road—An Autobiography.
Mary Pattillo is the Harold Washington Professor of Sociology and African American studies at Northwestern University. She is the author of Black on the Block: The Politics of Race and Class in the City, also published by the University of Chicago Press, and coeditor of Imprisoning America: The Social Effects of Mass Incarceration.
Praise For Black Metropolis: A Study of Negro Life in a Northern City…
"Black Metropolis is a rare combination of research and synthesis, a book to be deeply pondered. . . . No one who reads it intelligently can ever believe again that our racial dilemma can be solved by pushing buttons, or by gradual processes which may reach four or five hundred years into the future."
— Nation
"This volume makes a great contribution to the building of the future America and the free world."
— New York Times
"By virtue of its range, its labor and its insight, the book seems certain to become a landmark not only in race studies but in the broader field of social anthropology."
— New Republic