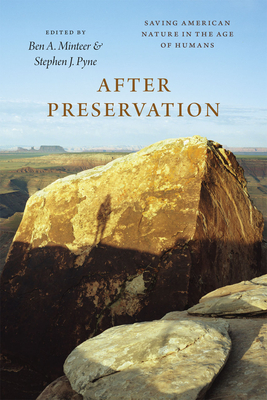 After Preservation
Saving American Nature in the Age of Humans
Hardcover

* Individual store prices may vary.
Other Editions of This Title:
Paperback (3/25/2015)
Description
From John Muir to David Brower, from the creation of Yellowstone National Park to the Endangered Species Act, environmentalism in America has always had close to its core a preservationist ideal. Generations have been inspired by its ethos—to encircle nature with our protection, to keep it apart, pristine, walled against the march of human development. But we have to face the facts. Accelerating climate change, rapid urbanization, agricultural and industrial devastation, metastasizing fire regimes, and other quickening anthropogenic forces all attest to the same truth: the earth is now spinning through the age of humans. After Preservation takes stock of the ways we have tried to both preserve and exploit nature to ask a direct but profound question: what is the role of preservationism in an era of seemingly unstoppable human development, in what some have called the Anthropocene?
           
Ben A. Minteer and Stephen J. Pyne bring together a stunning consortium of voices comprised of renowned scientists, historians, philosophers, environmental writers, activists, policy makers, and land managers to negotiate the incredible challenges that environmentalism faces. Some call for a new, post-preservationist model, one that is far more pragmatic, interventionist, and human-centered. Others push forcefully back, arguing for a more chastened and restrained vision of human action on the earth. Some try to establish a middle ground, while others ruminate more deeply on the meaning and value of wilderness. Some write on species lost, others on species saved, and yet others discuss the enduring practical challenges of managing our land, water, and air.

From spirited optimism to careful prudence to critical skepticism, the resulting range of approaches offers an inspiring contribution to the landscape of modern environmentalism, one driven by serious, sustained engagements with the critical problems we must solve if we—and the wild garden we may now keep—are going to survive the era we have ushered in.  

Contributors include: Chelsea K. Batavia, F. Stuart (Terry) Chapin III, Norman L. Christensen, Jamie Rappaport Clark, William Wallace Covington, Erle C. Ellis, Mark Fiege, Dave Foreman, Harry W. Greene, Emma Marris, Michelle Marvier, Bill McKibben, J. R. McNeill, Curt Meine, Ben A. Minteer, Michael Paul Nelson, Bryan Norton, Stephen J. Pyne, Andrew C. Revkin, Holmes Rolston III, Amy Seidl, Jack Ward Thomas, Diane J. Vosick, John A. Vucetich, Hazel Wong, and Donald Worster. 
Praise For After Preservation: Saving American Nature in the Age of Humans…
"Conservation requires conversation; protecting nature while still using it to meet human needs is a paradoxical mission, and its methods depend heavily on time and place. In such terrain, manifestos make lousy guides. Better is a forum such as After Preservation, which not only seats ecomodernists, wilderness purists, bureaucrats, and scientists at the same long, noisy table but also places their positions in historical context."

— New Yorker

"Although environmentalists have traditionally held onto a preservationist philosophy in fending off ecological harms, the omnipresence of human influence makes many now wonder if that approach is still feasible. In this collection of twenty-three spirited and thought-provoking essays, scientists, historians, and activists alike represent a broad spectrum of viewpoints, from conservation at all costs to balancing the natural world's needs with those of civilization. . . . Everyone concerned with the ongoing debate over wildlife protection will want to study this vitally important contribution to the discussion."

— Booklist

"In this well-rounded and mostly accessible collection, Arizona State University professors Minteer (The Landscape of Reform) and Pyne (Burning Bush) pull together a range of perspectives on contemporary issues in environmental conservation from academics, ecologists, philosophers, and environmental activists. . . . By inviting a range of voices to the discussion, Minteer and Pyne reveal subjects of importance to both themselves and to their peers around the country."
— Publishers Weekly

"Minteer and Pyne have compiled a variety of opinions from twenty-six environmental specialists on a provocative subject. . . . Overall, the writings illustrate a deep division of American opinion on how to preserve the environment. After Preservation would be a useful resource for university seminars."
 
— Choice
University of Chicago Press, 9780226259826, 240pp.
Publication Date: March 25, 2015
About the Author
Ben A. Minteer holds the Arizona Zoological Society Endowed Chair in the School of Life Sciences at Arizona State University. He has published a number of books, including Refounding Environmental Ethics and The Landscape of Reform.

Stephen J. Pyne is a Regents' Professor in the School of Life Sciences at Arizona State University. He is the author of many books, most recently Fire: Nature and Culture, and coauthor of The Last Lost World.