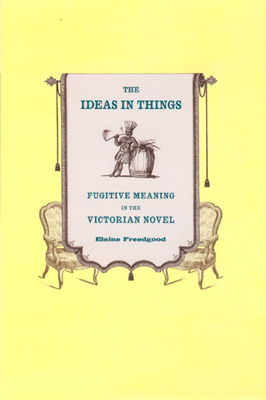 The Ideas in Things
Fugitive Meaning in the Victorian Novel
Hardcover

* Individual store prices may vary.
Other Editions of This Title:
Paperback, Large Print (10/15/2010)
Description
While the Victorian novel famously describes, catalogs, and inundates the reader with things, the protocols for reading it have long enjoined readers not to interpret most of what crowds its pages. The Ideas in Things explores apparently inconsequential objects in popular Victorian texts to make contact with their fugitive meanings. Developing an innovative approach to analyzing nineteenth-century fiction, Elaine Freedgood here reconnects the things readers unwittingly ignore to the stories they tell.

Building her case around objects from three well-known Victorian novels—the mahogany furniture in Charlotte Brontë's Jane Eyre, the calico curtains in Elizabeth Gaskell's Mary Barton, and "Negro head" tobacco in Charles Dickens's Great Expectations—Freedgood argues that these things are connected to histories that the novels barely acknowledge, generating darker meanings outside the novels' symbolic systems. A valuable contribution to the new field of object studies in the humanities, The Ideas in Things pushes readers' thinking about things beyond established concepts of commodity and fetish.


Praise For The Ideas in Things: Fugitive Meaning in the Victorian Novel…
"Sly, charming, and devilishly clever, The Ideas in Things whisks its reader beyond the covers of four Victorian novels in pursuit of the associations more traditional readings overlook. Freedgood offers a new approach to realism in these pages—one that dares to risk being called literal-minded—as it tracks down the secret histories of things."
— Mary Poovey, author of A History of the Modern Fact
 "Elaine Freedgood makes a major critical intervention by proposing a powerful method of reading for occluded histories in novels. The scam of fiction is that the uncomfortable pasts of slavery, genocide, and imperialism (to name a few) are ever present before our eyes, in the objects that proliferate in novels, but we have become habituated to give them little or no attention. In brilliantly reading 'things' for the histories they simultaneously reveal and foreclose, Freedgood has made it impossible to think about the Victorian novel apart from the cultural memory it both gestures towards and suppresses."
— Gauri Viswanathan, author of Outside the Fold: Conversion, Modernity, and Belief >
"By taking
things
seriously—by recognizing that the most inconsequential of objects can in fact be an object of considerable consequence—Elaine Freedgood performs a wonderful feat. She not only defamiliarizes the most familiar Victorian novels; she also reads them as a way of disclosing the social lives of things and the multiple histories that lie encrypted within them.
The Ideas in Things
makes a major contribution to the materialist turn in literary criticism, and it makes a startling interruption in our habits of reading."
— Bill Brown, author of A Sense of Things: The Object Matter of American Literature
"The Ideas in Things argues for a culture of objects—not yet commodities, much less fetishes, but genuinely fascinating and unpredictably mobile things with complex histories unacknowledged by the way we now read Victorian novels. Freedgood's fresh and utterly original way of reading fiction by Charlotte Brontë, Elizabeth Gaskell, and Charles Dickens cracks open the archive of what she calls 'thing culture' and rescues the stuff of realism from the abstract and static condition of metaphors. Such seemingly benign objects as the furniture of Thornfield, the Bartons' calico curtains, and Magwitch's Australian tobacco consequently start telling us what they know about colonial deforestation, the slave trade, the famine in southern India, the genocide of aboriginal peoples, and many otherwise lost possibilities for meaning that would certainly have registered on Victorian readers. This book should inspire a generation of revisionary readings."
— Nancy Armstrong, author of How Novels Think: The Limits of Individualism from 1719-1900
"Ultimately, what Freedgood generates is far more than a new set of readings of key Victorian texts. Rather, this is a manifesto for a new
way
to read fiction that gets us beyond the limits of the allegorical. In her important project of recuperating the meaning of things, Freedgood demonstrates the considerable delights and rewards of literal-mindedness."
— Jordanna Bailkin
"Freedgood's insistence on what she calls 'Victorian "thing culture"' as the ground for reading is what makes her work new and enables a different kind of historical literary analysis."
— Lynn Voskuil
"Freedgood [demands] that we attend to the array of things that populate Victorian fiction but also [demonstrates] how we might in practice do so. For this reason, the book stands as an exemplary piece of twenty first-century Victorianist scholarship."
— Joseph Bizup
University of Chicago Press, 9780226261553, 184pp.
Publication Date: November 15, 2006
About the Author
Elaine Freedgood is professor of English at New York University.