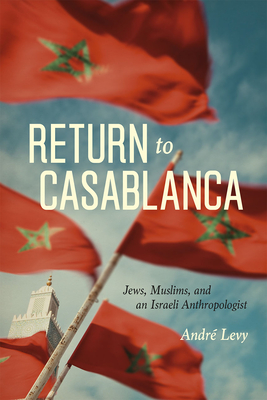 Return to Casablanca (Paperback)
Jews, Muslims, and an Israeli Anthropologist
University of Chicago Press, 9780226292557, 240pp.
Publication Date: November 4, 2015
Other Editions of This Title:
Hardcover (11/4/2015)
* Individual store prices may vary.
Description
In this book, Israeli anthropologist André Levy returns to his birthplace in Casablanca to provide a deeply nuanced and compelling study of the relationships between Moroccan Jews and Muslims there. Ranging over a century of history—from the Jewish Enlightenment and the impending colonialism of the late nineteenth century to today's modern Arab state—Levy paints a rich portrait of two communities pressed together, of the tremendous mobility that has characterized the past century, and of the paradoxes that complicate the cultural identities of the present.  
           
Levy visits a host of sites and historical figures to assemble a compelling history of social change, while seamlessly interweaving his study with personal accounts of his returns to his homeland. Central to this story is the massive migration of Jews out of Morocco. Levy traces the institutional and social changes such migrations cause for those who choose to stay, introducing the concept of "contraction" to depict the way Jews deal with the ramifications of their demographic dwindling. Turning his attention outward from Morocco, he goes on to explore the greater complexities of the Jewish diaspora and the essential paradox at the heart of his adventure—leaving Israel to return home. 

About the Author
André Levy is a senior lecturer at Ben-Gurion University of the Negev in Beersheba, Israel. He is coeditor of Homelands and Diasporas: Holy Lands and Other Places. 

Praise For Return to Casablanca: Jews, Muslims, and an Israeli Anthropologist…
"According to David Brooks, 'Going back is a creative process. The events of childhood are like the Hebrew alphabet; the vowels are missing, and the older self has to make sense of them.' Levy's return from Israel to the country of his birth proceeds from his first fearful encounter, through the uncertainties of the Gulf War, to the discovery of the deeply ambivalent approach of the Moroccan Muslims to their Jewish neighbors. Analytic yet engaged, wary yet appreciative, Levy offers a realistic and thoughtful example of the ways in which stereotypes need to be confronted directly, and how emotion can be harnessed to comprehension and mutual understanding."
— Lawrence Rosen, Princeton University
"A work that unites memory, nostalgia and social science. It is a combination of a search for roots, memoir and anthropological field study of the dwindling Moroccan Jewish community in Casablanca. . . . For readers who treasure a traditional folkloric Judeo-Arabic Arabian Nights form of storytelling, this book is a delight.
 
— Aaron Howard
"Levy's work has many merits: it is nuanced, detailed, intimately told. . . . Return to Casablanca is an important contribution to the study of Jews in the Muslim world: not many communities still exist, and the Moroccan one is the largest. The book is also of interest for minority studies and its exploration of the notion of 'diaspora.'"
 
— Jewish Book Council
"Levy, an Israeli anthropologist who was born in Morocco and migrated to Israel with his family in the fifties, has written a sensitive book on the dynamic transformation of Jewish identity and communal solidarity of the Jewish community of Casablanca. Levy weaves his own personal journey into that of the larger Jewish community and its transformation under French colonial rule, postcolonial upheavals, and the formation of the modern nation-state of Morocco, defined by its Arab and Moslem identities. The political tensions that followed the founding of the Jewish state of Israel exacerbated the anxieties and fears of the Moroccan Jews, who undertook a massive migration first to Israel and later to France. Levy's study of the small community (around 3,000) that chose to remain behind in Morocco provides valuable insights into the understanding of personal and group identity, of the meaning of 'home' and exile, and of the transformation of human communities. . . . Highly recommended."
 
— Choice
or
Not Currently Available for Direct Purchase