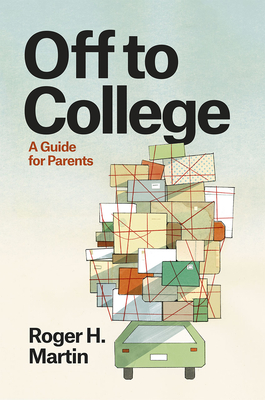 Off to College
A Guide for Parents (Chicago Guides to Academic Life)
Hardcover

* Individual store prices may vary.
Description
For many parents, sending their child off to college can be a disconcerting leap. After years spent helping with homework, attending parent-teacher conferences, and catching up after school, college life represents a world of unknowns. What really happens during that transitional first  year of college? And what can parents do to strike the right balance between providing support and fostering independence?
With Off to College, Roger H. Martin helps parents understand this important period of transition by providing the perfect tour of the first year on today's campus. Martin, a twenty-year college president and former Harvard dean, spent a year visiting five very different colleges and universities across the United States—public and private, large and small, elite and non-elite—to get an insider's view of modern college life. He observes an advising session as a student sorts out her schedule, unravels the mysteries of roommate assignments with a residence life director, and patrols campus with a safety officer on a rowdy Saturday night. He gets pointers in freshman English and tips on athletics and physical fitness from coaches. He talks with financial aid officers and health service providers. And he listens to the voices of the first–year students themselves. Martin packs Off to College with the insights and advice he gained and bolsters them with data from a wide variety of sources to deliver a unique and personal view of the current student experience.
The first year is not just the beginning of a student's college education but also the first big step in becoming an adult. Off to College will help parents understand what to expect whether they're new to the college experience or reconciling modern campus life with memories of their own college days.
Praise For Off to College: A Guide for Parents (Chicago Guides to Academic Life)…
"Parents should be knowledgeable about their youngsters' challenges starting higher education. But just as important, [Martin] said, is letting young adults deal with their own problems on campus. It's all part of 'the growing up experience.' . . . That philosophy infuses his new book Off to College: A Guide for Parents . . . aimed at preparing parents for the empty nest, advising them on how to handle possible major crises such as students' mental health problems and substance abuse while urging them to avoid micromanaging choices of academic majors or squabbles with messy roommates."
— Larry Gordon
"Martin, former president of Moravian College in Pennsylvania and Randolph-Macon College in Virginia, and a parent of two daughters who both attended college, spent a year examining the programming and resources offered to first-year students at five different four-year institutions. From orientation sessions to campus safety to first-generation students, Martin examines the freshman year of college from multiple lenses, dispensing advice to parents along the way."
— Inside Higher Ed
"Martin knows a lot about colleges. He's attended them as a student, taught at them as a professor, and ran two of them as president. He even went back to school to write a book about what it would be like to be a 61-year old freshman. In his new book
Off To College: A Guide for Parents
, he talks to everyone from cops to coaches, and hangs out everywhere from dorm rooms to drinking parties . . . all to give parents a sense of what happens when they drop their kid off and drive away."
— WBEZ
"Martin has written a lively, entertaining, and invaluable book for parents about to send a kid off to college. He demystifies the process by literally giving parents a behind the scenes look at orientation, individual classes, meetings with advisers, dorm life, and conversations with faculty members and administrators. No topic that worries parents is left untouched: drinking, plagiarism, campus safety, sexual assault, choice of major, grade inflation—you name it. Every parent who is anxious about sending their child off to college should read this book."
— Lawrence S. Bacow, president emeritus, Tufts University and member of the Harvard Corporation
"Martin has, in
Off to College,
written a much-needed handbook for anxious parents of new college students. Based on large numbers of interviews at several colleges and universities with students, parents, and campus administrators who work closely with first-year students, Martin's insider look at college-going should help parents know what to expect as their adolescent children go through the sometimes volatile changes that make college a truly transformative transition from childhood to adulthood."
— Richard Ekman, president, The Council of Independent Colleges
"No parents, college is not like it used to be way back in the good old days when you were living on campus! It's a whole new world. You really need to read through this thoughtful and informative profiling of the realities first-year, residential students face on America's four-year campuses. Your student does need you help and that doesn't mean just money. What your student needs most is your understanding. And this book can help make that possible.  
Off to College
is comprehensive and thoughtful of the anxieties parents who are sending their students off to a four-year residential college experience away from home. The book doesn't sugarcoat any of the legitimate parental concerns but it can reduce those concerns by providing realistic perspectives and information. Compared to the investment you are about to make in your child's residential college education, the investment of time your reading this book is minuscule to the value you could derive."
— John N. Gardner, president, John N. Gardner Institute for Excellence in Undergraduate Education
University of Chicago Press, 9780226295633, 240pp.
Publication Date: August 4, 2015
About the Author
Roger H. Martin served as president of Moravian College in Bethlehem, Pennsylvania, and Randolph-Macon College in Ashland, Virginia. Today, he serves on the Board of Education in Mamaroneck, New York, and is president of Academic Collaborations, Inc., a higher education consulting firm. In 2008, Martin spent a year experiencing life as a first-year student at St. John's College in Annapolis, Maryland, which serves as the basis of his book Racing Odysseus: A College President Becomes a Freshman Again.
or
Not Currently Available for Direct Purchase