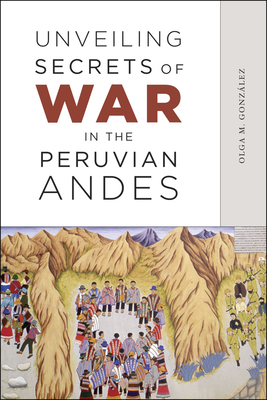 Unveiling Secrets of War in the Peruvian Andes
Paperback

* Individual store prices may vary.
Other Editions of This Title:
Hardcover (4/30/2011)
Description
The Maoist guerrilla group Shining Path launched its violent campaign against the government in Peru's Ayacucho region in 1980. When the military and counterinsurgency police forces were dispatched to oppose the insurrection, the violence quickly escalated. The peasant community of Sarhua was at the epicenter of the conflict, and this small village is the focus of Unveiling Secrets of War in the Peruvian Andes. There, nearly a decade after the event, Olga M. González follows the tangled thread of a public secret: the disappearance of Narciso Huicho, the man blamed for plunging Sarhua into a conflict that would sunder the community for years.

Drawing on extensive fieldwork and a novel use of a cycle of paintings, González examines the relationship between secrecy and memory. Her attention to the gaps and silences within both the Sarhuinos' oral histories and the paintings reveals the pervasive reality of secrecy for people who have endured episodes of intense violence. González conveys how public secrets turn the process of unmasking into a complex mode of truth telling. Ultimately, public secrecy is an intricate way of "remembering to forget" that establishes a normative truth that makes life livable in the aftermath of a civil war.
Praise For Unveiling Secrets of War in the Peruvian Andes…
"Olga González has written an original and insightful work on political violence from the perspective of a rural community in the Peruvian Andes. At the centre of the book is a story of two deaths, one associated with the onset of political violence and the other with its escalation. . . . What González demonstrates with great skill is the ambivalence and longevity of public secrecy, perceptible in its own invisibility, that is part of the reality of war."
— Fiona Wilson
"
Unveiling Secrets of War in the Peruvian Andes
 is a must-read for anyone interested in understanding the dynamics of memory, violence, and reconciliation in Peru and beyond. Methodologically savvy and smartly written, it is a welcome addition to a burgeoning literature on the psychological, cultural, and political effects of the Peruvian conflict on Ayacuchan communities. . . . In examining the silences and secrets that accompany memory production in postconflict Ayacucho, González's theoretically sophisticated study enters a broader discussion about how postconflict communities reconcile, reorganize, and remember."
— Miguel La Serna
"Olga González's ethnographic meditation on identity, history, violence, inequality, and cultural transformation is a joy to read. She skillfully uses community art as an entry point to explore and theorize community experiences of survival and memories of political violence. While providing a thorough political history of the Peruvian conflict, González takes on the ever thorny challenge of analyzing local political culture and memory in relation to local and national power structures over time. In writing that is sharp and insightful, she offers a cutting-edge analysis of local remembering and forgetting juxtaposed with recorded historic events. This is anthropology at its best and a real treat to read."
— Victoria Sanford, Lehman College, CUNY
"Olga González belongs to a new generation of scholars concerned with the politics of truth and memory in the wake of Peru's bloody civil war. In Unveiling Secrets of War in the Peruvian Andes,she uses her extensive, deeply sensitive fieldwork in Sarhua, a Quechua-speaking village, and a remarkable cycle of paintings by local artists to explore matters of secrecy, the said and unsaid, and hatred and reconciliation. The result is a theoretically savvy, absorbing, and very moving piece of work that gives us a whole new way of understanding both the war in Peru and the long shadow it casts upon Andean life even today."--Orin Starn, Duke University
— Orin Starn
University of Chicago Press, 9780226302713, 344pp.
Publication Date: April 30, 2011
About the Author
Olga M. González is assistant professor of anthropology at Macalaster College.
or
Not Currently Available for Direct Purchase