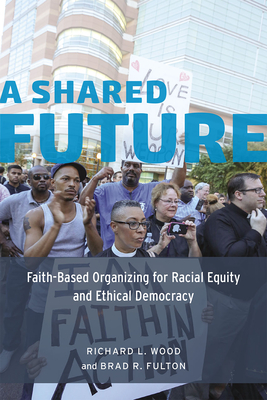 A Shared Future (Paperback)
Faith-Based Organizing for Racial Equity and Ethical Democracy
University of Chicago Press, 9780226306025, 256pp.
Publication Date: December 1, 2015
Other Editions of This Title:
Hardcover (12/2/2015)
* Individual store prices may vary.
Description
Faith-based community organizers have spent decades working for greater equality in American society, and more recently have become significant players in shaping health care, finance, and immigration reform at the highest levels of government.
In
A Shared Future
, Richard L. Wood and Brad R. Fulton draw on a new national study of community organizing coalitions and in-depth interviews of key leaders in this field to show how faith-based organizing is creatively navigating the competing aspirations of America's universalist and multiculturalist democratic ideals, even as it confronts three demons bedeviling American politics: economic inequality, federal policy paralysis, and racial inequity. With a broad view of the entire field and a distinct empirical focus on the PICO National Network, Wood and Fulton's analysis illuminates the tensions, struggles, and deep rewards that come with pursuing racial equity within a social change organization and in society. Ultimately,
A Shared Future
offers a vision for how we might build a future that embodies the ethical democracy of the best American dreams.
An interview of the authors on the subject of faith leaders organizing for justice (Peace Talks Radio, copyright Good Radio Shows, Inc.) can be heard at this link:
https://beta.prx.org/stories/190030
About the Author
Richard L. Wood is professor of sociology at the University of New Mexico.
Brad R. Fulton is assistant professor in the School of Public and Environmental Affairs at Indiana University.
Praise For A Shared Future: Faith-Based Organizing for Racial Equity and Ethical Democracy…
"A Shared Future is a very important and exciting book. Wood and Fulton have written a state-of-the-art treatment of the field of faith-based community organizing with a focus on two important developments: local-state-federal organizing and the emergence of a racial equity analysis at the heart of the organizing. These two developments, alongside the provocative yet careful analysis of the authors, make this a critically important book. It will be widely read and debated."
— Mark R. Warren
"In A Shared Future, Wood and Fulton bring alive the triumphs and dilemmas of contemporary faith-based community organizing. They describe how vibrant networks of community organizations based in churches, unions, schools, and other community groups have won victories at state and national scales as well as in local communities. Interviews with organizers and a large-scale survey show how these dynamic coalitions have become one of the most ethnically and racially diverse forces in contemporary American politics, retaining a commitment to universal justice while confronting the realities of racialized exclusion. This book offers not only careful evidence and analysis, but also hope that faith-based organizing, grounded in moral commitments that bind a diverse society together, can contribute to the ethical democracy we so badly need."
— Ann Swidler
"A Shared Future tackles the crises of our time—rising economic inequality, racial injustice, and policy paralysis—by examining the efforts of faith-based community organizing to create an ethical democracy. This is scholarship at its best, combining empirical research with a vision for the possibility of a shared future within our increasingly multiethnic society."
— Donald E. Miller
"This book is both a distinctive achievement in terms of the comprehensive new data it provides on the evolving field of faith-based community organizing, and a major contribution for those who work at the intersections of religion and politics as well as theory and practice. Wood and Fulton's rich account will be the starting point for the next generation of democratically engaged scholars and thoughtful activists who want to play a role in movements toward a more ethical democracy."
— Andre C. Willis
"The authors look to exorcise three demons 'bedeviling' American society: unparalleled economic inequality, policy paralysis, and racial inequality. Wood and Fulton turn their hopes to faith-based community organizers, who often find themselves at the intersections of economy, politics, and identity. In navigating these issues, faith-based organizers model democratic life. Loaded with firsthand accounts, accessible critical analyses, and spirited conviction, this book exemplifies religious witness and political participation."
— Christian Century
"Unabashedly promoting a liberal agenda to address issues of growing inequality, poverty, educational disparities, racial injustice, voter suppression, and policy paralysis at the national level, the book is relevant background to the Black Lives Matter movement today. The authors believe these organizations, multicultural and racially diverse, can coalesce around Wood's concept of ethical democracy to achieve greater influence in the future. Though faith-based organizations were recognized as critical to the modern civil rights movement, the authors urge researchers to take a closer look at these networks of organizations as agents of social change today. Highly recommended."
— Choice
"An increasing number of congregations have found the universalist ambitions and multicultural platforms that faith based community organizing coalitions offer to be a compelling extension of their faith commitments. Wood and Fulton have done a major service to scholars, clergy, lay activists, and community organizing practitioners alike by revealing the workings of this process and the scale on which it is happening. The book will also be useful in courses related to race, religion, social movements, and democratic theory."
— Review of Religious Research
"The book is a remarkable achievement and should prove of immense interest to sociologists interested in politics, democracy, social movements, and religion. Wood and Fulton should be commended for both their thorough examination of the field of FBCOs as well as their theoretically nuanced and astute conversation about how such organizations empower communities to reach further into a political system that has too often been insensitive to the demands of marginalized populations. A Shared Future is a book that is both optimistic and critical about a compelling model for social change at a time when concerns about civic engagement are both timely and relevant."
— American Journal of Sociology
"This book is a tour de force for any scholar of religion in the United States today and for anyone interested in community organizing. Wood and Fulton's use of the survey data as well as their ethnographic work have produced a top-of-the line thoughtful analysis of the role of faith based community organizing coalitions. With less than 200 such coalitions, it is not clear how effectively they can be in breaking the national policy paralysis, but they are among the few forces in today's society that are actively addressing economic inequality and the marginalization of minority groups. Wood and Fulton skillfully show us what they advocate for and how they do it."
— Journal for the Scientific Study of Religion
"In this timely and insightful book, Wood and Fulton examine how 'faith-based' community organizing can help 'exorcise' the three demons that harm American society today: 'economic inequality,' 'racial injustice,' and 'policy paralysis.' . . . This book is a very significant contribution to the growing literature on community organizing as a field and a hopeful testimony to how racial injustice can begin to be addressed constructively within one form of democratic practice."
— Sociology of Religion
"A Shared Future offers important lessons and a conceptual framework for sustaining the ongoing struggle to deepen democracy in the United States. The authors provide a sophisticated analytical study of one of the most promising efforts to create cross-racial alliances that address racial equity as part of a larger common agenda, and the faith-based community organizing field's work to build up power nationally to redress inequality through a variety of initiatives for economic and racial justice. Ultimately, the book offers a vision for how we might build a future that reflects the shared aspirations and hopes of the American people in all their diversity. The book makes a major theoretical and practical contribution to the study of civil society organizations and to the strengthening of democratic values and social movements in the modern state."
— Nonprofit and Voluntary Sector Quarterly
 "Wood and Fulton offer a theologically sensitive sociological study in A Shared Future. . . . Part one offers an ambitious national study of all community organizing coali­tions, a report that is worth the price of the book by itself. Yet it continues with a remarkable combination of the fruits of the broad national study of the field of community organizing and in-depth interviews of key leaders, focused on the PICO National Network, to take account of the struggles and successes of work on racial equity. Part two then narrows the aperture to focus on one net­work, PICO, and its efforts at racial equity within its own organization and on racial justice in the nation at large. . . . Wood and Fulton offer ways forward for those wishing to understand ecclesia in its many manifestations today by drawing on social science approaches."
— Ecclesial Practices
"A must-read for anyone seeking to understand what can be done to save our ailing democracy."
— Contemporary Sociology
"A must read for anyone looking to get a handle on faith-based community organizing literature. . .A necessary volume for anyone interested in the fight against economic inequality, policy paralysis and, most importantly, racial injustice."
— Reading Religion
"The ground underneath our democracy is shifting rapidly. In A Shared Future, Wood and Fulton provide insight into  how we might rebuild our democratic institutions. . . .Wood and Fulton's work should be taken seriously not just by those in the faith-based sector, but also by activists and politicians who care about building an America that represents and works for us all."
— Mobilization