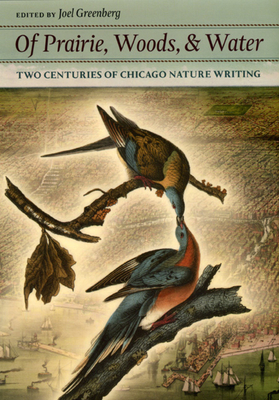 Of Prairie, Woods, & Water (Hardcover)
Two Centuries of Chicago Nature Writing
University of Chicago Press, 9780226306605, 424pp.
Publication Date: April 1, 2008
* Individual store prices may vary.
or
Not Currently Available for Direct Purchase
Description
In the literary imagination, Chicago evokes images of industry and unbridled urban growth. But the tallgrass prairie and deep forests that once made up Chicago's landscape also inspired musings from residents and visitors alike. In "Of Prairie, Woods, and Water," naturalist Joel Greenberg gathers these unique voices from the land to present an unexpected portrait of Chicago in this often charming, sometimes heart-wrenching anthology of nature writing.
These writings tell the tale of a land in transition one with abundant, unique, and incredibly lush flora and fauna, a natural history quite elusive today. Drawing on archives he uncovered while writing his acclaimed" A Natural History of the Chicago Region," Greenberg hand-selected these first-person narratives, all written between 1721 and 1959. Not every author is familiar, but every contribution is distinctive. From a pioneer's hilarious notes on life in the Kankakee marsh to Theodore Drieser's poignant plea for conservation of the Tippecanoe River to infamous murderer Nathan Leopold's charming description of a pet robin he kept in prison, the sources included are as diverse as the nature they describe.
The excerpts conclude with insightful biographical essays and traverse a wide area of greater Chicagoland, from the Illinois River to southwest Michigan, from southern Wisconsin to the Limberlost swamp of northeastern Indiana. A fascinating record of Chicago's changing environmental history, "Of Prairie, Woods, and Water" captures the natural world in a way that will inspireits continued conservation.Errata: We have learned the title of a book by the Chicago ecologist and writer May Theilgaard Watts has been incorrectly rendered in the selections attributed to Mrs. Watts. The correct title of her book is "Reading the Landscape of America" (Nature Study Guild Publishers, see http: //naturestudy.com). This will be corrected in the next printing. We very much regret the error.

About the Author
Joel Greenberg is a naturalist, writer, and environmental consultant. He is the author of "A Natural History of the Chicago Region" and coauthor of "A Birder s Guide to the Chicago Region.""""
Praise For Of Prairie, Woods, & Water: Two Centuries of Chicago Nature Writing…
"I had trouble putting it down. The letters, articles, journal entries and other writings presented a wonderful window on our past. . . It was like seeing Illinois for the first time—a strange and wild foreign land that is difficult to reconcile with what we see here today."—David L. Thomas, Chief of the Illinois Natural History Survey
-David L. Thomas

"At its best, nature writing invigorates, educates and motivates. Joel Greenberg's Of Prairie, Woods, and Water is nature writing at its best. This unprecedented anthology of literature about Chicago's environmental beauty inspires our wonder and spurs us to imagine the world at its best, which in turn can lead us to take action to help make it so."—Senator Richard J. Durbin
-Richard J. Durbin

"A powerful historical context for contemporary conservation concerns. I would recommend Of Prairie, Woods, and Water to anyone interested in the natural history of the Chicago region."—Gerard T. Donnelly, President and CEO, The Morton Arboretum
-Gerard T. Donnelly

"Greenberg's selections. . . range across the entire Chicago Wilderness region. Some of the jewels in this trove possess a sacred-text gravitas, filled with the secret delight of discovery in an untouched landscape."—Joe Walsh, Chicago Wilderness
-Joe Walsh

"Worthy of broad-based audiences. . . . Of Prairie, Wood, and Water grew out of the decades of research Greenberg put into A Natural History. I know from conversations with him that Greenberg loved digging into original texts for his research. . . . In some ways, I envy the job. The stories I most enjoyed described the old days when the Kankakee Marsh was a rich place, and the tales of hunting prairie chickens and golden plover, things I can't imagine doing, especially in the Chicago area."—Dale Bowman, Chicago Sun-Times


-Dale Bowman

"[Greenberg] revels in the insights of these writers from the past, then makes you want to call for more because there is great value in having historical perspective to make wise decisions about the health and future of our natural environment."
Advertisement