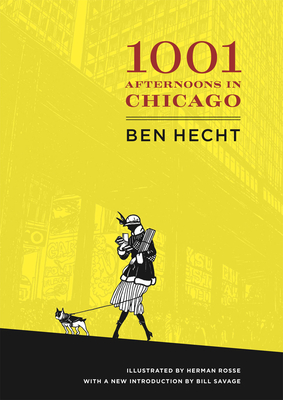 A Thousand and One Afternoons in Chicago (Paperback)
University of Chicago Press, 9780226322742, 296pp.
Publication Date: July 1, 2009
* Individual store prices may vary.
Description
In 1921, Ben Hecht wrote a column for the Chicago Daily News that his editor called "journalism extraordinary; journalism that invaded the realm of literature." Hecht's collection of sixty-four of these pieces, illustrated with striking pen drawings by Herman Rosse, is a timeless caricature of urban American life in the jazz age, updated with a new Introduction for the twenty-first century. From the glittering opulence of Michigan Avenue to the darkest ruminations of an escaped convict, from captains of industry to immigrant day laborers, Hecht captures 1920s Chicago in all its furor, intensity, and absurdity.
"The hardboiled audacity and wit that became Hecht's signature as Hollywood's most celebrated screen-writer are conspicuous in these vignettes. Most of them are comic and sardonic, some strike muted tragic or somber atmospheric notes. . . . The best are timeless character sketches that have taken on an added interest as shards of social history."—L. S. Klepp, Voice Literary Supplement
About the Author
Ben Hecht (1894–1964) was a reporter and columnist for the Chicago Daily Journal and the Chicago Daily News as well as a playwright, novelist, short story writer, and scriptwriter.
Praise For A Thousand and One Afternoons in Chicago…
"The columns in 1,001 Afternoons inChicago are scruffy time capsules of an earlier Chicago, an era that is long gone but still recognizable to readers' imaginations. Michigan Avenue, Lake Michigan, street names such as Dearborn and Adams and LaSalle and Wabansia, places such as the Art Institute of Chicago—they're all here, sprinkled amid Hecht's nervous little haikus of urban life. He calls Chicago 'a razzle-dazzle of dreams, tragedies, fantasies,' and his tales capture gorgeous scraps of it, vivid vignettes starring businessmen and hobos and cops and socialites and janitors. . . . Thanks to Hecht, the Chicago of 1922 and the Chicago of 2009 bump into each other, shake hands, exchange greetings. Then, this being Chicago, they go for a drink and talk about old times. New ones too."
— Julia Keller
"Hecht's youthful journalism remains both movving and dazzling. He sided with the scrappy underdog and was endlessly alert to the moods of the great city that was his subject. . . . Saul Bellow read this book while still in high school and would always remember it, maybe because Hecht's sketches, while sometimes gritty and violent in content, also present a quest for lyricism and hope."
— Richard Rayner