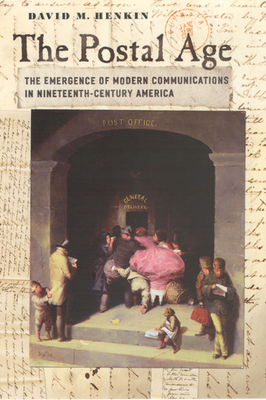 The Postal Age (Hardcover)
The Emergence of Modern Communications in Nineteenth-Century America
University of Chicago Press, 9780226327204, 238pp.
Publication Date: November 15, 2006
Other Editions of This Title:
Paperback (10/15/2007)
* Individual store prices may vary.
Description
Americans commonly recognize television, e-mail, and instant messaging as agents of pervasive cultural change. But many of us may not realize that what we now call snail mail was once just as revolutionary. As David M. Henkin argues in The Postal Age, a burgeoning postal network initiated major cultural shifts during the nineteenth century, laying the foundation for the interconnectedness that now defines our ever-evolving world of telecommunications. 

This fascinating history traces these shifts from their beginnings in the mid-1800s, when cheaper postage, mass literacy, and migration combined to make the long-established postal service a more integral and viable part of everyday life. With such dramatic events as the Civil War and the gold rush underscoring the importance and necessity of the post, a surprisingly broad range of Americans—male and female, black and white, native-born and immigrant—joined this postal network, regularly interacting with distant locales before the existence of telephones or even the widespread use of telegraphy. Drawing on original letters and diaries from the period, as well as public discussions of the expanding postal system, Henkin tells the story of how these Americans adjusted to a new world of long-distance correspondence, crowded post offices, junk mail, valentines, and dead letters.

The Postal Age paints a vibrant picture of a society where possibilities proliferated for the kinds of personal and impersonal communications that we often associate with more recent historical periods. In doing so, it significantly increases our understanding of both antebellum America and our own chapter in the history of communications.


About the Author
David M. Henkin is associate professor of history at the University of California, Berkeley. He is the author of "City Reading."
Praise For The Postal Age: The Emergence of Modern Communications in Nineteenth-Century America…
"For the first half century of [the U.S. Postal Service's] founding, its main function was to circulate newspapers to a national audience. . . . That all changed in 1845 when Congress enacted the first in a series of laws that sharply reduced the cost of sending letters. The new rates led to a vast surge in personal correspondence. They set up a communications revolution that the historian David Henkin has chronicled in an engaging new book called The Postal Age."
— Geoff Nunberg
"Henkin's is that rare book suitable for undergraduates, instructive to graduate students, and useful for any scholar of nineteenth-century America. . . . Ultimately, Henkin has written an original, ambitious, compelling, and elegant book that should spur greater scholarly attention to the history of communications in nineteenth-century America."
— Konstantin Dierks
"This rich study is well referenced. . . . Highly recommended."
— Choice
"Henkin is something of a model for at once taking seriously and moving beyond his theoretical sources; by engaging the complex particulars of the past, he produces a more compelling account of the making and remaking of American public life. . . .  What Henkin is in the process of achieving—with City Reading and The Postal Age as the first two parts—is a thoroughgoing reimagining of the inner worlds of antebellum Americans. . . . Like Tocqueville, Henkin manages to suggest a proper note of awe in the face of the communications revolution of the middle of the nineteenth century. There is something similarly wondrous about his achievement in this book." —David Quigley, Reviews in American History
— David Quigley
"Here is a postal culture that will seem all too familiar to modern readers. Here are the real roots of our interconnected age."
— Robert MacDougall
"The Postal Age develops a strong case for studying the developmental interplay of communication technologies, publics, and practices of reading, seeing, and writing as constitutive of self, other, and nation. . . . By sensitively addressing the cultural implications of changing patterns of participation and use of mail exchange, [the book] advances scholarship on the role of the post in everyday life."
— Derek W. Valliant
"Henkin's engaging, well-written book ought to receive a wide readership. . . . He shows that today's expectations of ubiquitous and instant accessibility have their social and cultural roots in the nineteenth-century post office. Similarly, Henkin reminds us that advances in the speed and reliability of communications often occur through political will and administrative initiatives, with no new technological innovations. Finally, Henkin provides a valuable model for understanding the social and cultural history of a new communications medium, by explaining how individuals encountered, understood, and wove it into the fabric of their lives."
— David Hochfelder
"The Postal Age succeeds in joining two kinds of history writing: the thoroughly professional and the engagingly popular. David M. Henkin offers a clinic in how to combine social analysis of institutions with cultural study of the rituals, emotions, and meanings by which people pattern their lives."
— Richard Wightman Fox, author of Jesus in America : Personal Savior, Cultural Hero, National Obsession
"The Postal Age is a remarkable achievement. With elegance, analytical precision, and a firm command of the sources, Henkin shows how mid-nineteenth century Americans became a nation of letter-writers.  In so doing, he offers fresh insights into several well-known events—including the Gold Rush and the Civil War—while inviting us to ponder the extent to which the postal system, and not the electric telegraph, laid the cultural foundations not only for modern telecommunications, but also for the habits of interconnectedness that are such a touchstone of modernity."<Richard R. John, author of Spreading the News: The American Postal System from Franklin to Morse>
— Richard R. John, author of Spreading the News: The American Postal System from F
"David Henkin's The Postal Age is a brilliant successor to his earlier City Reading, and continues his insightful investigations of communications and social life. The Postal Age is engagingly written, rich with anecdotes and observations that dramatize and illuminate the manifold facets of 'postal culture' in the antebellum United States. Americans took advantage of a growing and increasingly accessible postal system to exchange money, news, seeds, daguerreotypes, love letters, and anonymous valentines (not to mention the earliest forms of spam and junk mail), transforming courtship, commerce, and civic life. At every stage, Henkin avoids the temptations of crass determinism to offer a nuanced view of the complicated relationships between technologies and systems and social forms. The Postal Age is a major contribution to American social history and to the history of communications in general."<Geoffrey Nunberg, author of Going Nucular: Language, Politics, and Culture in Controversial Times>
— Nunberg, author of Going Nucular: Language, Politics, and Culture in Controversi
or
Not Currently Available for Direct Purchase