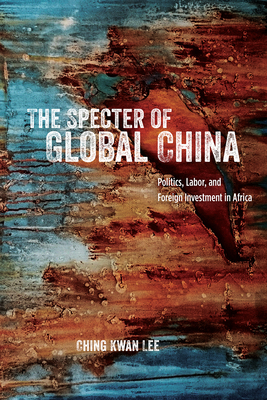 The Specter of Global China
Politics, Labor, and Foreign Investment in Africa
Paperback

* Individual store prices may vary.
Other Editions of This Title:
Hardcover (1/3/2018)
Description
China has recently emerged as one of Africa's top business partners, aggressively pursuing its raw materials and establishing a mighty presence in the continent's booming construction market. Among major foreign investors in Africa, China has stirred the most fear, hope, and controversy. For many, the specter of a Chinese neocolonial scramble is looming, while for others China is Africa's best chance at economic renewal. Yet, global debates about China in Africa have been based more on rhetoric than on empirical evidence. Ching Kwan Lee's The Specter of Global China is the first comparative ethnographic study that addresses the critical question: Is Chinese capital a different kind of capital?
 
Offering the clearest look yet at China's state-driven investment in Africa, this book is rooted in six years of extensive fieldwork in copper mines and construction sites in Zambia, Africa's copper giant. Lee shadowed Chinese, Indian, and South African managers in underground mines, interviewed Zambian miners and construction workers, and worked with Zambian officials. Distinguishing carefully between Chinese state capital and global private capital in terms of their business objectives, labor practices, managerial ethos, and political engagement with the Zambian state and society, she concludes that Chinese state investment presents unique potential and perils for African development. The Specter of Global China will be a must-read for anyone interested in the future of China, Africa, and capitalism worldwide.
Praise For The Specter of Global China: Politics, Labor, and Foreign Investment in Africa…
"Lee deserves praise for her enviable ethnographic research: the myriad interviews and observations that inform her findings make for a richly textured study. Her book is a major contribution to the China-in-Africa literature."
— Current History
"[A] masterful deployment of the global ethnographic method as a tool for rigorous conjunctural analysis. . . .  The Specter of Global China will undoubtedly appeal to geographical political economists, critical resource geographers, Asia and Africa scholars, and economic sociologists who wish to understand the contemporary moment of economic restructuring, particularly as it unfolds in a non-North Atlantic setting."
— Antipode
"Rejecting simplistic depictions of Chinese investment in Africa as inevitably 'imperialistic' and 'exploitative,' The Specter of Global China paints a richly nuanced portrait based on extensive ethnographic fieldwork in Zambian copper mines and construction sites. Lee makes a compelling case for the benefits of placing the study of China's political economy in global perspective."
— Elizabeth J. Perry, Harvard University
"The book is brilliant in its portrayals, and impossible to put down: both the ethnographic section of the book and the appendix are superlative in their vividness."
— Gordon Mathews, author of The World in Guangzhou
"Lee has produced another pioneering treatise on China. With Zambia as her field site, she contrasts Chinese state investment with competing footloose private capital from other countries, thereby refuting mythologies of Chinese colonialism or world hegemony. Her novel political economy based on 'varieties of capital' displaces more conventional theories of 'varieties of capitalism' to reveal a startling contingency to global capitalism. Sure to be an unforgettable classic, The Specter of Global China represents the very best of historical and comparative ethnography."
— Michael Burawoy, University of California at Berkeley
"The Specter of Global China engages with substantial theoretical questions at the center of the nature of capitalism as a system. It is not a book exclusively for students of China in Africa; its theoretical and empirical engagement with enduring questions in the social sciences make it an important contribution to all those interested in the theory and practice of development."
— Edward Webster, University of the Witwatersrand, Johannesburg
Ching Kwan Lee is an excellent ethnographer and the access she obtained to mining companies through her friendship with Zambia's former acting president is exceptional. For academics studying mining or construction in Zambia, with or without a Chinese focus, this will prove an invaluable text purely for its details. Its core depiction of Chinese State capital is an interesting insight that opens productive space for the ongoing study of both China and other forms of capital.
— African Studies Quarterly
"Ching Kwan Lee has written a captivating ethnographic study comparing the behaviour of Chinese state capital and global private capital in Zambia. By looking at the activities of Chinese state capital in both the copper mining and construction sectors, Lee's field research creates a window at the grassroots level into the China-Zambia relationship. She weaves the worldviews of dozens of Zambians and Chinese into an accessible narrative that helps bridge the divide between different actors' perspectives. This book is a lesson to all scholars, myself included, on the value of perseverance and chutzpa in academic field research."
— Joshua Eisenman
University of Chicago Press, 9780226340838, 256pp.
Publication Date: January 3, 2018
About the Author
Ching Kwan Lee is professor of sociology at the University of California, Los Angeles. She is the author of Gender and the South China Miracle: Two Worlds of Factory Women and Against the Law: Labor Protests in China's Rustbelt and Sunbelt.