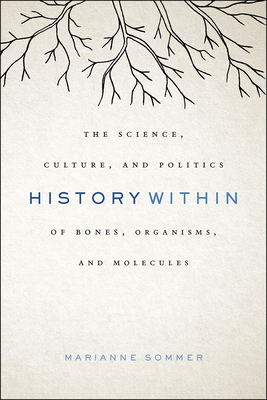 History Within
The Science, Culture, and Politics of Bones, Organisms, and Molecules
Hardcover

* Individual store prices may vary.
Description
Personal genomics services such as 23andMe and Ancestry.com now offer what once was science fiction: the ability to sequence and analyze an individual's entire genetic code—promising, in some cases, facts about that individual's ancestry that may have remained otherwise lost. Such services draw on and contribute to the science of human population genetics that attempts to reconstruct the history of humankind, including the origin and movement of specific populations. Is it true, though, that who we are and where we come from is written into the sequence of our genomes? Are genes better documents for determining our histories and identities than fossils or other historical sources?
           
Our interpretation of gene sequences, like our interpretation of other historical evidence, inevitably tells a story laden with political and moral values. Focusing on the work of Henry Fairfield Osborn, Julian Sorell Huxley, and Luigi Luca Cavalli-Sforza in paleoanthropology, evolutionary biology, and human population genetics, History Within asks how the sciences of human origins, whether through the museum, the zoo, or the genetics lab, have shaped our idea of what it means to be human. How have these biologically based histories influenced our ideas about nature, society, and culture? As Marianne Sommer shows, the stories we tell about bones, organisms, and molecules often change the world.
Praise For History Within: The Science, Culture, and Politics of Bones, Organisms, and Molecules…
"Across more than 500 pages, Sommer capably conveys the complexity of [the lives of Henry Fairfield Osborn, Julian Huxley, and Luigi Luca Cavalli-Sforza], particularly the contestations and accusations that their projects provoked. It is as yet too early to say whether disciplines like social and environmental epigenetics will fulfill their ambitious task, but their practitioners would do well to heed lessons learned from past attempts to read human history into biology."
— Science

"This is good, solid scholarly research. The scientific issues are discussed clearly and effectively, and the history is first-rate. These three scholars--Osborn, Huxley, and Cavalli-Sforza--separated by time, space, and ideology, are nevertheless bound by the concentration and exercise of scientific power, and by the ambition to narrate human ancestry with the authoritative voice of science. One comes away with an appreciation for the ethnographic generalization that the ancestors are always sacred; consequently, even in science, nobody can study human diversity or origins apolitically."
— Metascience

"With History Within, Sommer sets out to understand the role of the life sciences over the twentieth and early twenty-first centuries in the expanding landscapes of public and popular history. Through the works of three key figures—Osborn, Huxley, and Cavalli-Sforza—she analyzes the different ways in which evolutionary theory framed the past of the human species and not just for its own sake, but as the ground upon which moral and political visions for a just society and future would be built. In doing so, she frames the historical narrative in terms of a few key concepts: that of 'phylogenetic memory' on the one hand, and the 'genographic network' on the other. History Within is an admirably erudite book, rich in historical detail and expansive in its understanding of the works of these three historically influential figures."
— Nadia Abu El-Haj, Barnard College, Columbia University

"Sommer carefully examines history and memory, as embodied and expressed in some particular areas of human biology concerned with evolution. With this book, she presents the intriguing notion of a 'history within' and offers much in her deep exploration into the intersections of history, memory, and human evolution."
— Vassiliki Betty Smocovitis, University of Florida

"History Within offers an ambitious analysis of efforts to construct scientific narratives about human evolution and biological variation over the long twentieth century. Sommer focuses on three distinctive episodes that, when considered together, span more than a century to arrive at our contemporary genomic age. Specifically, she examines the ideas and strategies of three men: Henry Fairfield Osborn, Julian Huxley, and Luca Cavalli-Sforza. For Sommer, each serves as a representative of three successive eras of academic efforts to read human history through the evolutionary sciences. Throughout History Within, Sommer presents a multitude of fresh, fascinating materials that show how ideas about history itself have animated thought about what it means to be human. A leader in the emerging field of the history of biological anthropology, Sommer is well positioned to synthesize major themes, and the long period of time covered in the manuscript—more than 100 years—provides new and important contexts for evaluating contemporary attitudes about race and genomics. Sommer has written a rigorous social and intellectual history of the human-oriented life sciences that is sure to be an important contribution to the history of science."
— Joanna Radin, Yale University
University of Chicago Press, 9780226347325, 496pp.
Publication Date: May 27, 2016
About the Author
Marianne Sommer is professor in the Department of Cultural and Science Studies at the University of Lucerne. She is the author of Bones and Ochre: The Curious Afterlife of the Red Lady of Paviland.
or
Not Currently Available for Direct Purchase