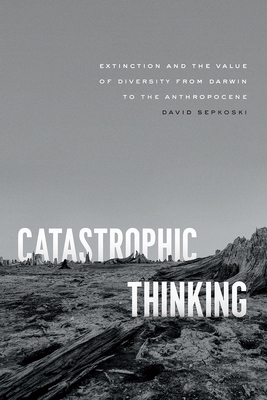 Catastrophic Thinking
Extinction and the Value of Diversity from Darwin to the Anthropocene (science.culture)
Hardcover

* Individual store prices may vary.
Description
We live in an age in which we are repeatedly reminded—by scientists, by the media, by popular culture—of the looming threat of mass extinction. We're told that human activity is currently producing a sixth mass extinction, perhaps of even greater magnitude than the five previous geological catastrophes that drastically altered life on Earth. Indeed, there is a very real concern that the human species may itself be poised to go the way of the dinosaurs, victims of the most recent mass extinction some 65 million years ago.
 
How we interpret the causes and consequences of extinction and their ensuing moral imperatives is deeply embedded in the cultural values of any given historical moment. And, as David Sepkoski reveals, the history of scientific ideas about extinction over the past two hundred years—as both a past and a current process—is implicated in major changes in the way Western society has approached biological and cultural diversity. It seems self-evident to most of us that diverse ecosystems and societies are intrinsically valuable, but the current fascination with diversity is a relatively recent phenomenon. In fact, the way we value diversity depends crucially on our sense that it is precarious—that it is something actively threatened, and that its loss could have profound consequences. In Catastrophic Thinking, Sepkoski uncovers how and why we learned to value diversity as a precious resource at the same time as we learned to think catastrophically about extinction.
Praise For Catastrophic Thinking: Extinction and the Value of Diversity from Darwin to the Anthropocene (science.culture)…
"Catastrophic Thinking presents the best introductory account of how the idea of species-wide loss was conceived and established in scientific circles. . . . [Sepkoski] convincingly suggests that ideas about extinction in each historical period reflect broader social and cultural concerns in the modern world, from the intimate connections between extinction and imperialism to current concerns about the global biodiversity crisis. . . . Extinction is no longer a specialized concern. In this climate, David Sepkoski's accessible guide is most welcome."
— Times Literary Supplement
"Convincingly demonstrates that an ecological perspective has profoundly shaped our views of biological and social communities. . . . Sepkoski's magisterial work will hopefully serve as an inspiration for more comprehensive histories of the concept of diversity. . . . Catastrophic Thinking is essential reading for those seeking to understand the origin of one of the most powerful concepts under consideration today."
— Science
"How do humans perceive the nature of extinction, and how has that shaped how humans perceive each other and aspects of society? This thought-provoking book examines those questions and reveals how knowing that we can lose something forever—and the realization that extinction comes with cultural and ecological costs—motivates us to protect everything else."
— Revelator
"In his wise and meticulously argued new book, Sepkoski explains why every era gets the dinosaur story it deserves, how the threat to biodiversity helped fashion cultural diversity into an ideal, and why extinction has become personal to each and every one of us. An urgent and brilliant exemplar of history of science at its very best, Catastrophic Thinking beautifully shows that the ways we construct the past are always reflections of our hopes and fears for the future."
— Oren Harman, author of Evolutions: Fifteen Myths That Explain Our World
"An authoritative, compelling, and insightful account of how biological and cultural diversity has come to be so highly prized in contemporary Western society. This is a definitive history of the cultural and scientific developments, especially in paleontology, that have helped forge our sense of the modern biodiversity crisis. Lucid, historically sweeping, and accessible, Sepkoski's book ably reconstructs key aspects of the larger culture in which ideas about extinction, catastrophe, and diversity emerged."
— Mark V. Barrow, Jr., Virginia Tech
"Don't mistake David Sepkoski's Catastrophic Thinking as a doomsday warning about the future. It's focused instead on how we got here—how our current-day concerns regarding threats to both the planet and the human race came to be."
— New Bureau
University of Chicago Press, 9780226348612, 360pp.
Publication Date: September 24, 2020
About the Author
David Sepkoski is the Thomas M. Siebel Chair in the History of Science at the University of Illinois at Urbana-Champaign. He is the author of several books, most recently Rereading the Fossil Record: The Growth of Paleobiology as an Evolutionary Discipline, also published by the University of Chicago Press.