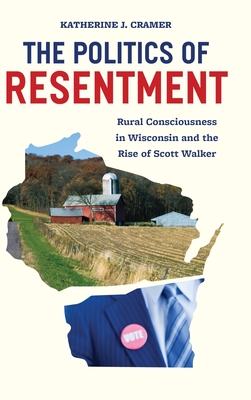 The Politics of Resentment
Rural Consciousness in Wisconsin and the Rise of Scott Walker (Chicago Studies in American Politics)
Hardcover

* Individual store prices may vary.
Other Editions of This Title:
Paperback (3/23/2016)
Description
Since the election of Scott Walker, Wisconsin has been seen as ground zero for debates about the appropriate role of government in the wake of the Great Recession. In a time of rising inequality, Walker not only survived a bitterly contested recall that brought thousands of protesters to Capitol Square, he was subsequently reelected. How could this happen? How is it that the very people who stand to benefit from strong government services not only vote against the candidates who support those services but are vehemently against the very idea of big government?
           
With The Politics of Resentment, Katherine J. Cramer uncovers an oft-overlooked piece of the puzzle: rural political consciousness and the resentment of the "liberal elite." Rural voters are distrustful that politicians will respect the distinct values of their communities and allocate a fair share of resources. What can look like disagreements about basic political principles are therefore actually rooted in something even more fundamental: who we are as people and how closely a candidate's social identity matches our own. Using Scott Walker and Wisconsin's prominent and protracted debate about the appropriate role of government, Cramer illuminates the contours of rural consciousness, showing how place-based identities profoundly influence how people understand politics, regardless of whether urban politicians and their supporters really do shortchange or look down on those living in the country.

The Politics of Resentment shows that rural resentment—no less than partisanship, race, or class—plays a major role in dividing America against itself.
Praise For The Politics of Resentment: Rural Consciousness in Wisconsin and the Rise of Scott Walker (Chicago Studies in American Politics)…
"Helps answer a question that has been plaguing political commentators since last November: Why did Donald Trump win in Wisconsin? Everyone has a theory—Hillary Clinton's campaign strategies, Trump's appeal to protectionism, GOP voter suppression—and most of them have some truth. But one must also understand Wisconsin, a so-called purple state with a stark urban/rural divide, if one is to understand the national rage that swept Trump into the White House. . . . [Politics of Resentment] illuminate[s] the state's Republican shift and chart[s] a way forward for reversing it."
— Nation

"The Politics of Resentment is a breath of fresh air in the study of American public opinion. Intense partisan polarization has reached down into the ranks of everyday citizens' perceptions of one another. Wisconsin is on the extreme end of this intense polarization that cuts along the lines of metropolitan liberals and non-metropolitan resentful conservatives, but these fault lines run deep across the nation. Cramer adds new dimensions of evidence and analysis to this dynamic. Her book will be widely read and debated, and it will help to reset the questions we ask about political worldviews in America."
— Theda Skocpol, Harvard University, director of the Scholars Strategy Network

"Cramer spent years carefully listening to 'ordinary' people talking about politics and power, then used their words to produce an indelible portrait of the mind and heart of contemporary populism. The Politics of Resentment is the smartest, richest, and most humane work of political science I have read in a very long time."
— Larry M. Bartels, Vanderbilt University

"Cramer develops a new theory and uses it to show how identity-based rural resentments animate much public opinion in Wisconsin. Governor Scott Walker's success in cutting government and weakening unions makes Cramer's study of Badger state politics especially important. This is pathbreaking work."
— John Zaller, University of California, Los Angeles

"The Politics of Resentment is eye-opening. It has taught me more about my country than any other book or article I have read in many years."
— Journal of Communication

"The Politics of Resentment is an important contribution to the literature on contemporary American politics. Both methodologically and substantively, it breaks new ground."
— Journal of Sociology & Social Welfare

"One wishes more scholars followed Cramer's lead. . . . this is a well-written and theoretically rich
book. Given recent events, it provides a much-needed corrective to the more journalistic accounts of white working-class voters, ones bereft of the rigor Cramer deploys. The Politics of Resentment, to my mind, is required reading to understand rural support for Scott Walker in Wisconsin; and also what might motivate Trump supporters more generally. Cramer's book deserves all of the attention it's received thus far."
— Public Opinion Quarterly
University of Chicago Press, 9780226349084, 256pp.
Publication Date: March 23, 2016
About the Author
Katherine J. Cramer is professor of political science at the University of Wisconsin–Madison, where she is also director of the Morgridge Center for Public Service and an affiliate faculty member in the School of Journalism and Mass Communication, the LaFollette School of Public Affairs, the Department of Forest and Wildlife Ecology, the Wisconsin Center for the Advancement of Postsecondary Education, and the Center for Community and Nonprofit Studies. She is the author of Talking about Race and Talking about Politics, both also published by the University of Chicago Press.