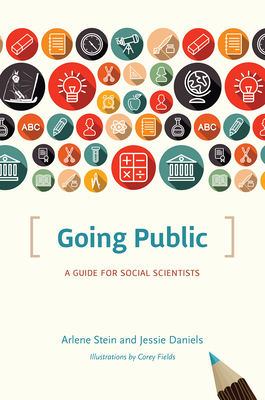 Going Public
A Guide for Social Scientists (Chicago Guides to Writing, Editing, and Publishing)
Paperback

* Individual store prices may vary.
Other Editions of This Title:
Hardcover (2/21/2017)
Description
At a time when policy discussions are dominated by "I feel" instead of "I know," it is more important than ever for social scientists to make themselves heard. When those who possess in-depth training and expertise are excluded from public debates about pressing social issues—such as climate change, the prison system, or healthcare—vested interests can sway public opinion in uninformed ways. Yet few graduate students, researchers, or faculty know how to do this kind of work—or feel empowered to do it.

 While there has been an increasing call for social scientists to engage more broadly with the public, concrete advice for starting the conversation has been in short supply. Arlene Stein and Jessie Daniels seek to change this with Going Public, the first guide that truly explains how to be a public scholar. They offer guidance on writing beyond the academy, including how to get started with op-eds and articles and later how to write books that appeal to general audiences. They then turn to the digital realm with strategies for successfully building an online presence, cultivating an audience, and navigating the unique challenges of digital world. They also address some of the challenges facing those who go public, including the pervasive view that anything less than scholarly writing isn't serious and the stigma that one's work might be dubbed "journalistic."

Going Public shows that by connecting with experts, policymakers, journalists, and laypeople, social scientists can actually make their own work stronger. And by learning to effectively add their voices to the conversation, researchers can help make sure that their knowledge is truly heard above the digital din.
Praise For Going Public: A Guide for Social Scientists (Chicago Guides to Writing, Editing, and Publishing)…
"A clear, cheery read worth pressing on bright-eyed early career researchers and mature curmudgeons alike."
— Times Higher Education

"Going Public is a lucid, stepwise breakdown of what you need to do to get your work out there. Stein and Daniels target social scientists, but their advice applies to any academic who wants to approach a general audience. They show how to devise a pitch (your spiel for editors and other gatekeepers), a peg (something that connects your pitch to current events), and a hook (the bit that will really catch an editor's attention). They explain how to identify opportunities in the public sphere—to recognize when you can leap into the news cycle."
— Chronicle of Higher Education

"For the experienced social scientists trying to navigate these changed circumstances, as well as for those beginning their academic career in a setting framed by media with which their advisors may have little experience, Arlene Stein and Jessie Daniels's Going Public: A Guide for Social Scientists marks an important contribution to the literature on public scholarship and academic life. . . . Going Public is more than a guide—although it will be valuable in that capacity for scholars at every stage in their career—it also acts as an inquiry into what it might mean to be a social scientist in the wake of "the digital turn."
— Social Forces

"There's much to admire in this brave and much-needed book about doing public scholarship. The text is clearly written and consistently engaging. The examples are vivid, compelling, and fresh. The advice—about the pros and cons of going public—is candid and wise. I'd recommend it to any aspiring academic who wants their voice to carry beyond the ivory tower."
— Eric Klinenberg, professor of sociology at New York University

"Going Public is an informed and readable guide by two social scientists who practice what they preach, and practice effectively. Meet the challenge of communicating with the public outside the professional confines of social science disciplines—without damaging your career."
— Howard Rheingold, author of Smart Mobs: The Next Social Revolution and Net Smart: How to Thrive Online

"Both inspiring and practical, Going Public is an engaging guide for scholars who want to reach audiences beyond the academy. In graceful prose, it offers insightful advice on the rewards and perils of going public, and on how to narrate a good story, cultivate an effective voice, make use of new digital tools, build an audience, and produce writing that matters both within academia and beyond."
— Angelique Haugerud, author of No Billionaire Left Behind: Satirical Activism in America
University of Chicago Press, 9780226364780, 224pp.
Publication Date: February 21, 2017
About the Author
Arlene Stein is professor of sociology at Rutgers University, where she directs the Institute for Research on Women. She is the author of four books, including Reluctant Witnesses and The Stranger Next Door, and has written for the Nation, Jacobin, and the New Inquiry, among others. Jessie Daniels is professor of sociology and critical social psychology at Hunter College and the Graduate Center, CUNY. She is the author or editor of five books, including Cyber Racism and Being a Scholar in the Digital Era, and blogs at Racism Review.
or
Not Currently Available for Direct Purchase