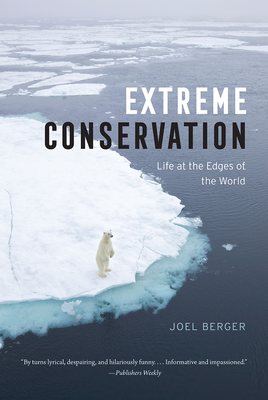 Extreme Conservation (Hardcover)
Life at the Edges of the World
University of Chicago Press, 9780226366265, 368pp.
Publication Date: August 2, 2018
* Individual store prices may vary.
Description
"Extraordinary. . . . Berger is a hero of biology who deserves the highest honors that science can bestow."—Tim Flannery, New York Review of Books

On the Tibetan Plateau, there are wild yaks with blood cells thinner than those of horses' by half, enabling the endangered yaks to survive at 40 below zero and in the lowest oxygen levels of the mountaintops. But climate change is causing the snow patterns here to shift, and with the snows, the entire ecosystem. Food and water are vaporizing in this warming environment, and these beasts of ice and thin air are extraordinarily ill-equipped for the change. A journey into some of the most forbidding landscapes on earth, Joel Berger's Extreme Conservation is an eye-opening, steely look at what it takes for animals like these to live at the edges of existence. But more than this, it is a revealing exploration of how climate change and people are affecting even the most far-flung niches of our planet.

Berger's quest to understand these creatures' struggles takes him to some of the most remote corners and peaks of the globe: across Arctic tundra and the frozen Chukchi Sea to study muskoxen, into the Bhutanese Himalayas to follow the rarely sighted takin, and through the Gobi Desert to track the proboscis-swinging saiga. Known as much for his rigorous, scientific methods of developing solutions to conservation challenges as for his penchant for donning moose and polar bear costumes to understand the mindsets of his subjects more closely, Berger is a guide par excellence. He is a scientist and storyteller who has made his life working with desert nomads, in zones that typically require Sherpas and oxygen canisters. Recounting animals as charismatic as their landscapes are extreme, Berger's unforgettable tale carries us with humor and expertise to the ends of the earth and back. But as his adventures show, the more adapted a species has become to its particular ecological niche, the more devastating climate change can be. Life at the extremes is more challenging than ever, and the need for action, for solutions, has never been greater.
About the Author
Joel Berger is the Barbara Cox Anthony University Chair in Wildlife Conservation at Colorado State University and a senior scientist with the Wildlife Conservation Society. He is coauthor of Horn of Darkness.
Praise For Extreme Conservation: Life at the Edges of the World…
"Berger's extraordinary new book Extreme Conservation reveals just how hard-won knowledge about various Arctic species is. . . . Berger's research has taken him to two of Earth's three poles: the Arctic and the 'third pole,' the Tibetan plateau. He has had to work in all-but-impossible situations—for example, in restricted military areas where he was opposed by bureaucrats, and in the most remote parts of Mongolia and Bhutan, where cultural differences can make research very difficult. In the US, he succeeded in securing pronghorn migration routes, convincing ranchers and oilmen of the necessity of setting aside land for conservation. Berger has a record of achieving great things in the toughest places on earth. Yet he is not always welcome. . . . Berger is a committed conservationist whose work has increased the chance that musk oxen, saiga antelopes, takin, and pronghorns will survive. But is such altruism sufficient to induce someone to live a life of freezing discomfort, trauma, frequent failure, and social alienation? As a biologist who undertook twenty-six expeditions to remote parts of Melanesia, I have some insights into the life Berger has chosen. Yes, the idea that you might be helping species survive is a powerful incentive. But another reason that near-death experiences don't put you off is incurable curiosity: you just have to know what's over that next mountain, or what that next observation will bring. . . . I gave up in my forties, when those mountains just seemed to be getting steeper and more exhausting to climb, and I began to believe that I might actually die in the field. But Berger continues, his hair graying and his body crying out for rest. He is a hero of biology who deserves the highest honors that science can bestow."
— Tim Flannery
"Conserving wildlife at the extreme edges of the natural world, whether in the Arctic, Tibet, or Mongolia, presents huge challenges, from potholed roads (or no roads) to hypothermia, bear attacks, and even arrest. In Extreme Conservation, Berger . . . takes us on a journey to some of the most remote places on the planet, and introduces us to some of its rarest animals."
— Simon Worrall
"Berger is a conservationist who works in some of the most hostile environments in the world, and he studies the enigmatic species, like musk oxen, that live there. His new book, Extreme Conservation, chronicles his career in Alaska, Siberia, Namibia, Tibet, Mongolia, and Bhutan. . . . Berger also writes honestly about the trauma he fears he has caused wild animals by chasing, tranquilizing, and radio collaring them—all in the hopes of data to help the species as a whole. 'Conservation can be a bloody business,' he says, 'and it still is.'"
— Sarah Zhang
"Berger is an excellent guide, a respected ecologist and a gifted storyteller. It's an important combination in environmental advocacy: scientists who can tell compelling stories can elevate their research outputs. . . . He opens our eyes to what it takes for such animals to cling to the edges of existence."
— Huw Lewis-Jones
"Berger's tales are as compassionate as they are exciting to read. For example: when his experiment involving putting tracking collars on Arctic musk oxen results in the death of some of the herd, he considers the possibility that they're sentient, and seeks to find more humane means of gathering data. Extreme Conservation is a moving and necessary look at what the Earth will lose if climate change is left unchecked. . . . This is a fascinating and compassionate look at endangered animal life in the planet's most remote and dangerous regions."
— Shelf Awareness
"A globe-trotting, eye-opening journey to view and understand rare creatures living in some of the most extreme places on Earth. In the process Berger reveals how even these remote areas are being affected by climate change and people. One of the must-read books of the month."
— John R. Platt
"The writing is bright and engaging, borderline 'CSI' thriller at times, like when he encounters a mysterious 'death assemblage' of muskoxen frozen in ice. Berger has written a book about conservation, yes, but there is something here for every type of reader. . . . This is not just a book for scientists or environmentalists, but feeling humans of all stripes. He says at the end: 'Science digs deeper. When there is no room in our hearts for gentleness, and when sympathy disappears from our vocabulary, so does conservation. It's then easy to imagine what path follows.' This is a heavy yet humorous read of the most important kind. I challenge any reader capable of perspective and empathy not to feel inspired, not to consider the umwelt, and be spurred on to climate action by Berger's vivid anecdotes of animals at the extreme edges of the world."
— Emily Strelow
"Berger is used to life on the edge. . . . In his new book Extreme Conservation, Berger shares personal dispatches occurring in inhospitable environments (think freezing in a tent, under two sleeping bags in the Himalayas), and relates outlandish research methodologies (think dressing up as a bear, and reaching up the anus of a muskox—though not at the same time). Along the way he meets, works with, and learns from Inuit hunters and Mongolian yak herders who share their stories of living alongside incredible, yet vulnerable, biodiversity. (Among lessons learned: it can be frustrating when a snow leopard kills the yak you're studying.) But this is all incidental. Berger's mission is not one founded in adrenaline, nor in a test of personal endurance. His goal is grounded in science, and perhaps noble—to understand how these species will fare under a changing climate and a growing human population. More importantly, he wants to see what lessons humanity in general, and conservation biologists in particular, can learn from large mammals who have managed to survive and evolve in the world's most extreme and dangerous environments—and how these species are dealing with today's climate change-related stressors."
— Gloria Dickie
"Berger visits places that seem as remote from the climate-change debate as if they were moons of Saturn, but Extreme Conservation makes the point again and again that remoteness is itself frittering away—and was always an illusion in any case. . . . Berger is a passionate, eloquent guide to the hinterlands and their suddenly endangered signature inhabitants. . . . Berger here describes a world on the cusp of altering beyond recognition—and the 'extreme conservation' necessary there will soon be necessary everywhere."
— Steve Donoghue
"The high arctic, the Gobi Desert, and the mountains of Tibet would seem to have little in common, but all are lands of extreme temperatures, rarefied air, and limited access to water. They are also the lands of large ungulates adapted to living in and with the harsh conditions and humans who compete with these animals. Berger, one of the world's preeminent field biologists and an eloquent writer, addresses conservation in extreme climates, asking the basic questions a scientist asks when doing in-the-wild research, then coping with the vicissitudes of attempting to answer those questions in a not-necessarily human-friendly environment. Berger's first-person reporting as he studies musk oxen in Alaska, yak in the Tibetan Plateau, and saiga and takin in the high Gobi Desert reveals the excitement of a scientist gathering data as well as the frustration of dealing with politics, bureaucracy, and recalcitrant minor officials. Woven throughout is the author's obvious love of the land, the animals, and of what he does to further our understanding of these delicate ecosystems."
— Booklist, starred review
"Berger's encounters with wildlife take place under the harshest of conditions, and a major part of his story includes the rigors of getting to a site and figuring out how to study an elusive subject in truly brutal surroundings. Readers interested in conservation and climate will not be disappointed, but Berger, who writes with humor and self-awareness, also gives lessons on geography, culture, and politics. . . . For armchair conservationists, an expertly guided trip into remote landscapes that will hopefully spur much-needed action."
— Kirkus Reviews
"In language by turns lyrical, despairing, and hilariously funny, conservation biologist Berger relates stories from a life spent studying little-known animals. The touchstone of his work is the musk ox, 'an Arctic apparition, a Pleistocene remnant,' which as a species 'define these turbulent lands, and an uncertain future' threatened by climate change. Berger goes to extreme lengths to research the musk ox and other animals living in inhospitable locales in Bhutan, Mongolia, Russia, and the United States. He is perpetually cold; equipment freezes, as does food. Tasked with reaching up the anus of a musk ox to retrieve scat at the source, he counts on the warmth to revive his numbed fingers. The people he finds, including Inuit hunters and Wyoming cattlemen, are often committed to saving the biological diversity around them, heartening Berger, who is adamant that, without human commitment, the species he studies won't survive. The narrative is sprinkled with quotes from early Arctic explorers and anecdotes from other scientists, with Berger's own wry humor added to the mixture. His experiences while wearing a bear suit to get closer to the musk ox, to pick one particularly delightful example, are pure slapstick. Informative and impassioned, this will be enjoyed by adventurers and environmentalists alike."
— Publishers Weekly
"Field biology is a tough, lonely profession requiring patience and grit and smarts, and if you add conservation concerns (which you must), a deep steady heart. How long could you stare at a muskox if your toes were frozen? Not many of those doughty biologists can write lively prose for the general reader, offering wit, humanity, narrative, and the big picture. George Schaller is one. Ed Wilson, Jane Goodall. Joel Berger is in that league."
— David Quammen, author of "The Tangled Tree: A Radical New History of Life"
"Extreme Conservation is a must-read for all conservation biologists and for all people who care about the state of our magnificent planet and how numerous and diverse animal species and their homes are being ravaged 'in the name of humans.' Berger is one of the most productive, traveled, and influential scientists of our time, and his work has changed, and will continue to change, how researchers and non-researchers alike view and respond to what is happening globally as the rage of inhumanity plunders all sorts of ecosystems, including those that most people will never visit or even know about. Berger's new book should be required reading for a broad global audience because if we don't heed the many lessons Extreme Conservation offers—and take action right now—future generations will inherit a horrifically impoverished and even less resilient world. In these increasingly dire times, we can and must do much better than we have in saving our planet for the sake of future humans, ourselves, and other animals."
— Marc Bekoff, University of Colorado, coauthor of "The Animals' Agenda: Freedom, Compassion, and Coexistence in the Human Age" and author of "Canine Confidential: Why Dogs Do What They Do"
"The world is changing rapidly, impacting people and wildlife, and this change is most noticeable in the Arctic and high latitudes. It takes a special person to do conservation in these extreme environments. Berger seems to thrive in them, and this book shows his passion for exploration and field science, key to saving wildlife and these last wild places."
— Cristián Samper, president and CEO, Wildlife Conservation Society
"Some of us are drawn to nature by wild, wondrous places and the things that live there. Chockablock with information, feeling, and riveting stories, Extreme Conservation is Berger's deeply personal narrative of natural history, ecology, and preservation from several wild and wondrous places that most of us will never see and can barely imagine. A book that can be read both for knowledge and for pleasure."
— James A. Estes, University of California, Santa Cruz, author of "Serendipity: An Ecologist's Quest to Understand Nature"
"At the top of the world, extreme beasts are perfectly adapted. We are not. Practicing extreme conservation pushes one to the outer limits of human capacity—to a point where only the heartiest of wills survive and death always chimes at your doorstep. It is these inhospitable landscapes where Berger finds adaptation and evolution at its most refined. This story is not about a quest to test one's bravado, it is simply to reveal answers to a series of scientific questions with a purpose to serve effective conservation at large. During these biological journeys to the ends of the earth he not only discovers unlocked truths but comes face to face with our own species, humanity, and perhaps answers the age-old question, 'Why should we care?'"
— John Banovich, artist and conservationist