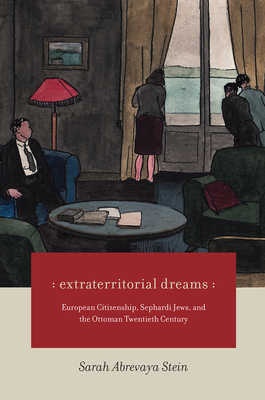 Extraterritorial Dreams
European Citizenship, Sephardi Jews, and the Ottoman Twentieth Century
Hardcover

* Individual store prices may vary.
Other Editions of This Title:
Paperback (6/10/2016)
Description
We tend to think of citizenship as something that is either offered or denied by a state. Modern history teaches otherwise. Reimagining citizenship as a legal spectrum along which individuals can travel, Extraterritorial Dreams explores the history of Ottoman Jews who sought, acquired, were denied or stripped of citizenship in Europe in the late nineteenth and early twentieth centuries—as the Ottoman Empire retracted and new states were born—in order to ask larger questions about the nature of citizenship itself.

Sarah Abrevaya Stein traces the experiences of Mediterranean Jewish women, men, and families who lived through a tumultuous series of wars, border changes, genocides, and mass migrations, all in the shadow of the collapse of the Ottoman Empire and the ascendance of the modern passport regime. Moving across vast stretches of Europe, the Middle East, Asia, and the Americas, she tells the intimate stories of people struggling to find a legal place in a world ever more divided by political boundaries and competing nationalist sentiments. From a poor youth who reached France as a stowaway only to be hunted by the Parisian police as a spy to a wealthy Baghdadi-born man in Shanghai who willed his fortune to his Eurasian Buddhist wife, Stein tells stories that illuminate the intertwined nature of minority histories and global politics through the turbulence of the modern era.
Praise For Extraterritorial Dreams: European Citizenship, Sephardi Jews, and the Ottoman Twentieth Century…
"Stein's excellent and insightful Extraterritorial Dreams presents the difficulties, ironies, and vexations of Jewish 'nationality' in the twentieth century. In so doing, it traces historical threads that take us from the early modern period to the present day, from the Bronx to Baghdad, and to numerous places and moments in between."
— American Historical Review

"Stein's book aims to complicate our understanding of modern European citizenship by offering
insight into a type of political belonging beyond citizenship and nationality; to contribute to Jewish
history by considering prot´eg´e status as being part of a spectrum of citizenship that was not merely
something someone possessed or lacked, inserting human agency into the historical narrative; and
using the example of the Jewish prot´eg´e to show how Ottoman history shaped the history of
European citizenship. On all three aims it succeeds, weaving together Ottoman, Jewish, Middle
Eastern, and European History through intimate accounts of the travails of fascinating marginal
figures."
— International Journal of Middle East Studies
University of Chicago Press, 9780226368191, 240pp.
Publication Date: June 10, 2016
About the Author
Sarah Abrevaya Stein is professor of history and the Maurice Amado Chair in Sephardic Studies at the University of California, Los Angeles. She is the author of Plumes: Ostrich Feathers, Jews, and a Lost World of Global Commerce and Making Jews Modern: The Yiddish and Ladino Press in the Russian and Ottoman Empires, and coeditor of A Jewish Voice from Ottoman Salonica: The Ladino Memoir of Sa'adi Besalel a-Levi and Sephardi Lives:  a documentary history, 1700-1950. 

or
Not Currently Available for Direct Purchase