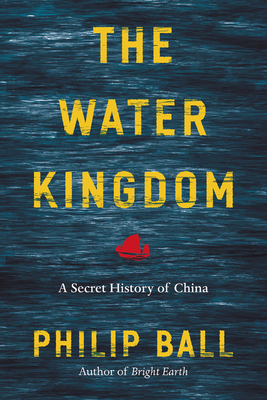 The Water Kingdom (Hardcover)
A Secret History of China
University of Chicago Press, 9780226369204, 320pp.
Publication Date: May 5, 2017
Other Editions of This Title:
MP3 CD (4/25/2017)
Paperback (10/9/2020)
Compact Disc (4/25/2017)
* Individual store prices may vary.
Description
From the Yangtze to the Yellow River, China is traversed by great waterways, which have defined its politics and ways of life for centuries. Water has been so integral to China's culture, economy, and growth and development that it provides a window on the whole sweep of Chinese history. In The Water Kingdom, renowned writer Philip Ball opens that window to offer an epic and powerful new way of thinking about Chinese civilization.

Water, Ball shows, is a key that unlocks much of Chinese culture. In The Water Kingdom, he takes us on a grand journey through China's past and present, showing how the complexity and energy of the country and its history repeatedly come back to the challenges, opportunities, and inspiration provided by the waterways. Drawing on stories from travelers and explorers, poets and painters, bureaucrats and activists, all of whom have been influenced by an environment shaped and permeated by water, Ball explores how the ubiquitous relationship of the Chinese people to water has made it an enduring metaphor for philosophical thought and artistic expression. From the Han emperors to Mao, the ability to manage the waters ― to provide irrigation and defend against floods ― was a barometer of political legitimacy, often resulting in engineering works on a gigantic scale. It is a struggle that continues today, as the strain of economic growth on water resources may be the greatest threat to China's future.

The Water Kingdom offers an unusual and fascinating history, uncovering just how much of China's art, politics, and outlook have been defined by the links between humanity and nature.
 
About the Author
Philip Ball worked for over twenty years as an editor for Nature, writes regularly in the scientific and popular media, and has authored many books on the interactions of the sciences, the arts, and the wider culture. His most recent books include Patterns in Nature: Why the Natural World Looks the Way It Does, Invisible: The Dangerous Allure of the Unseen, and Serving the Reich: The Struggle for the Soul of Physics under Hitler, all published by the University of Chicago Press. He lives in London.
 
Praise For The Water Kingdom: A Secret History of China…
 "A rewarding read. . . . At its most fascinating when describing how in China the laws of nature seem to have embedded in them a moral precept. . . . Ball puts water beautifully back at the heart of China's story."
 
— Economist
"In his excellent, smartly written new book, The Water Kingdom, Ball identifies water as 'one of the most constant, significant and illuminating themes' in China's history and culture. . . . Along the way, the book punctures myths and draws illuminating connections."
 
— Financial Times
"Ball's journey along the history, politics, and culture of China's waterways encompasses many heroes of Chinese hydrology, men who grappled with elemental forces and imperial censure and sometimes came out on top. . . . Ball argues that China's future, like the past, can be read in the fate of its water."
 
— Guardian
"This is a book about water in China in virtually any context imaginable. As Ball, a longtime former editor of Nature says, he draws on 'travellers and explorers, poets and painters, philosophers, bureaucrats and activists, who have themselves struggled to come to terms with what it means to live within a world so shaped and permeated by water.' Historically, water figures in ancient Chinese myths as essential for human life and as a fundamental force of nature that has always ravaged China with the relentless flooding its great rivers cause. Water is a prerequisite for agricultural abundance and urban expansion. It appears as a basic component in Chinese philosophy, one of the basic five elements. Here, Ball considers water, in political, economic, and social aspects, as a factor in environmental pollution, political corruption, and social upheaval (the Three Gorges Dam project is a case in point). The book closes with a consideration of the 'fluid art of expression'—how water relates to Chinese painting, serves as a metaphor in literature, and is used by contemporary artists who perform their works in water. This book will serve diverse readers interested in China from the historical to the most contemporary perspectives. Suitable for all audiences. Recommended."
— Choice
"Ball's passion for Chinese culture, and his broad reading on history, myth, and culture rewards readers with fascinating insights distilled from these sources, along with his own experiences. . . .  For teachers, this book provides interesting nuggets to add to existing lectures on Confucianism (such as the deep historical importance of water control and administration from Yu the Great on), Daoism (the hermit man of the mountains and the idea of Dao as water), or Chinese painting and poetry (looking at imagery and wording which might be critical of current rulers or policies). For advanced students with a background in Chinese history and culture, this book provides extensive food for thought, as well as a good bibliography of essential readings."
— World History Connected
"What a splendid idea: to write a history of China through its relationship with water. Far-fetched, you might think: not in the least, as you will find immediately when you start to read this fascinating book. You will never think of China in quite the same way again."
— Martin Jacques, author of When China Rules the World
"The language of water has been spoken in China since the earliest times. This remarkable book explains why, and is one of the very few that will be respected both in the West and in China."
— Xinran, author of The Good Women of China
"The Water Kingdom presents us with an epic portrait of China's water management history and its deep interlacing with culture currents. It's essential reading for any serious understanding of the dynamic relations between humans and nature, not only in China, but in the world at large."
— Xiaolu Guo, author of I am China