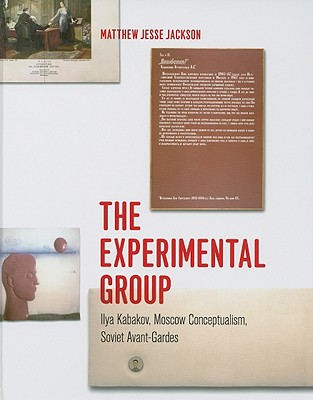 The Experimental Group (Hardcover)
Ilya Kabakov, Moscow Conceptualism, Soviet Avant-Gardes
University of Chicago Press, 9780226389417, 316pp.
Publication Date: July 15, 2010
* Individual store prices may vary.
Description
A compelling study of unofficial postwar Soviet art, "The Experimental Group"takes as its point of departure a subject of strange fascination: the life and work of renowned professional illustrator and conceptual artist Ilya Kabakov.
Kabakov's art iconoclastic installations, paintings, illustrations, and texts delicately experiments with such issues as history, mortality, and disappearance, and here exemplifies a much larger narrative about the work of the artists who rose to prominence just as the Soviet Union began to disintegrate. By placing Kabakov and his conceptualist peers in line with our own contemporary perspective, Matthew Jesse Jackson suggests that the art that emerged in the wake of Stalin belongs neither entirely to its lost communist past nor to a future free from socialist nostalgia. Instead, these artists and their work produced a critical and controversial chapter in the as yet unwritten history of global contemporary art.
About the Author
Matthew Jesse Jacksonteaches in the Departments of Art History and Visual Arts at the University of Chicago.

"
Praise For The Experimental Group: Ilya Kabakov, Moscow Conceptualism, Soviet Avant-Gardes…
Winner of the 2011 Robert Motherwell Book Award for Outstanding Publication in the History and Criticism of Modernism in the Arts, The Dedalus Foundation



2010 American Publishers Award for Professional and Scholarly Excellence, Honorable Mention, Art History & Criticism


Winner, Scholarly Illustrated Category, 2011 AAUP Book, Jacket, and Journal Show



Winner of the 2011 Wayne S. Vucinich Book Prize for the most important contribution to Russian, Eurasian, and East European studies in any discipline of the humanities or social sciences, Association for Slavic, East European, and Eurasian Studies



"Matthew Jesse Jackson''s The Experimental Group is an engaging, beautifully written, and erudite study of unofficial Soviet art. It makes a strong case for Kabakov''s achievements across multiple art forms, and provides brilliant readings of numerous individual drawings, albums, mixed media work, and installations. Moving far beyond his own field of art history, Jackson makes a major statement about Soviet society, culture, and politics as a whole. Without idealizing the late Soviet period in the least, he shows how its norms of cultural conversation, the organization of work and free time, occasional but critical moments of access to Western innovations in the arts, emerging new philosophies of the artistic process, and the important role of viewer (or reader) response all conspired to make possible extraordinary art. Jackson prompts us to recognize the "period of stagnation" as a time of intellectual ferment--with the Soviet citizenry acting as the ultimate "experimental group." This monumental study of creativity in and after the late Soviet period is a remarkable scholarly achievement."—Vucinich Book Prize Committee



"Matthew Jesse Jackson combines vast art historical and theoretical erudition with a rare ability to understand the specific social milieus and psychological motives that govern individual artistic strategies."—Boris Groys, New York University


  "Matthew Jesse Jackson''s writing and quality of mind put him in the forefront of the next wave in modern art studies."—Thomas E. Crow, Institute of Fine Arts

"[Jackson''s] rich narrative . . . reads almost like a novel."—Artforum

"Jackson''s thorough account is now the best introduction in English to this peculiar and fascinating period."—Nation

"Very few contemporary art history books are of such note that they appear to revise completely their chosen topic, as well as potentially a few others along the way, but Matthew Jesse Jackson''s The Experimental Group does precisely that."—Art Monthly


"The Experimental Group is the best art historical text I have read on postwar Soviet art . . . for me this book is as close to a page-turner as any art history book is ever likely to be."—Jonathan Fineberg, Slavic Review


-Jonathan Fineberg

"Jackson demonstrates . . . a deep familiarity with the era''s artistic milieu."—Art in America


"A rich account…a rigorous analysis…the most comprehensive treatment of the most distinguished living post-Soviet artist has arrived."—Third Text



"Jackson engagingly combines an analysis of Kabakov''s work with perceptive analysis of contemporaries. . . . [His] access to Kabakov and familiarity with Moscow''s cultural milieu give readers a sense of direct contact with the intensely nuanced world of Moscow conceptualism. Recommended."—Choice


"[T]he certainty of Jackson''s substantial scholarship make[s] The Experimental Group well worth reading."—Russian Review

"The most concretely informative book on the Moscow Conceptualist milieu to date. Jackson's lucid, engaging prose further recommends his study, especially to readers seeking an introduction to Soviet unofficial art."—Art Journal
or
Not Currently Available for Direct Purchase