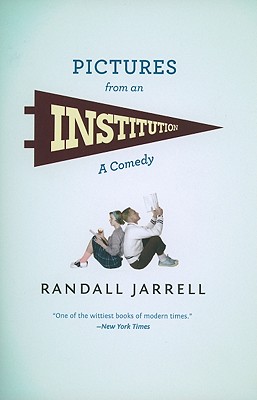 Pictures from an Institution
A Comedy (Phoenix Fiction)
Paperback

* Individual store prices may vary.
Other Editions of This Title:
Paperback (4/1/1986)
Description
Beneath the unassuming surface of a progressive women's college lurks a world of intellectual pride and pomposity awaiting devastation by the pens of two brilliant and appalling wits. Randall Jarrell's classic novel was originally published to overwhelming critical acclaim in 1954, forging a new standard for campus satire—and instantly yielding comparisons to Dorothy Parker's razor-sharp barbs. Like his fictional nemesis, Jarrell cuts through the earnest conversations at Benton College—mischievously, but with mischief nowhere more wicked than when crusading against the vitriolic heroine herself. 
 
Praise For Pictures from an Institution: A Comedy (Phoenix Fiction)…
"[T]he father of the modern campus novel, and the wittiest of them all. Extraordinary to think that 'political correctness' was so deliciously dissected 50 years ago."
— Noel Malcolm
"I can open it anywhere and it will make me laugh. We recovering professors owe him an enormous debt for his merciless treatment of academia."
— Donna Leon
"One of the wittiest books of modern times."
— Orville Prescott
"I'm greatly impressed by the real fun, the incisive satire, the closeness of observation, and in the end by a kind of sympathy and human warmth. It's a remarkable book."
— Robert Penn Warren
"[An] exquisite, unerring comedy of manners. . . . [P]erhaps the funniest book I have ever read."
— Cathleen Schine
"Mr. Jarrell is on the side of the angels. His is a divine meanness, and he exposes his female writing devil punitively, matching her stream of poinsonous wisecracks with a series of coruscating cracks of his own worthy of Dorothy Parker at her most hilarious and deadly."
— Francis Steegmuller,
"[A] work of fiction, and a dizzying and brilliant work of social and literary criticism. Not only 'a unique and serious joke-book,' as Lowell called it, but also a meditation made up of epigrams."
— Michael Wood
Move over Dorothy Parker. 'Pictures' . . . is less a novel than a series of poisonous portraits, set pieces, and endlessly quotable put-downs. Read it less for plot than sharp satire, Jarrell's forte."
— Mary Welp
"A sustained exhibition of wit in the great tradition. . . . Immensely and very devastatingly shrewd."
— Edmund Fuller
University of Chicago Press, 9780226393759, 296pp.
Publication Date: April 30, 2010
About the Author
Randall Jarrell (1914–1965) was the author of six volumes of poetry and the recipient of the National Book Award for Poetry in 1961. Pictures from an Institution is his only novel.