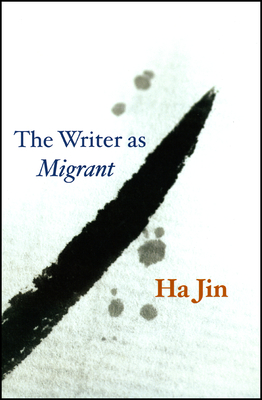 The Writer as Migrant (The Rice University Campbell Lectures) (Hardcover)
University of Chicago Press, 9780226399881, 112pp.
Publication Date: November 1, 2008
* Individual store prices may vary.
Description
As a teenager during China's Cultural Revolution, Ha Jin served as an uneducated soldier in the People's Liberation Army. Thirty years later, a resident of the United States, he won the National Book Award for his novel Waiting, completing a trajectory that has established him as one of the most admired exemplars of world literature.
            Ha Jin's journey raises rich and fascinating questions about language, migration, and the place of literature in a rapidly globalizing world—questions that take center stage in The Writer as Migrant, his first work of nonfiction. Consisting of three interconnected essays, this book sets Ha Jin's own work and life alongside those of other literary exiles, creating a conversation across cultures and between eras. He employs the cases of Alexander Solzhenitsyn and Chinese novelist Lin Yutang to illustrate the obligation a writer feels to the land of his birth, while Joseph Conrad and Vladimir Nabokov—who, like Ha Jin, adopted English for their writing—are enlisted to explore a migrant author's conscious choice of a literary language. A final essay draws on V. S. Naipaul and Milan Kundera to consider the ways in which our era of perpetual change forces a migrant writer to reconceptualize the very idea of home. Throughout, Jin brings other celebrated writers into the conversation as well, including W. G. Sebald, C. P. Cavafy, and Salman Rushdie—refracting and refining the very idea of a literature of migration.
            Simultaneously a reflection on a crucial theme and a fascinating glimpse at the writers who compose Ha Jin's mental library, The Writer as Migrant is a work of passionately engaged criticism, one rooted in departures but feeling like a new arrival.
About the Author
Ha Jin is the author of five novels, including, A Free Life and War Trash, which was the recipient of the PEN/Faulkner Award,as well as three collections of short stories and three books of poetry. He teaches at Boston University.
Praise For The Writer as Migrant (The Rice University Campbell Lectures)…
"Though the issues are weighty, Jin's prose is straightforward and welcoming. . . . In this poignant and provocative book, Jin takes us on this journey [to our envisioned homelands], revealing paths laid by migrant writers before him and perhaps by those who will follow."
— Vanessa Hua
"Ha Jin is uniquely placed to address the responsibilities and challenges of the displaced writer. Offering both historical context and a strong personal vision of the migrant writer in America today, these essays are thought-provoking, often inspiring, and, above all, unfailingly interesting."
— Claire Messud
"Jin's book is lucid and original. No author of his stature has treated this subject in such an inclusive manner. Highly Recommended."
— Choice
"[The Writer As Migrant] demands to be read slowly, and savored. You may find yourself pausing frequently to think about some especially trenchant observation and to reflect on the generosity and intelligence with which [Ha Jin] helps us understand what makes us different from, and similar to, the people with whom we co-exist on our endlessly fascinating, precious, and increasingly populated world."
— Francine Prose
"Ha Jin questions the author's nostalgia for home and conjures up another dwelling place in the house of literature. . . . These essays offer a thoughtful and thought-provoking defence of the author's right to define his own reasons for writing and to fashion his own home."—Times Higher Education
— Times Higher Education
"[Jin] writes with admirations and delicacy about writers as diverse as V.S. Naipaul and W.G. Sebald. . . . Unsurprisingly, many of the books most valuable passages concern the craft of writing."
— Francine Prose
"Through this tangle of voluntary and forced migrations, Ha Jin offers the reader a string of glittering insights. For example, that exiles, like Tennyson's Ulysses, can confuse personal longing with collective need; . . . that nostalgia is never more than individual longing; that memory, when manipulated for even the best of reasons, can become a dangerous falsehood.—Alberto Manguel, Spectator
— Alberto Manguel
"The Writer as Migrant serves as an excellent primer into the migrant experience, and makes a good read for anyone who has lived 'elsewhere.'"
— Deji Olukotun
or
Not Currently Available for Direct Purchase