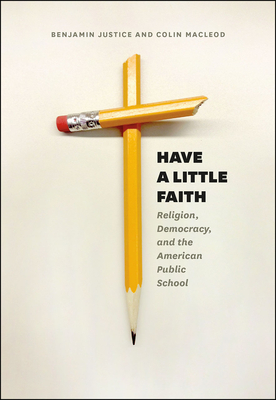 Have a Little Faith
Religion, Democracy, and the American Public School (History and Philosophy of Education Series)
Paperback

* Individual store prices may vary.
Other Editions of This Title:
Hardcover (11/9/2016)
Description
It isn't just in recent arguments over the teaching of intelligent design or reciting the pledge of allegiance that religion and education have butted heads: since their beginnings nearly two centuries ago, public schools have been embroiled in heated controversies over religion's place  in the education system of a pluralistic nation. In this book, Benjamin Justice and Colin Macleod take up this rich and significant history of conflict with renewed clarity and astonishing breadth. Moving from the American Revolution to the present—from the common schools of the nineteenth century to the charter schools of the twenty-first—they offer one of the most comprehensive assessments of religion and education in America that has ever been published.

From Bible readings and school prayer to teaching evolution and cultivating religious tolerance, Justice and Macleod consider the key issues and colorful characters that have shaped the way American schools have attempted to negotiate religious pluralism in a politically legitimate fashion. While schools and educational policies have not always advanced tolerance and understanding, Justice and Macleod point to the many efforts Americans have made to find a place for religion in public schools that both acknowledges the importance of faith to so many citizens and respects democratic ideals that insist upon a reasonable separation of church and state. Finally, they apply the lessons of history and political philosophy to an analysis of three critical areas of religious controversy in public education today: student-led religious observances in extracurricular activities, the tensions between freedom of expression and the need for inclusive environments, and the shift from democratic control of schools to loosely regulated charter and voucher programs.

Altogether Justice and Macleod show how the interpretation of educational history through the lens of contemporary democratic theory offers both a richer understanding of past disputes and new ways of addressing contemporary challenges.
 
Praise For Have a Little Faith: Religion, Democracy, and the American Public School (History and Philosophy of Education Series)…
"This short, well-footnoted book is particularly timely given the current clashes between liberals, who tend to endorse a one-size-fits-all approach to public education that focuses on college preparation and job-training, and conservatives, many of whom have lost faith in public education and seek various forms of choice plans from charters to private and religious schools. The book argues that while the country is composed of citizens of many religions and no religion, public schools have a role in enabling Americans of different views to come together, learn to respect competing views, and make the necessary democratic decisions. Further, the authors maintain that this process provides legitimacy to a democratic state. The record of our schools over more than two hundred years bears evidence of these legitimacy tensions. The authors examine these tensions over four historical periods through the lens of school content, purpose, control, and inclusion: the emergence of public schooling in the early days of the Republic, the early and mid-19th century, the early 20th century through the 1950s, and the modern era with its special religious tensions, deepening criticisms of public education, and emergence of competing ideas for how to structure and deliver schooling in a religiously pluralistic nation. The book ends by reiterating the severity of the controversies surrounding public education today, the lessons of history, and the contribution the perspective of democratic political philosophy can offer to our national debate. Recommended."
— Choice

"Justice, a historian, and Macleod, a philosopher, make a meaningful contribution to the foundations of education as well as their respective disciplines. This book would be helpful for scholars and students in education and the humanities. . . . Justice and Macleod accomplish a great deal in 146 very readable pages. The book is well-written and researched, and its arguments are situated in thoughtful conversation with notable contributors to the philosophical discussion on civic education and religion in public schools . . . . Readers will appreciate their interdisciplinary approach, their clear and constructive theoretical framework . . . , their skillful contextualization and articulation of an increasingly pressing problem, and their normative analysis of the problem in the concluding chapter."
— Theory and Research in Education

"[Justice and Macleod] combine their notable expertise to offer a historical and practical treatment of American encounters and conflicts on issues of public education and religion from the Puritans to the modern day. . . . Have a Little Faith is a well-crafted study, which will attract a wide audience from upper-level undergraduates and graduate students to professionals in educational administration. Students will appreciate the broad narrative scope, which includes brief analyses of various educational leaders and practices as well as Supreme Court cases regarding religion and education. Likewise, practitioners will profit from the detailed discussion of political philosophy in evaluating and addressing educational disputes. . . .  Interested readers, like myself, will use this succinct book as a stepping off point for further historical and philosophical inquiry and even as a practical guide for approaching issues related to public education and religion in America."
— Reading Religion

"A strong book overall. As a work of philosophy, it provides an excellent and systematic theory of democratic education which provides an effective framework for organizing the history of American religious education. As a work of history, it offers one of the best histories of religion and American education in print, man-aging to be simultaneously comprehensive, concise, and engaging. And the book's reframing of contemporary challenges according to the demands and standards of democratic citizenship is an important and smart one."
— Journal of Church and State
University of Chicago Press, 9780226400457, 192pp.
Publication Date: November 9, 2016
About the Author
Benjamin Justice is an associate professor at the Rutgers Graduate School of Education. He is the editor of The Founding Fathers, Education, and the Great Contest and author of The War That Wasn't: Religious Conflict and Compromise in the Common Schools of New York State, 1865-1900. Colin Macleod is associate professor of philosophy and law at the University of Victoria. He is the author, editor, or coeditor of several books, including Liberalism, Justice, and Markets and The Nature of Children's Well-Being. 
 
or
Not Currently Available for Direct Purchase