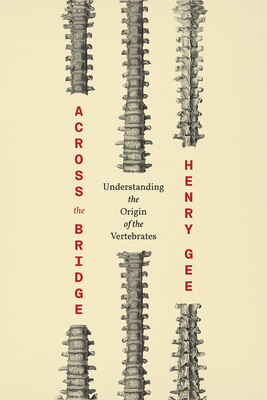 Across the Bridge (Paperback)
Understanding the Origin of the Vertebrates
University of Chicago Press, 9780226403052, 288pp.
Publication Date: July 2, 2018
Other Editions of This Title:
Hardcover (7/4/2018)
* Individual store prices may vary.
Description
Our understanding of vertebrate origins and the backbone of human history evolves with each new fossil find and DNA map. Many species have now had their genomes sequenced, and molecular techniques allow genetic inspection of even non-model organisms. But as longtime Nature editor Henry Gee argues in Across the Bridge, despite these giant strides and our deepening understanding of how vertebrates fit into the tree of life, the morphological chasm between vertebrates and invertebrates remains vast and enigmatic.

As Gee shows, even as scientific advances have falsified a variety of theories linking these groups, the extant relatives of vertebrates are too few for effective genetic analysis. Moreover, the more we learn about the species that do remain—from sea-squirts to starfish—the clearer it becomes that they are too far evolved along their own courses to be of much use in reconstructing what the latest invertebrate ancestors of vertebrates looked like. Fossils present yet further problems of interpretation. Tracing both the fast-changing science that has helped illuminate the intricacies of vertebrate evolution as well as the limits of that science, Across the Bridge helps us to see how far the field has come in crossing the invertebrate-to-vertebrate divide—and how far we still have to go.
About the Author
Henry Gee is a senior editor at Nature and the author of such books as Jacob's Ladder, In Search of Deep Time, The Science of Middle-earth, and A Field Guide to Dinosaurs, the last with Luis V. Rey. He lives in Cromer, Norfolk, England, with his family and numerous pets.
Praise For Across the Bridge: Understanding the Origin of the Vertebrates…
"Across the Bridge is a deft and well-argued distillation of how advances have shifted the field to the point of dispatching some of the most influential and elegant classical hypotheses, and it is a bold attempt at developing a new synthesis. It thereby deepens understanding of our own evolutionary origins."
— Chris Lowe, Stanford University
"Fascinating. . . . Gee is mainly forward-looking, presenting a cogent and new, but inevitably controversial, hypothesis. . . . We are clearly experiencing a golden age of biology, where molecular, genomic and phylogenetic technologies can all be brought to bear on long-standing, puzzling questions about the evolution of life. As Gee is careful to emphasize, there is nothing goal-directed or magical about the process of evolution. What is magical, though, are the products of that relentless process that made the vertebrates what they are and gave us the ability to study and understand how they evolved."
— Robert Montgomerie, Queen's University
"An excellent addition, complementing Gee's earlier book Before the Backbone, which provided a historical perspective on ideas surrounding vertebrate origins. Gee addresses an important topic for biologists and zoologists about vertebrates' place in the 'grand scheme.' We are familiar with vertebrates, or think that we are. However, Gee shows beautifully, as a group we are just as strange in many ways as other groups appear to us. Across the Bridge takes on a very esoteric subject and is genuinely witty and charming. The book really is magnificent."
— Neil J. Gostling, University of Southampton
"In Across the Bridge, Gee writes a beautiful ode to some of the least appreciated animals, who reveal our own evolutionary origins: the deuterostomes. Combining a sense for detail and prosaic ease, Gee guides the reader joyfully through deuterostomes—weaving disparate elements of embryology, paleontology, and morphology into an unprecedented and accessible narrative. This book not only gives a state of affairs—being an excellent primer for anyone interested in early animal evolution—it also proposes novel, compelling, and challenging hypotheses for researchers to test for decades to come. As senior editor of Nature, Gee has had a first-row seat to the revelations made across the disciplines of evolutionary biology for almost thirty years.  Here, he has applied his polyhistoric expertise in this field to propose a vision for future interdisciplinary research, as well as created what will surely become a classic textbook for future generations of students."
— Jakob Vinther, University of Bristol