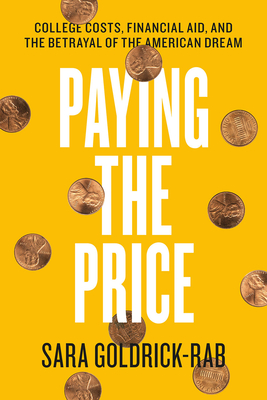 Paying the Price
College Costs, Financial Aid, and the Betrayal of the American Dream
Hardcover

* Individual store prices may vary.
Other Editions of This Title:
Digital Audiobook (4/17/2017)
Paperback (7/24/2017)
MP3 CD (4/18/2017)
Compact Disc (4/18/2017)
Description
If you are a young person, and you work hard enough, you can get a college degree and set yourself on the path to a good life, right?
 
Not necessarily, says Sara Goldrick-Rab, and with Paying the Price, she shows in damning detail exactly why. Quite simply, college is far too expensive for many people today, and the confusing mix of federal, state, institutional, and private financial aid leaves countless students without the resources they need to pay for it.
 
Drawing on an unprecedented study of 3,000 young adults who entered public colleges and universities in Wisconsin in 2008 with the support of federal aid and Pell Grants, Goldrick-Rab reveals the devastating effect of these shortfalls. Half the students in the study left college without a degree, while less than 20 percent finished within five years. The cause of their problems, time and again, was lack of money. Unable to afford tuition, books, and living expenses, they worked too many hours at outside jobs, dropped classes, took time off to save money, and even went without adequate food or housing. In many heartbreaking cases, they simply left school—not with a degree, but with crippling debt. Goldrick-Rab combines that shocking data with devastating stories of six individual students, whose struggles make clear the horrifying human and financial costs of our convoluted financial aid policies.
 
America can fix this problem. In the final section of the book, Goldrick-Rab offers a range of possible solutions, from technical improvements to the financial aid application process, to a bold, public sector–focused "first degree free" program. What's not an option, this powerful book shows, is doing nothing, and continuing to crush the college dreams of a generation of young people.
Praise For Paying the Price: College Costs, Financial Aid, and the Betrayal of the American Dream…
"Honestly one of the most exciting books I've read, because [Goldrick-Rab has] solutions. It's a manual that I'd recommend to anyone out there, if you're a parent, if you're a teacher, if you're a student."
 
— Trevor Noah

"Bracing and well-argued, this study not only puts faces on the students who struggle to earn college degrees; it also serves as a warning that university study is rapidly becoming a privilege reserved for only the wealthy. Necessary reading for anyone concerned about the fate of American higher education."
— Kirkus Reviews

"What if we rebuilt the financial aid system around the ways that students actually live? Sara Goldrick-Rab takes an admirable shot in Paying the Price. . . . As a contribution to our understanding of financial aid and its impact on low-income students, it's remarkably useful. . . . Goldrick-Rab's significant contribution here is building policy around actual students. It's easy to postulate how an ideal student should behave, or to build a policy on the assumption that every student is 18 years old, attending full-time, living on campus, and receiving ample family support. It's much harder to build policy on the complicated lives that actual students actually live. It's to her credit that Goldrick-Rab goes into the weeds. Here's hoping that people who control state appropriations hear her."
— Inside Higher Ed

"A detailed look at shortsighted and insufficient policies and the specific havoc they wreak on specific students."
— John Warner

"Ultimately, though, Goldrick-Rab argues that we need a new system, 'a Financial Aid 2.0 that is based on accessible and affordable high-quality public higher education.' Rather than offering more financial aid to keep up with rising prices, this future system would make the first few years of college, or the initial degree, free. Tennessee already offers tuition-free community college to all, and other states are considering similar programs, so this final recommendation provides a glimmer of hope that investing in our own young people is something a divided nation might eventually agree on. Paying the Price is an invaluable resource, chock-full of data and empathy, to bring to that effort."
— Yes Magazine

"Goldrick-Rab's important book should be read by policymakers, students, and parents. She explains clearly how access to college has been narrowed by rising costs, how elected officials have dodged their responsibility to maintain access, and what we must do to save the American Dream--the promise that all have equal opportunity to succeed."
 
— Diane Ravitch

"A hardworking group of young Americans is struggling with regular hunger, periodic homelessness, constant stress, and unrelenting exhaustion—all this while trying to master organic chemistry, business accounting, and British literature. Today's college students face unprecedented costs to achieve undergraduate degrees. Many of these costs are not reflected on any balance sheet at the university's financial aid office. Sara Goldrick-Rab's Paying the Price: College Costs, Financial Aid and the Betrayal of the American Dream offers the first truly comprehensive accounting of the toll extracted from a generation of middle and working class Americans who cannot possibly keep pace with the expense of attending college. Goldrick-Rab maps the landscape of America's college affordability crisis and gives that crisis a human face. She shows us how the system crushes dreams and offers practical solutions for fixing the mess we have made. Goldrick-Rab argues, 'The first step in addressing the college affordability crisis is taking the problem seriously.' Anyone who is serious about addressing this crisis must read this book."
— Melissa Harris-Perry

"Paying the Price is an urgent and necessary text. Through rigorous research and careful analysis, Sara Goldrick-Rab shows how the American Dream is structurally compromised by the exorbitant costs of higher education and a thoroughly dysfunctional financial aid system. With texture and subtlety, Goldrick-Rab spotlights the journeys of students whose road to educational access and social mobility is obstructed by the current crisis. Equally important, she offers a practical and progressive action plan for creating a more fair and just system."
— Marc Lamont Hill, author of Nobody: Casualties of America's War on the Vulnerable, From Ferguson to Flint and Beyond

"Paying the Price is a must-read not only for policymakers but also for anyone wanting a better grasp of our nation's college financial aid system. What started out as the promise to enable hardworking students to achieve their hopes of living the American Dream by improving their lot through higher education has morphed over the past five decades into an unwieldy system betraying that very ideal at huge costs to society. Sara Goldrick-Rab thoroughly reviews the evolution and demise of that once noble system, then proposes solutions after equitably addressing both sides of the financial argument. Pulling from case studies of 3,000 students, she shares the personal stories of six very different students to poignantly prove that our present system is failing us. We must act now so that the 45 million young people who will turn 18 in the next 10 years don't face the tough choices that 75 percent of Americans currently confront when they come to grips with the fact that they can't afford college."
— Eduardo Padron, Presidential Medal of Freedom recipient

"Goldrick-Rab's narrative puts a face to the national higher education cost crisis. The students she profiles through her research represent thousands of individuals who pursue a degree in pursuit of social mobility and the American Dream, only to find themselves unable to make ends meet and often drowning in debt. By personalizing our country's failed higher education policies, this book takes readers beyond national headlines and statistics and into individual lives. Goldrick-Rab's scholarship fills a critical void in our conversations about the realities of financial aid policy in the face of rapidly rising tuition and important poignant reminder of the ongoing negative impact of state appropriation reductions in this era."
— F. King Alexander, president, Louisiana State University
University of Chicago Press, 9780226404349, 368pp.
Publication Date: September 13, 2016
About the Author
Sara Goldrick-Rab is coeditor of Reinventing Financial Aid: Charting a New Course to College Affordability and has written on education issues for the New York Times, the Wall Street Journal, and the Washington Post. She is a recipient of the Early Career Award from the American Educational Research Association and the Atlantic, Slate, and NPR have covered her work. She founded the Wisconsin HOPE Lab, the nation's first research laboratory aimed at making college affordable, and is a noted influence on the development of both federal and state higher education policies. Dr. Goldrick-Rab is professor of higher education policy and sociology at Temple University. Follow her on Twitter @saragoldrickrab.
or
Not Currently Available for Direct Purchase