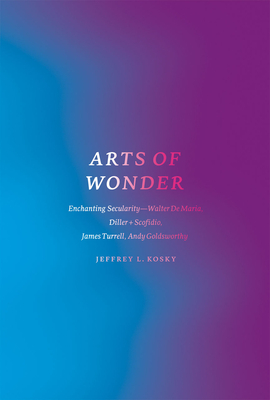 Arts of Wonder (Paperback)
Enchanting Secularity - Walter De Maria, Diller + Scofidio, James Turrell, Andy Goldsworthy (Religion and Postmodernism)
University of Chicago Press, 9780226411804, 224pp.
Publication Date: October 1, 2016
Other Editions of This Title:
Hardcover (12/11/2012)
* Individual store prices may vary.
Description
"The fate of our times is characterized by rationalization and intellectualization and, above all, by 'the disenchantment of the world.'" Max Weber's statement remains a dominant interpretation of the modern condition: the increasing capabilities of knowledge and science have banished mysteries, leaving a world that can be mastered technically and intellectually. And though this idea seems empowering, many people have become disenchanted with modern disenchantment. Using intimate encounters with works of art to explore disenchantment and the possibilities of re-enchantment, Arts of Wonder addresses questions about the nature of humanity, the world, and God in the wake of Weber's diagnosis of modernity.
Jeffrey L. Kosky focuses on a handful of artists—Walter De Maria, Diller + Scofidio, James Turrell, and Andy Goldsworthy—to show how they introduce spaces hospitable to mystery and wonder, redemption and revelation, and transcendence and creation. What might be thought of as religious longings, he argues, are crucial aspects of enchanting secularity when developed through encounters with these works of art. Developing a model of religion that might be significant to secular culture, Kosky shows how this model can be employed to deepen interpretation of the art we usually view as representing secular modernity. A thoughtful dialogue between philosophy and art, Arts of Wonder will catch the eye of readers of art and religion, philosophy of religion, and art criticism.
About the Author
Jeffrey L. Kosky is professor in the Department of Religion at Washington & Lee University in Virginia.
Praise For Arts of Wonder: Enchanting Secularity - Walter De Maria, Diller + Scofidio, James Turrell, Andy Goldsworthy (Religion and Postmodernism)…
Best Books of 2012
— New Museum
"[Kosky] faults both religionists and secularists—the first for unduly wanting to impose traditional religious images and concepts on contemporary art and the second for peremptorily excluding any traditionally religious consideration. . . . [Arts of Wonder] is a persuasive answer to the objections of both religionists and secularists and serves to remind us what brilliant interpretations can do. . . . The book fulfills its goal of detecting and deciphering human reality by means of what Clifford Geertz called 'thick interpretation'—here of twenty-nine engaging pieces of art. This study accordingly contributes to a wide range of disciplines—psychology, cosmology, philosophy, and anthropology—especially theology and the history of art."
— Mary Gerhart
"Bringing together personal stories, historical analysis, and religious reflection, Arts of Wonder weaves a narrative that reveals traces of gods in a world they long ago seemed to have fled. During a period when discussions of religion usually amount to little more than noisy banter between true believers and naïve unbelievers, Jeffrey L. Kosky turns to quiet works by subtle artists for spiritual insight and even wisdom.  This is a timely book that suggests different ways of being religious today."
— Mark C. Taylor, Columbia University
"Welcome to the new, strange writing on art. Just as affect, plenary presence, and immersive experience flow into art writing, there is a resurgence of interest on the part of religious scholars in bridging the gap between religious meanings and modern art. Jeffrey L. Kosky returns repeatedly, unapologetically, to a single frontispiece from a book by the Enlightenment philosopher Christian Wolff, showing a smiling sun breaking through clouds; he contrasts it with each of his artists, with electric light, with lightning, and with natural light: it is a charming, unlikely leading image for his argument that religious considerations, planted in the secularized discourse of modern art, are 'the best criteria art writing could adopt.' Kosky writes for those who 'feel the absence of charm and wonder as deeply enervating,' and although the artists he chooses may be the exceptions that prove the rule of modernism's distance from religious meaning, a 'theology of modern disenchantment' promises to show a way across the divide."
— James Elkins, School of the Art Institute of Chicago
"Jeffrey L. Kosky's Arts of Wonder is an original work in at least three respects: in its mode of exploration, which is a back-and-forth dialogue between art and philosophy; in its choice of a particular set of artworks that gives the book a clear and coherent story arc; and in its exploration of the religiosity of secularism vis-à-vis these artworks. Kosky is well versed in the pertinent philosophical discourses, and he demonstrates thoughtful and critical engagement with contemporary scholarship. Stimulating and provocative, Arts of Wonder is an academic page-turner that represents an emerging intellectual movement and will be influential to scholars drawn to this area of inquiry."
— Timothy K. Beal, Case Western Reserve University
or
Not Currently Available for Direct Purchase