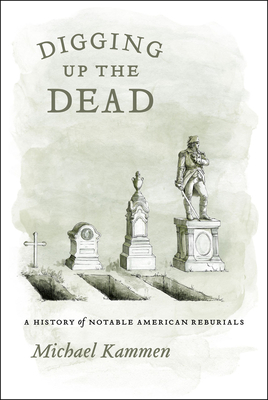 Digging Up the Dead
A History of Notable American Reburials
Paperback

* Individual store prices may vary.
Description
With Digging Up the Dead, Pulitzer Prize–winning historian Michael Kammen reveals a treasure trove of fascinating, surprising, and occasionally gruesome stories of exhumation and reburial throughout American history. Taking us to the contested grave sites of such figures as Sitting Bull, John Paul Jones, Frank Lloyd Wright, Daniel Boone, Jefferson Davis, and even Abraham Lincoln, Kammen explores how complicated interactions of regional pride, shifting reputations, and evolving burial practices led to public and often emotional battles over the final resting places of famous figures. Grave-robbing, skull-fondling, cases of mistaken identity, and the financial lures of cemetery tourism all come into play as Kammen delves deeply into this little-known—yet surprisingly persistent—aspect of American history.
 Simultaneously insightful and interesting, masterly and macabre, Digging Up the Dead reminds us that the stories of American history don't always end when the key players pass on. Rather, the battle—over reputations, interpretations, and, last but far from least, possession of the remains themselves—is often just beginning.
University of Chicago Press, 9780226423302, 272pp.
Publication Date: April 15, 2011
About the Author
Michael Kammenis the Newton C. Farr Professor of American History and Culture emeritus at Cornell University. He is the author of many books, including Mystic Chords of Memory: The Transformation of Tradition in American Culture, and the Pulitzer Prize–winning People of Paradox: An Inquiry Concerning the Origins of American Civilization.
or
Not Currently Available for Direct Purchase