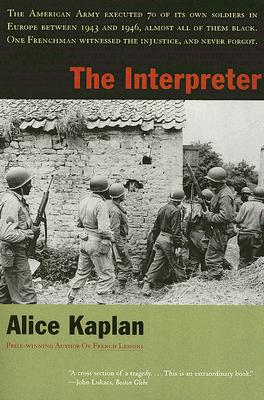 The Interpreter (Paperback)
University of Chicago Press, 9780226424255, 240pp.
Publication Date: May 15, 2007
Description
No story of World War II is more triumphant than the liberation of France, made famous in countless photos of Parisians waving American flags and kissing GIs as columns of troops paraded down the Champs Elysees. But one of the least-known stories from that era is also one of the ugliest chapters in the history of Jim Crow. In The Interpreter, celebrated author Alice Kaplan recovers this story both as eyewitnesses first saw it, and as it still haunts us today.
The American Army executed 70 of its own soldiers between 1943 and 1946--almost all of them black, in an army that was overwhelmingly white. Through the French interpreter Louis Guilloux's eyes, Kaplan narrates two different trials: one of a white officer, one of a black soldier, both accused of murder. Both were court-martialed in the same room, yet the outcomes could not have been more different. Kaplan's insight into character and setting creates an indelible portrait of war, race relations, and the dangers of capital punishment. "A nuanced historical account that resonates with today's controversies over race and capital punishment."
Publishers Weekly
"American racism could become deadly for black soldiers on the front.
The Interpreter
reminds us of this sad component of a heroic chapter in American military history."
Los Angeles Times
"With elegance and lucidity, Kaplan revisits these two trials and reveals an appallingly separate and unequal wartime U.S. military justice system."
Minneapolis Star Tribune
"Kaplan has produced a compelling look at the racial disparities as they were played out...She explores both cases in considerable and vivid detail."
Sacramento Bee
About the Author
Alice Kaplan is the Lehrman Professor of Romance Studies and Professor of Literature and History at Duke University. She is the author of French Lessons and The Collaborator and the translator of OK, Joe, all published by the University of Chicago Press. Her books have been twice nominated for the National Book Critics Circle Awards, once for the National Book Award, and she is a winner of the Los Angeles Times Book Prize.
Praise For The Interpreter…
"Impressive…The very precision and extent of her research suggest an author whose dedication to her theme amounts to much more than an intent to document her acquaintance and proper use of archival sources. This is an extraordinary book."—John Lukacs, Boston Globe
-John Lukacs

"A brilliant account. . . . Inventive, moving, and beautifully written, this is a major contribution to investigative history. Highly recommended."


-Anthony Edmunds

"A nuanced historical account that resonates with today's controversies over race and capital punishment."



"American racism could become deadly for black soldiers on the front. . . . The Interpreter reminds us of this sad component of a heroic chapter in American military history."


-Michael S. Roth

"With elegance and lucidity, Kaplan revisits these two trials and reveals an appallingly separate and unequal wartime U.S. military justice system."



"A highly readable introduction to the underside of Allied/French relations at the Liberation."
-Hilary Footitt

"Compelling. . . . [Kaplan] manages to weave a human story. . . . The two cases are so very different, however, that the conclusions Kaplan reaches appear somewhat tenuous."
-Jon Latimer

"A fascinating analysis of soldiers, lawyers, commanders, and racial conditions in the Brittany area of France after the Normandy invasion. . . . Kaplan researches and writes well in creating a powerful book."
-Alan M. Osur
Advertisement