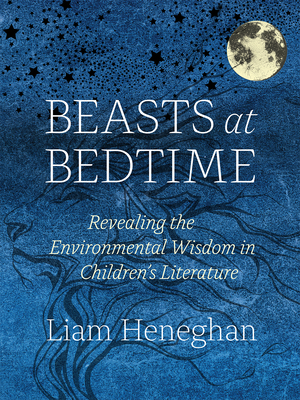 Beasts at Bedtime (Hardcover)
Revealing the Environmental Wisdom in Children's Literature
University of Chicago Press, 9780226431383, 338pp.
Publication Date: May 15, 2018
* Individual store prices may vary.
Description
Talking lions, philosophical bears, very hungry caterpillars, wise spiders, altruistic trees, companionable moles, urbane elephants: this is the magnificent menagerie that delights our children at bedtime. Within the entertaining pages of many children's books, however, also lie profound teachings about the natural world that can help children develop an educated and engaged appreciation of the dynamic environment they inhabit.
 
In Beasts at Bedtime, scientist (and father) Liam Heneghan examines the environmental underpinnings of children's stories. From Beatrix Potter to Harry Potter, Heneghan unearths the universal insights into our inextricable relationship with nature that underlie so many classic children's stories. Some of the largest environmental challenges in coming years—from climate instability, the extinction crisis, freshwater depletion, and deforestation—are likely to become even more severe as this generation of children grows up. Though today's young readers will bear the brunt of these environmental calamities, they will also be able to contribute to environmental solutions if prepared properly. And all it takes is an attentive eye: Heneghan shows how the nature curriculum is already embedded in bedtime stories, from the earliest board books like The Rainbow Fish to contemporary young adult classics like The Hunger Games.
 
Beasts at Bedtime is an awakening to the vital environmental education children's stories can provide—from the misadventures of The Runaway Bunny to more overt tales like The Lorax. Heneghan serves as our guide, drawing richly upon his own adolescent and parental experiences, as well as his travels in landscapes both experienced and imagined. Organized into thematic sections, the work winds its way through literary forests, colorful characters, and global environments.
 
This book enthralls as it engages. Heneghan as a guide is as charming as he is insightful, showing how kids (and adults) can start to experience the natural world in incredible ways from the comfort of their own rooms. Beasts at Bedtime will help parents, teachers, and guardians extend those cozy times curled up together with a good book into a lifetime of caring for our planet. 
 
About the Author
Liam Heneghan is professor of environmental science and studies at DePaul University. He is a Dubliner, an occasional poet, a tin whistle player, and a father of two grown children to whom he read every night of their early years.
Praise For Beasts at Bedtime: Revealing the Environmental Wisdom in Children's Literature…
"Today's children will face huge environmental challenges, from climate change to oceanic pollution. In Beasts at Bedtime, ecologist Heneghan argues that books can help children deal with these grim eventualities. . . . Story has the power to develop empathy and build knowledge, as well as nurture curiosity and imagination. Childhood reading is undeniably formative, and it's refreshing to see it being taken seriously. Children's books alone cannot save the natural world; but they can spark concern, teach the science and reveal strategies in ways both subtle and direct."
— Nature
"Beasts at Bedtime [surveys] classics of children's literature with a wonder that is fresh and palpable. . . . Seeing familiar texts through the eyes of an environmental biologist proves fascinating. . . . This is a book for bedtime, roaming associatively through memory and reflecting on the important role played by children's books in shaping adults with an empathetic interest in the natural world."
— Times Higher Education
"A fascinating and fresh new look at animal tales, often classic, and how they pertain to the present-day and our often fraught relationship to our environment. Highly relevant and highly recommended."
— Jeff VanderMeer, author of the Southern Reach Trilogy
"Beasts at Bedtime combines a reflective passion for nature, and a close naturalist's eye, with a genuine and gentle wisdom. . . . The book is informed by eco-theory throughout, but always maintains a lightness of touch, and is never saddled by over-formality."
— Irish Times
"For many of us, the beauty and splendour of the natural world seem to fade with the passage of time. . . Beasts at Bedtime [inspires] adults themselves to rediscover the wonder of their own childhood reading.
— Times Literary Supplement
"A guide for sharing the joys of literature with children."
— Christian Science Monitor
"We all know that nature plays a central role in many children's classics. . . [Heneghan] wrote this book to help parents 'excavate the green content' from bedtime reading. Beasts at Bedtime is proof that most kidlit has teachable moments embedded in it."
— The Toronto Star
"[Heneghan] has learned over the years that the parent doesn't need to choose explicitly environmentally themed books in order to pass on a love for the natural world to their kids. In fact, some of the most common books to be found in children's bedrooms can do the job perfectly. In Beasts at Bedtime, he takes a look at books like Doctor Dolittle and Peter Rabbit, to see what they teach us about the natural world."
— The Journal
"Beasts at Bedtime is a thoroughly delightful read, informative and genuinely interdisciplinary. . . . Heneghan integrates accounts of his own childhood reading and treks into the wild. His voice is that of a Renaissance man, equally at home discussing Hieronymus Bosch and grasses, ground beetles, and hedgehogs. His prose is lovely. This book will be useful to librarians, environmentalists, teachers, children's literature scholars, and, of course, parents. Essential."
— CHOICE
"Collectively the stories profiled in this book function as cultural ecosystems that inspire, inform, and teach lessons about how life works. This beautifully written book contains abundant citations in the form of endnotes for those who want to dig more deeply into the pithy ideas the author presents. I recommend it to anyone who cares about the future of life on Earth and is seeking the stories and tools that will help us find solutions."
— Ecology
"Beasts at Bedtime is a marvellously enjoyable read. Heneghan does not aim to instruct the reader on the dos and don'ts of reading children's literature, but he emphasises the importance of raising awareness of environmental themes and issues among the next and future generations."
— Current Biology
"This marvelous book is an introduction to environmental themes in children's literature as well as a model of literary criticism accessible to a broad audience. . . . Keep this book close by and dip into it whenever you need a fresh perspective on your relationship to the environment, a little of magic in your life, or inspiration to care about creation however you imagine it. Wherever you are at this moment, and wherever you are heading, this book is an excellent companion, trusted guide, and moral compass."
— Chicago Review of Books
"Beasts at Bedtime is so rich in intent and achievement, its short chapters so densely packed and the whole book so stimulating and timely."
— Dublin Review of Books
"There is no book similar to this today. Heneghan dives deep into the world of children's literature and brings out the environmental wisdom from works old and new. So many of our favorite books in our youth use nature or ideas from nature to enlighten our imagination. From Peter Rabbit to Harry Potter, from Middle Earth to the hungry nation of Panem, it's all covered in here."
— Daily Journal
"Beasts at Bedtime is a book that tells us about who we are; those of us that tell our children these stories as a way of shaping their experience; those of us that were, perhaps, shaped by them as well. It is a book about parenting . . . because it shows us how to draw out the ecological shading of these stories in the conversations we have with children (and indeed, with ourselves) about them."
— 3 Quarks Daily
"This is a beautifully written, personal, and evocative book about children's literature and the fostering of an environmental sensibility through acts of reading with the child. There is a genuinely musical, almost mystical quality to Heneghan's writing. Deeply felt and voiced by a highly personalized narrative persona, Beasts at Bedtime reads, at times, like a nighttime tale to a child; at times, like a comforting set of adages to a confused adult; at times, like a TED talk."
— Seth Lerer, author of Children's Literature: A Reader's History from Aesop to Harry Potter
"Don't put this book down or click it away. Stunningly scholarly yet also moving and magical, Beasts at Bedtime is a brilliant treatise and true ideological work. What you are holding is a permission and a chance to read stories in a way that was previously closed off to adults. Thank you, Liam Heneghan, for doing your bit for the rest of us—human and nonhuman alike—unlike and in between."
— Timothy Morton, author of Humankind: Solidarity with Non-Human People