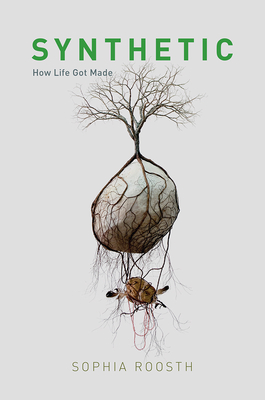 Synthetic (Paperback)
How Life Got Made
University of Chicago Press, 9780226440460, 256pp.
Publication Date: March 1, 2017
Other Editions of This Title:
Hardcover (3/1/2017)
* Individual store prices may vary.
Description
In the final years of the twentieth century, émigrés from engineering and computer science devoted themselves to biology and resolved that if the aim of biology is to understand life, then making life would yield better theories than experimentation. Armed with the latest biotechnology techniques, these scientists treated biological media as elements for design and manufacture: viruses named for computers, bacterial genomes encoding passages from James Joyce, chimeric yeast buckling under the metabolic strain of genes harvested from wormwood, petunias, and microbes from Icelandic thermal pools.
 
In Synthetic: How Life Got Made, cultural anthropologist Sophia Roosth reveals how synthetic biologists make new living things in order to understand better how life works. The first book-length ethnographic study of this discipline, Synthetic documents the social, cultural, rhetorical, economic, and imaginative transformations biology has undergone in the post-genomic age. Roosth traces this new science from its origins at MIT to start-ups, laboratories, conferences, and hackers' garages across the United States—even to contemporary efforts to resurrect extinct species. Her careful research reveals that rather than opening up a limitless new field, these biologists' own experimental tactics circularly determine the biological features, theories, and limits they fasten upon. Exploring the life sciences emblematic of our time, Synthetic tells the origin story of the astonishing claim that biological making fosters biological knowing.
About the Author
Sophia Roosth is the Frederick S. Danziger Associate Professor for history of science at Harvard University.
 
Praise For Synthetic: How Life Got Made…
"In Synthetic, talented science historian Roosth describes her observations of the field's early evolution. . . . Roosth's approach sparks deep questions about the nature of life." 
— Nature
"Synthetic offers a writerly assemblage of our synthetic moment, where densely evocative analytical contributions and cognitive fireworks are juxtaposed with intimate confessions, all in the poetry of contemporary ethnography."
— Science
"For all the rigour that goes into their making, science and technology are still things that human beings do, and as Roosth reminds us, humans are messy. We have opinions, passions and biases; we argue, we learn, we fall in and out of love. As a synthetic biologist, I've seen first-hand what may yet prove to be foundational debates about how life works and how it should work. I've also learned from anthropologists and historians like Roosth that to do good work, we can't ignore our humanity or wipe away our history. Instead, we must work to more deeply understand the very human practice of science. Reading books like this one will help."
— New Scientist
"Synthetic examines the multiple manifestations of the emerging field of synthetic biology, whose practitioners engineer, study, and utilize genetically modified organisms. Roosth views the field through an anthropological lens as she interviews leading synthetic biologists, investigates how they are trained, and probes the shifting definitions of a very young discipline. Roosth examines the corporate cultures of two radically different companies engaged in commercial synthetic biology. Other chapters cover do-it-yourself synthetic biology "biohackers," labor relations in industrial synthetic biology, and the promise of reviving extinct organisms. The book repeatedly returns to modern and archaic definitions of the word synthetic as a unifying theme. This trope is interesting, but its relevance to the practice of synthetic biology is tenuous; most practitioners do not know the definitions discussed. Roosth is best when describing the people who engineer organisms. Her writing is clean and lively, and she avoids overanalysis…. Synthetic offers an excellent window on one of biology's newest, most provocative disciplines. Recommended."
— Choice
"[A] close-up, wide-angle study of synthetic biologists that tries to understand their perspective on both life and the act of creating it… Roosth is after the meaning of life in synthetic biology."
— Daniel Liu
"The whole book, though ambitious, reads extremely well. . . . Synthetic both provides a stimulating and entertaining read. It should be of interest to anyone curious about the latest developments in contemporary biology."
— History and Philosophy of the Life Sciences
"[A] fascinating and clear look at an emerging scientific discipline and the way the main actors understand it."
— Frankfurter Allgemeine
"Synthetic is essential reading for anyone wanting to know what's been going on in the exciting and disturbing world of synthetic biology. But it's much more than that. It addresses the current state of a long-standing cultural argument about the conditions in which you can know the world. Does the artificial belong to a different order from the natural, or, as synthetic biologists now maintain, can you only know what you can make? The result is both brilliant anthropology and vivid reporting from the research front."
— Steven Shapin, author of The Scientific Life: A Moral History of a Late Modern Vocation
"This is stimulating, entertaining, and engrossing reading, which combines ethnographic richness with sophisticated theoretical reflection. Every chapter of Roosth's book will challenge you to think about the topic of synthetic biology in new and refreshing ways."
— Jane Calvert, author of Synthetic Aesthetics: Investigating Synthetic Biology's Designs on Nature