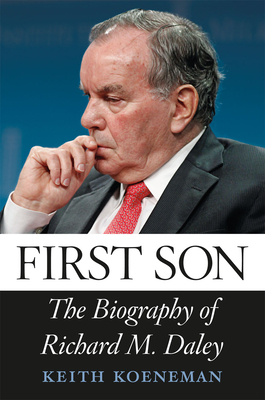 First Son (Hardcover)
The Biography of Richard M. Daley
University of Chicago Press, 9780226449470, 392pp.
Publication Date: March 28, 2013
* Individual store prices may vary.
Description
"Mayor Richard M. Daley dropped the bomb at a routine news conference at City Hall on Tuesday. With no prelude or fanfare, Mr. Daley announced that he would not seek re-election when his term expires next year. 'Simply put, it's time,' he said." New York Times, September 7, 2010
With those four words, an era ended. After twenty-two years, the longest-serving and most powerful mayor in the history of Chicago—and, arguably, America—stepped down, leaving behind a city that was utterly transformed, and a complicated legacy we are only beginning to evaluate.
In 
First Son
, Keith Koeneman chronicles the sometimes Shakespearean, sometimes Machiavellian life of an American political legend. Making deft use of unprecedented access to key players in the Daley administration, as well as Chicago's business and cultural leaders, Koeneman draws on more than one hundred interviews to tell an up-close, insider story of political triumph and personal evolution.
With Koeneman as our guide, we follow young Daley from his beginnings as an average Bridgeport kid thought to lack his father's talent and charisma to his unlikely transformation into an iron-fisted leader. Daley not only escaped the giant shadow of his father but also transformed Chicago from a gritty, post-industrial Midwestern capital into a beautiful, sophisticated global city widely recognized as a model for innovative metropolises throughout the world.
But in spite of his many accomplishments, Richard M. Daley's record is far from flawless. First Son sets the dramatic improvement of certain parts of the city against the persistent realities of crime, financial stress , failing public housing, and dysfunctional schools. And it reveals that while in many ways Daley broke with the machine politics of his father, he continued to reward loyalty with favors, use the resources of city government to overwhelm opponents, and tolerate political corruption.
A nuanced portrait of a complex man, First Son shows Daley to be sensitive yet tough, impatient yet persistent, a street-smart fighter and detail-driven policy expert who not only ran Chicago, but was Chicago.
About the Author
Keith Koeneman is a third-generation Chicagoan. He holds advanced degrees from Harvard University, the University of Chicago, and Northwestern University and writes on Chicago politics, history, and culture for the Huffington Post.
Praise For First Son: The Biography of Richard M. Daley…
"Native son Koeneman colorfully and familiarly details the rise of the Daleys and their imprint on their hometown. . . . A highly focused history of a 20th-century metropolis and a compelling biography of the family that shaped it for nearly half a century."
— Publishers Weekly
"A ripping political biography."
— Booklist
"Koeneman captures the arc of Daley's reign perfectly—its early successes and later failures, its mix of volatility and insecurity, and the evolution of an insular Democratic-machine prince from Bridgeport into a powerful leader who learned to coexist with intellectuals, culture buffs, and titans of business to build a world-class city. . . . A must-read if you care about Chicago."
— Andy Shaw, executive director, Better Government Association
"First Son recounts an important era of Chicago's history ruled over by one of its most powerful mayors. It is a nuanced picture of Mayor Richard M. Daley with all his contradictions and triumphs, failings and successes. Keith Koeneman concludes that 'history's judgment [will be] that Daley's achievements . . . outweighed his mistakes.' Whether one agrees or not, First Son should be read by all who care about the city, its history, and its politics."
— Dick Simpson, author, professor, and former Chicago alderman
"Koeneman's First Son is a satisfying, engaging read for anyone who enjoys modern politics and has a heartstring or two for Chicago." 
— Kenneth D. Ackerman
"A valuable book, admirably fair and balanced, and vastly informative about four colorful and highly eventful decades in the life of America's third-largest metropolis."
— Washington Monthly
"First Son is a very high quality biography of an important historical figure whose story is an important part of Chicago and American history." 
— Jane Ammeson
"Accessible and well researched, this well-written look at the Windy City's oft-loved, oft-controversial mayor is a compelling read." 
— Chicago Book Review