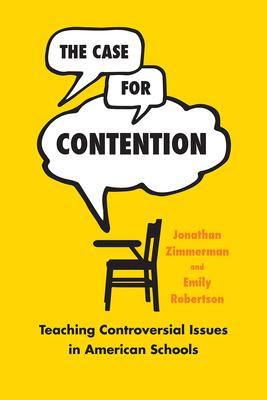 The Case for Contention
Teaching Controversial Issues in American Schools (History and Philosophy of Education Series)
Hardcover

* Individual store prices may vary.
Other Editions of This Title:
Paperback (4/24/2017)
Description
From the fights about the teaching of evolution to the details of sex education, it may seem like American schools are hotbeds of controversy. But as Jonathan Zimmerman and Emily Robertson show in this insightful book, it is precisely because such topics are so inflammatory outside school walls that they are so commonly avoided within them. And this, they argue, is a tremendous disservice to our students. Armed with a detailed history of the development of American educational policy and norms and a clear philosophical analysis of the value of contention in public discourse, they show that one of the best things American schools should do is face controversial topics dead on, right in their classrooms.
           
Zimmerman and Robertson highlight an aspect of American politics that we know all too well: We are terrible at having informed, reasonable debates. We opt instead to hurl insults and accusations at one another or, worse, sit in silence and privately ridicule the other side. Wouldn't an educational system that focuses on how to have such debates in civil and mutually respectful ways improve our public culture and help us overcome the political impasses that plague us today? To realize such a system, the authors argue that we need to not only better prepare our educators for the teaching of hot-button issues, but also provide them the professional autonomy and legal protection to do so. And we need to know exactly what constitutes a controversy, which is itself a controversial issue. The existence of climate change, for instance, should not be subject to discussion in schools: scientists overwhelmingly agree that it exists. How we prioritize it against other needs, such as economic growth, however—that is worth a debate.
           
With clarity and common-sense wisdom, Zimmerman and Robertson show that our squeamishness over controversy in the classroom has left our students woefully underserved as future citizens. But they also show that we can fix it: if we all just agree to disagree, in an atmosphere of mutual respect.
 
Praise For The Case for Contention: Teaching Controversial Issues in American Schools (History and Philosophy of Education Series)…
"The book is well-argued and thought-provoking. . . . The historical overview and categorization of controversial issues are enlightening . . . . The book is a helpful guide and should be welcomed by school leaders who seek to support dynamic conversations that assist students in becoming productive citizens."
— Journal of Interdisciplinary Studies

"What constitutes a controversy worth teaching, and how should educators approach teaching it? Here, we find the book's principal contribution: to argue for a distinction between topics on which strong disagreements divide the public but 'expert' opinion is largely settled, and those on which both public and experts' judgments diverge. Regarding the former kind of issue (evolution and global warming are offered as examples), the authors argue that teachers should not remain neutral but rather teach specific respect for expert judgments and general respect for the expert 'epistemologies' that support those judgments."
— David Steiner

"This is a wonderful book: elegantly and accessibly written, scholarly and well-informed, rich in detail and example, philosophically astute, and persuasively argued. It is a fine illustration of the value of bringing together historical and philosophical perspectives on key educational issues."
— Michael Hand, author of Patriotism in Schools

"A spirited work exploring why we so often shy away from controversial issues in the classroom and how we can empower educators to facilitate reasoned and thoughtful deliberation over the big issues of our time. Readers will learn a great deal about the state of education in America and come away with many useful ideas about how we can make the classroom experience much better for producing good citizens."
— Julian E. Zelizer, author of The Fierce Urgency of Now

"[I]n addition to policies that protect teachers' right to address controversy, we need teachers willing and competent to do so, and time in the classroom to place difficult subjects in context. A tall order in a polarized age when public models of well-argued discourse are hard to come by. Zimmerman and Robertson provide one."
— History News Network

"A thoughtful guide to teaching controversies in the classroom, whether at the high school or college level..."
— Patrick Iber
University of Chicago Press, 9780226456201, 144pp.
Publication Date: April 24, 2017
About the Author
Jonathan Zimmerman is professor of history of education in the Graduate School of Education at the University of Pennsylvania. He is the author of six books, including, most recently, Campus Politics, and is a regular contributor to newspapers such as the New York Times and the Washington Post. Emily Robertson is associate professor emerita at Syracuse University. She is the author of 40 articles and book chapters and coauthor of Ethical Standards of the American Educational Research Association.
 
or
Not Currently Available for Direct Purchase