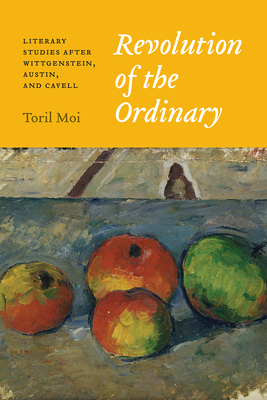 Revolution of the Ordinary (Paperback)
Literary Studies after Wittgenstein, Austin, and Cavell
University of Chicago Press, 9780226464442, 304pp.
Publication Date: May 22, 2017
Other Editions of This Title:
Hardcover (5/22/2017)
* Individual store prices may vary.
Description
This radically original book argues for the power of ordinary language philosophy—a tradition inaugurated by Ludwig Wittgenstein and J. L. Austin, and extended by Stanley Cavell—to transform literary studies. In engaging and lucid prose, Toril Moi demonstrates this philosophy's unique ability to lay bare the connections between words and the world, dispel the notion of literature as a monolithic concept, and teach readers how to learn from a literary text.

Moi first introduces Wittgenstein's vision of language and theory, which refuses to reduce language to a matter of naming or representation, considers theory's desire for generality doomed to failure, and brings out the philosophical power of the particular case. Contrasting ordinary language philosophy with dominant strands of Saussurean and post-Saussurean thought, she highlights the former's originality, critical power, and potential for creative use. Finally, she challenges the belief that good critics always read below the surface, proposing instead an innovative view of texts as expression and action, and of reading as an act of acknowledgment. Intervening in cutting-edge debates while bringing Wittgenstein, Austin, and Cavell to new readers, Revolution of the Ordinary will appeal beyond literary studies to anyone looking for a philosophically serious account of why words matter.
About the Author
Toril Moi is the James B. Duke Professor of Literature and Romance Studies, with additional appointments in theater studies, English, and philosophy, at Duke University.
Praise For Revolution of the Ordinary: Literary Studies after Wittgenstein, Austin, and Cavell…
"Revolution of the Ordinary is a milestone in literary studies. In lucid and invigorating prose, Moi shows how a certain picture of 'literary theory' has held us captive and offers a brilliant and devastating analysis of its weaknesses. Drawing on the tradition of ordinary language philosophy, she offers a new vision of how we might think and read. This groundbreaking book will shape conversations among literary scholars for years to come."
— Rita Felski, author of The Limits of Critique
"Revolution of the Ordinary takes on the formidable challenge of making Wittgenstein understandable and brilliantly shows his work's relevance for critics educated in post-Structuralist, Lacanian, deconstructive, new historicist, culturalist, postcolonial, queer, feminist, and critical race theories. The growing interest in Wittgenstein among both literary critics and contemporary writers and poets absolutely demands this book."
— R. M. Berry, Florida State University
"This is an agenda-setting work by a preeminent literary theorist. It is also tremendously fun to read. Revolution of the Ordinary is the kind of book that tells literary scholars and philosophers how to repair their relationship, and how to do so without losing what is distinctive about each discipline."
— John Gibson, University of Louisville
"Drawing on the ordinary language philosophy of Wittgenstein, Cavell, and (to a lesser degree) Austin, Moi offers a compelling argument that the Saussurean project is backward: one cannot develop a theory of language because language is indeterminate; instead, use determines meaning. Writing in perspicuous prose, the author guides the reader through the basics of ordinary language philosophy and demonstrates how a Wittgensteinian attention to specific examples of ordinary use offers a radical and liberating method for approaching texts. Moi advocates moving beyond the cynicism of the 'hermeneutics of suspicion' (Ricoeur's coinage) as she traces a fresh approach to reading the world. A bold reassessment of literary studies after theory, and a project one can hope will revolutionize inquiry into rhetoric...Essential."
— Choice
"[Moi's] important new book, Revolution of the Ordinary, makes a case for rejecting the approach to language that the 'theory project' produced. . .beyond challenging the ways that literary studies thinks about language, Moi challenges the distinction between literature and life."
— Los Angeles Review of Books
"The most important aspect of Moi's approach. . .is that she is proposing OLP not as another (or a better) theory, but as a rejection of the idea of a theory for such matters, an alternative to reliance on theory. . .And yet, a major implication of Moi's approach is true: the latter assessment is subject to no method of resolution, can appeal to no decision procedure for telling whether an experience bears any of the adjectives suggested by Cavell or not.  And such reflection is no exemplification of any theory. Nothing is more important than insisting on both the distinction and on this point, in as many ways and as forcefully as possible; and that is what Toril Moi has done in this lucid book."
— Critical Inquiry
"Toril Moi's Revolution of the Ordinary is probably the most important work of literary crit­icism published this century. Its audacious title isn't at all misplaced: Moi's intervention is genuinely revolutionary, with wide-ranging im­plications for literary critics of all kinds. Her goal is nothing less than a transformation of the field as it currently stands. . .It's hard to overstate just how provocative and valuable Revolution of the Ordinary really is. . .and will surely inspire readers to recalibrate their thinking on a wide range of questions."
— Australasian Journal of American Studies
"Toril Moi's new book about the relevance of what she calls 'ordinary language philosophy' to literary studies is clear, intelligent, and thought-provoking. If the revolutionary implications of what she says are taken on board it would undoubtedly transform literary studies for the better. . . It should stimulate both more fruitful work in literary theory and interesting debates about literature, reading, authors, and texts amongst philosophers."
— Nordic Wittgenstein Review
"Toril Moi is right: 'It is difficult to write about Wittgenstein's philosophy'. . .It helps to have guides to figure this out, and Moi, in her new book, is one of the best. . . it's also true that someone must show you how to read Wittgenstein. Even better, you need someone to show you how to let Wittgenstein show you how to read him. The beauty of this book, in which reading plays such an important role, is that it does that elegantly, with carefully wrought, eminently comprehensible prose."
— Modern Philology