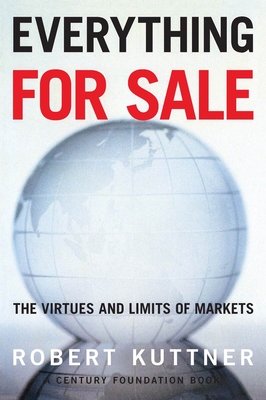 Everything for Sale
The Virtues and Limits of Markets
Paperback

* Individual store prices may vary.
Description
In this highly acclaimed, provocative book, Robert Kuttner disputes the laissez-faire direction of both economic theory and practice that has been gaining in prominence since the mid-1970s. Dissenting voices, Kuttner argues, have been drowned out by a stream of circular arguments and complex mathematical models that ignore real-world conditions and disregard values that can't easily be turned into commodities. With its brilliant explanation of how some sectors of the economy require a blend of market, regulation, and social outlay, and a new preface addressing the current global economic crisis, Kuttner's study will play an important role in policy-making for the twenty-first century.

"The best survey of the limits of free markets that we have. . . . A much needed plea for pragmatism: Take from free markets what is good and do not hesitate to recognize what is bad."—Jeff Madrick, Los Angeles Times

"It ought to be compulsory reading for all politicians—fortunately for them and us, it is an elegant read."—The Economist

"Demonstrating an impressive mastery of a vast range of material, Mr. Kuttner lays out the case for the market's insufficiency in field after field: employment, medicine, banking, securities, telecommunications, electric power."—Nicholas Lemann, New York Times Book Review

"A powerful empirical broadside. One by one, he lays on cases where governments have outdone markets, or at least performed well."—Michael Hirsh, Newsweek

"To understand the economic policy debates that will take place in the next few years, you can't do better than to read this book."—Suzanne Garment, Washington Post Book World



University of Chicago Press, 9780226465555, 432pp.
Publication Date: May 15, 1999