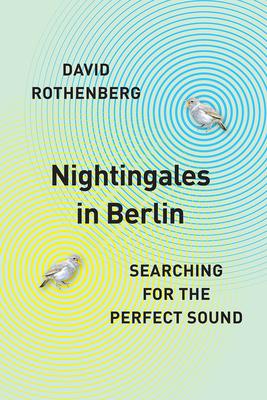 Nightingales in Berlin (Hardcover)
Searching for the Perfect Sound
University of Chicago Press, 9780226467184, 184pp.
Publication Date: May 9, 2019
* Individual store prices may vary.
Description
A celebrated figure in myth, song, and story, the nightingale has captivated the imagination for millennia, its complex song evoking a prism of human emotions,—from melancholy to joy, from the fear of death to the immortality of art.
But have you ever listened closely to a nightingale's song? It's a strange and unsettling sort of composition—an eclectic assortment of chirps, whirs, trills, clicks, whistles, twitters, and gurgles. At times it is mellifluous, at others downright guttural. It is a rhythmic assault, always eluding capture. What happens if you decide to join in?
As philosopher and musician David Rothenberg shows in this searching and personal new book, the nightingale's song is so peculiar in part because it reflects our own cacophony back at us. As vocal learners, nightingales acquire their music through the world around them, singing amidst the sounds of humanity in all its contradictions of noise and beauty, hard machinery and soft melody. Rather than try to capture a sound not made for us to understand, Rothenberg seeks these musical creatures out, clarinet in tow, and makes a new sound with them. He takes us to the urban landscape of Berlin—longtime home to nightingale colonies where the birds sing ever louder in order to be heard—and invites us to listen in on their remarkable collaboration as birds and instruments riff off of each other's sounds. Through dialogue, travel records, sonograms, tours of Berlin's city parks, and musings on the place animal music occupies in our collective imagination, Rothenberg takes us on a quest for a new sonic alchemy, a music impossible for any one species to make alone. In the tradition of The Hidden Life of Trees and The Invention of Nature, Rothenberg has written a provocative and accessible book to attune us ever closer to the natural environment around us.
 
About the Author
David Rothenberg is distinguished professor of philosophy and music at the New Jersey Institute of Technology. He is the author of many books investigating music in nature, including Why Birds Sing, Survival of the Beautiful, and Bug Music: How Insects Gave Us Rhythm and Noise. His writings have been translated into more than eleven languages and among his twenty one music CDs is One Dark Night I Left My Silent House, on ECM.
Praise For Nightingales in Berlin: Searching for the Perfect Sound…
"The book is memorable chiefly for its deeply-in-the-know exploration of a musical subgenre peopled by sound recordists, experimentalists and jazz improvisers, each working to replicate, manipulate or play counterpoint to the baffling music of the non-human world. . . . Nightingales in Berlin is a passionate and rather touchingly sincere quest for beauty, human and otherwise."
— Richard Smyth
"Rothenberg has made a career out of inter-species improvisation, playing with whales and their song, and with bugs. Obsessed with the aesthetics of avian performance. . . he knows that the best place to hear nightingales in Europe is in Berlin parks, which is where he takes his clarinet and iPad, turning up to 'sit in' and inadvertently clashing with the scientists who're already camped there. . . . You risk being labelled eccentric for playing with animals rather than people, and you also risk being called utopian. And that's what Rothenberg at bottom is, a successor not just to Artie Shaw. . . but also natural-dwellers like Thoreau and Wendell Berry."
— Brian Morton
"In a sense, the song of the bird in the title of this short, hugely thoughtful and fascinating book is a measure of the gap between nature and human culture. . . . Rothenberg strikes me as bonkers, but also brilliant, and his book expands on this musical challenge to ask key questions relevant to anyone engaged with the natural world."
— The Spectator
"Intrepid, ever-curious, and creative philosophy professor, musician, and writer Rothenberg continues his unique and paradigm-altering inquiry into the music of other species and interspecies music. . . Lush with literary allusions, Rothenberg's enlightening and inspiring nightingale immersion attunes us to 'the vast richness of natural soundscapes' and the glory of life itself."
— Booklist
"Listen and celebrate! David Rothenberg's marvelous work reveals the living music around and within us. He explores with wit and insight the links and tensions among art and science, music and nature, humans and other species. A must-read invitation to deeper wonder and creativity."
— David George Haskell, author of The Forest Unseen: A Year's Watch in Nature
"In David Rothenberg's unique, beautiful, and vitally important new book, we are dropped into the wonder of a wild musical landscape, where birds have been singing for millions of years before the arrival of humans. In these pages we find our most authentic voice—one that never rises in isolation but in a great intertwining with nightingales, all beings, and the earth itself."
— Lyanda Lynn Haupt, author of Mozart's Starling
"David Rothenberg makes music with whales, insects, birds, water, and wind, and writes splendid philosophical meditations about it all. In Nightingales in Berlin, he tracks the most celebrated of birds. Rather than gushing poetic about it as so many have done, Rothenberg confesses that the sound of the nightingale is completely 'weird,' and takes as his project to pursue the unknown, to attempt communication with the alien. Listening carefully to birds and humans, Rothenberg offers thoughtful reflections on interspecies communication, dissatisfaction and perfection, science and art, signal and noise, evolution, the world soundscape, and the past and future of the planet."
— Christoph Cox, author of Sonic Flux: Sound, Art, and Metaphysics
"Rothenberg combines the close listening ear of a musician, the speculative thinking of a philosopher, the multi-sensory perceptions of a travel writer, and the curiosity of a scientist. An expressive story teller—eager to narrate his encounters with fascinating birds and human beings—Rothenberg sheds new light on what a musician can teach us about the natural world and about ourselves."
— Bob Gluck, author of The Miles Davis Lost Quintet and Other Revolutionary Ensembles