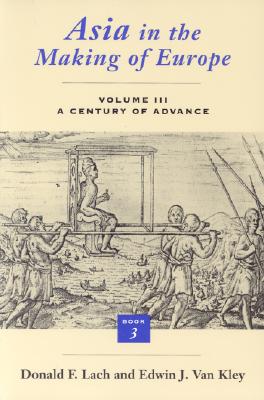 Asia in the Making of Europe, Volume III
A Century of Advance. Book 3: Southeast Asia
Paperback

* Individual store prices may vary.
Other Editions of This Title:
Paperback (2/4/1994)
Paperback (4/16/1994)
Paperback (12/15/1998)
Description
This monumental series, acclaimed as a "masterpiece of comprehensive scholarship" in the New York Times Book Review, reveals the impact of Asia's high civilizations on the development of modern Western society. The authors examine the ways in which European encounters with Asia have altered the development of Western society, art, literature, science, and religion since the Renaissance.

In Volume III: A Century of Advance, the authors have researched seventeenth-century European writings on Asia in an effort to understand how contemporaries saw Asian societies and peoples.

Book 3: Southeast Asia examines European images of the lands, societies, religions, and cultures of Southeast Asia. The continental nations of Siam, Vietnam, Malaya, Pegu, Arakan, Cambodia, and Laos are discussed, as are the islands of Java, Bali, Sumatra, Borneo, Amboina, the Moluccas, the Bandas, Celebes, the Lesser Sundas, New Guinea, Australia, New Zealand, the Philippines, Mindanao, Jolo, Guam, and the Marianas.
University of Chicago Press, 9780226467689, 578pp.
Publication Date: December 15, 1998
About the Author
Donald F. Lach is the Bernadotte E. Schmitt Professor Emeritus in modern history at the University of Chicago.