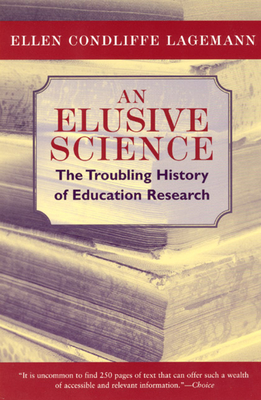 An Elusive Science (Paperback)
The Troubling History of Education Research
University of Chicago Press, 9780226467733, 320pp.
Publication Date: May 15, 2002
* Individual store prices may vary.
Description
Since its beginnings at the start of the 20th century, educational scholarship has been a marginal field, criticized by public policy makers and relegated to the fringes of academe. An Elusive Science explains why, providing a critical history of the traditions, conflicts, and institutions that have shaped the study of education over the past century.

"[C]andid and incisive. . . . A stark yet enlightening look at American education."—Library Journal

"[A]n account of the search, over the past hundred or so years, to try and discover how educational research might provide reliable prescriptions for the improvement of education. Through extensive use of contemporary reference material, [Lagemann] shows that the search for ways of producing high-quality research has been, in effect, a search for secure disciplinary foundations."—Dylan William, Times Higher Education Supplement
About the Author
Ellen Condliffe Lagemann is the president of the Spencer Foundation and a professor of history and education at New York University.