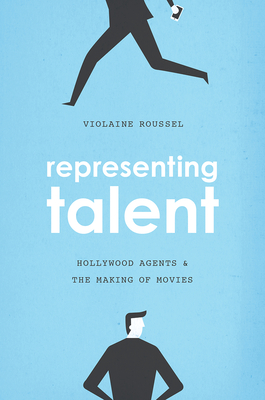 Representing Talent
Hollywood Agents and the Making of Movies
Paperback

* Individual store prices may vary.
Other Editions of This Title:
Hardcover (8/29/2017)
Description
Audiences love the glitz and glamour of Hollywood, but beyond the red carpet and behind the velvet curtain exists a legion of individuals who make showbiz work: agents. Whether literary, talent, or indie film, agents are behind the scenes brokering power, handling mediation, and doing the deal-making that keeps Hollywood spinning. In Representing Talent, Violaine Roussel explores the little-known but decisive work of agents, turning the spotlight on how they help produce popular culture.

The book takes readers behind the scenes to observe the day-to-day activities of agents, revealing their influence on artistic careers and the prospects of Hollywood's forthcoming projects. Agents are crucial to understanding how creative and economic power are intertwined in Hollywood today. They play a key role in the process by which artistic worth and economic value are evaluated and attributed to people and projects. Roussel's fieldwork examines what "having relationships" really means for agents, and how they perform the relationship work that's at the heart of their professional existence and success. Representing Talent helps us to understand the players behind the definition of entertainment itself, as well as behind its current transformations.
Praise For Representing Talent: Hollywood Agents and the Making of Movies…
"A masterful excursion into one of Hollywood's least familiar professions—its talent agents. Through diligent fieldwork, Roussel reveals their work routines, career inspirations, and occupational aspirations, and how the industry's organizational structure defines their scope. With nuance and sophistication, Roussel explains agents' essential contribution to the artistic valuation of talent and elevates and enriches our understanding of Hollywood as culture producing industry."
— Denise D. Bielby, University of California, Santa Barbara

"Roussel provides a much-needed sociological intervention into the growing field of production studies. She uncovers a different Hollywood than the ones charted by predecessors Rosten and Gitlin. A model of situated ethnography, this book details the in-between cultural work—of relationships, mentorships, and evaluation communities—that industry uses to counteract the creative precarity foregrounded by other scholars."
— John Thornton Caldwell

"Talent agents are surrounded by popular myth and misperception—but who are they really and what do they do? In this pathbreaking book, Roussel draws on interviews and behind-the-scenes observation to cast a detailed, ethnographic eye on the 'show' and 'business' of Hollywood agenting in the new media era. Across large, mid-size, and boutique firms, agents must connect talent to jobs by harnessing their own capacity to broker personal relationships within and across deeply hierarchical structures where a dizzying array of industry stakeholders compete for power and influence. How and why agents foster 'professional intimacy,' build reputations, negotiate deals, and place a value on talent in a media landscape that is both risk-averse and ever-shifting is the subject of this book. A sociological tour de force of great depth and sophistication, Representing Talent is a must-read for anyone seeking to understand the high-stakes game of Hollywood cultural production today."
— Laura Grindstaff, University of California, Davis

"Roussel's analysis of Hollywood's power dynamic is perceptive and convincing. . .This book will not help readers to find the good agent who is clearly an indispensable requirement for a successful career in the movies, but it will help them to understand something of Hollywood's inner workings."
— Times Higher Education
University of Chicago Press, 9780226486949, 256pp.
Publication Date: August 28, 2017
About the Author
Violaine Roussel is professor of sociology at the University of Paris VIII and affiliated faculty at the University of Southern California. She is coeditor of Brokerage and Production in the American and French Entertainment Industries and How to Do Politics with Art and coauthor of Voicing Dissent: American Artists and the War on Iraq.
or
Not Currently Available for Direct Purchase