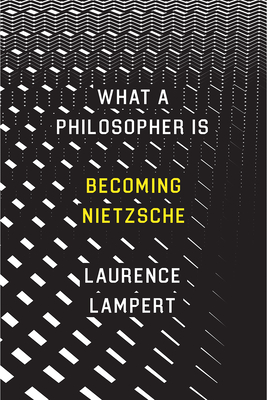 What a Philosopher Is
Becoming Nietzsche
Hardcover

* Individual store prices may vary.
Other Editions of This Title:
Paperback (2/1/2021)
Description
The trajectory of Friedrich Nietzsche's thought has long presented a difficulty for the study of his philosophy. How did the young Nietzsche—classicist and ardent advocate of Wagner's cultural renewal—become the philosopher of Will to Power and the Eternal Return?
 
With this book, Laurence Lampert answers that question. He does so through his trademark technique of close readings of key works in Nietzsche's journey to philosophy: The Birth of Tragedy, Schopenhauer as Educator, Richard Wagner in Bayreuth, Human All Too Human, and "Sanctus Januarius," the final book of the 1882 Gay Science. Relying partly on how Nietzsche himself characterized his books in his many autobiographical guides to the trajectory of his thought, Lampert sets each in the context of Nietzsche's writings as a whole, and looks at how they individually treat the question of what a philosopher is. Indispensable to his conclusions are the workbooks in which Nietzsche first recorded his advances, especially the 1881 workbook which shows him gradually gaining insights into the two foundations of his mature thinking. The result is the most complete picture we've had yet of the philosopher's development, one that gives us a Promethean Nietzsche, gaining knowledge even as he was expanding his thought to create new worlds.
 
Praise For What a Philosopher Is: Becoming Nietzsche…
"
In What a Philosopher Is: Becoming Nietzsche
 Laurence Lampert examines Nietzsche's early writings through what he calls the first mature work—the fourth book of
The Gay Science
, known as "Sanctus Januarius"—in order to reveal the coherence of Nietzsche's seemingly disparate projects. But reading the workbooks themselves does allow Lampert a convincing account of the continuity that is otherwise hidden. He shows, to take the most prominent example, that Nietzsche's idea of the eternal recurrence of the same didn't come from nowhere. It can be thrilling to see Nietzsche's ideas contextualized this way."
— Rain Taxi
"This new book from North America's greatest living Nietzsche scholar raises and answers the important question of Nietzsche's notion of the philosopher and describes how he himself became such a philosopher.  It is a wonderful complement to the rest of Lampert's remarkable work on Nietzsche and will be of great interest to anyone interested in the life and thought of this world-historical thinker."
— Michael Allen Gillespie, Duke University
"
What a Philosopher Is
demonstrates how truth, life, and the relation between them inform and govern Nietzsche's thought. What Lampert undertakes is nothing less than to describe, drawing on Nietzsche's writings and correspondence, what the Germans call the
Werdegang
— translated loosely, the 'becoming' — of Nietzsche as the philosopher he is known for being today."
— Paul Bishop, University of Glasgow
"In his preface to the Genealogy of Morality, Nietzsche asks that his readers develop a new art of reading—what he will call "rumination"—so that he may be understood. Lampert is undoubtedly one of the best readers Nietzsche has ever had, and in identifying the eternal return as the way out of nihilism he has transcended the type of close textual reading Strauss offers. With What a Philosopher Is, Lampert has started to practice this new art of rumination."
— Hugo Drochon
University of Chicago Press, 9780226488110, 352pp.
Publication Date: January 19, 2018
About the Author
Laurence Lampert is emeritus professor of philosophy at Indiana University–Purdue University Indianapolis and the author of three previous books on Nietzsche as well as Leo Strauss and Nietzsche, How Philosophy Became Socratic, and The Enduring Importance of Leo Strauss, also published by the University of Chicago Press.
or
Not Currently Available for Direct Purchase