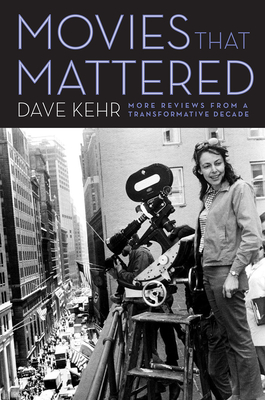 Movies That Mattered (Paperback)
More Reviews from a Transformative Decade
University of Chicago Press, 9780226495682, 272pp.
Publication Date: November 3, 2017
Other Editions of This Title:
Hardcover (11/3/2017)
* Individual store prices may vary.
Description
Dave Kehr's writing about film has garnered high praise from both readers and fellow critics. Among his admirers are some of his most influential contemporaries. Roger Ebert called Kehr "one of the most gifted film critics in America." James Naremore thought he was "one of the best writers on film the country as a whole has ever produced." But aside from remarkably detailed but brief capsule reviews and top-ten lists, you won't find much of Kehr's work on the Internet, and many of the longer and more nuanced essays for which he is best known have not yet been published in book form.
           
With When Movies Mattered, readers welcomed the first collection of Kehr's criticism, written during his time at the Chicago Reader. Movies That Mattered is its sequel, with fifty more reviews and essays drawn from the archives of both the Chicago Reader and Chicago magazine from 1974 to 1986. As with When Movies Mattered, the majority of the reviews offer in-depth analyses of individual films that are among Kehr's favorites, from a thoughtful discussion of the sobering Holocaust documentary Shoah to an irresistible celebration of the raucous comedy Used Cars. But fans of Kehr's work will be just as taken by his dissections of critically acclaimed films he found disappointing, including The Shining, Apocalypse Now, and Raiders of the Lost Ark.

Whether you're a long-time reader or just discovering Dave Kehr, the insights in Movies That Mattered will enhance your appreciation of the movies you already love—and may even make you think twice about one or two you hated.
 
About the Author
Dave Kehr wrote film criticism for the Chicago Reader and Chicago magazine during the 1970s and early 1980s. In 1986, he became the principal film critic for the Chicago Tribune, where he worked until 1992, when he became a film critic for the New York Daily News. He then wrote a weekly DVD column for the New York Times until 2013. He is now a curator in the Film Department at the Museum of Modern Art. His previous collection, When Movies Mattered, was also published by the University of Chicago Press.
 
Praise For Movies That Mattered: More Reviews from a Transformative Decade…
"Extraordinary. . . . The 1980s were not the most salubrious decade in which to shine as a movie reviewer, . . . but as with all great reviewers—Pauline Kael, Andrew Sarris, Manny Farber—Kehr's reviews fly free from their ostensible subjects to become specimens of cultural criticism. Agree with his opinions or not, they're always smart, lucid, well argued, and witty. This book is a pleasure to read."
 
— Peter Biskind
"The ability to see a film projected more than once has significantly aided the training of Kehr's visual sensibilities, which he displays with sharp analyses of the varied styles of Robert Bresson, Joe Dante, Stanley Kubrick, Akira Kurosawa, Elaine May, and Orson Welles."
— Cineaste
"Kehr is a prodigious critic and this collection is an excellent sampling of his voice."
— Publishers Weekly
"Kehr's descriptive prose conjures a rich, multilayered experience—not unlike the one delivered through cinema."
— Chicago Reader