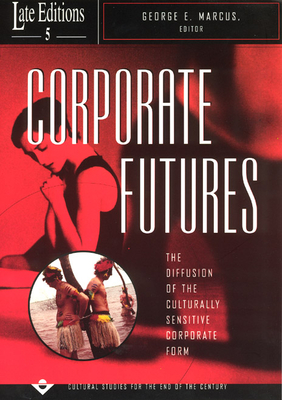 Corporate Futures
The Diffusion of the Culturally Sensitive Corporate Form (Late Editions: Cultural Studies for the End of the Century #5)
Paperback

* Individual store prices may vary.
Other Editions of This Title:
Hardcover (7/20/1998)
Description
As we approach the end of the century, cultural, institutional, and even geopolitical change becomes the norm rather than the exception. Late Editions, edited by George E. Marcus, is a series of annuals designed to probe these changes not through the familiar academic conventions of analysis but instead through in-depth, informed conversations and interviews with individuals at the sites of these transformations. The casts of other volumes in the series include artists, oncologists, Siberian medical leaders, warhead designers, and computer junkies, all of whom take the opportunity presented by Late Editions to reflect upon the great and often puzzling shifts occurring in the cultural landscape.

Late Editions 5, Corporate Futures, questions this idea of a "cultural landscape" by focusing on the the marked investment of corporations in the concept of culture, long the purview of anthropologists and, more recently, those involved in the humanistic disciplines. Emerging in the discourse of the workplace—and traveling beyond it to traditionally alternative associations—is the idea of a "corporate culture" with its own organization, management policies and practices, and ethos. How can we understand this culture of corporations, and to what extent does it reflect self-contained communities or fragmented human existence in groups under conditions of postmodernity? Corporate Futures tackles these issues and questions through conversations with managers, financial and risk analysts, and other participants in national and international organizations.

The results—engaging, intriguing, speculative, current—continue the work begun in earlier volumes to map the terrain of the present and navigate the uncertain future.

Praise for Late Editions: "If the succeeding volumes are as compassionate and informed as the first, this series could become an essential postmodern guidebook to the world's changing cultural terrain. I plan on letting it ease me into the next century."—Catherine Gysin, Utne Reader


University of Chicago Press, 9780226504544, 362pp.
Publication Date: July 20, 1998
About the Author
George E. Marcus is professor of political science at Williams College and the author, coauthor, or coeditor of seven books, including, most recently, Political Psychology: Neuroscience, Genetics, and Politics.
or
Not Currently Available for Direct Purchase